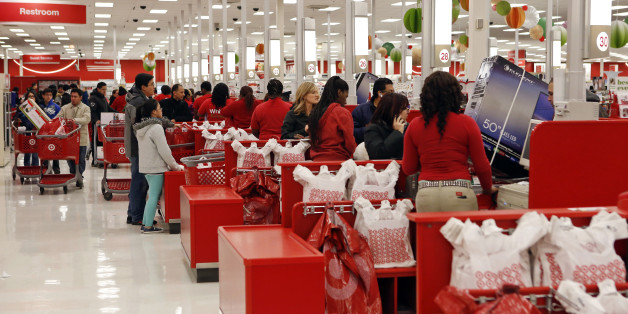 The holiday season is in full swing, and for many Americans that means just one thing: shopping. But in a difficult economy, can the public afford its annual spending spree? From the Roper Center for Public Opinion Research archives:
How much do we spend?
The amount of money individuals plan to spend on holiday gifts ranges considerably. In an October Gallup poll, 34% said they expected to spend under $500 on gifts for family and friends. Another 21% expected to spend between $500-999, and 28% anticipated $1000 or more. Seventeen percent couldn't hazard a guess. Not surprisingly, spending is linked to income. Among those who reported an annual income under $30,000, just 11% thought they would spend $1000, but among those making $70,000 or more, 45% did. This poll is the most recent in a series on holiday spending that Gallup has been conducting since the late 1980s. The proportion of Americans saying they spent over $1000 on gifts increased substantially for nearly twenty years, starting at 18% in 1989 and rising to a peak of 34% in 2006. The recession starting in 2008 caused a drop in this number, but the figure has since climbed back to 28%.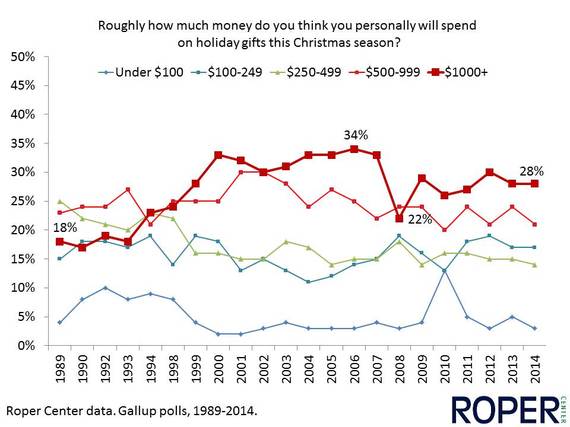 Respondents who indicated how much they would be spending each year were also asked if that amount was higher, lower, or about the same as what they had spent in the year before. In most years, over half anticipated spending the same, with slightly more expecting to show increased restraint than intending to indulge more lavishly. But the recession affected responses in this area as well, with 45% in 2008 planning lower spending. That proportion has since returned to pre-2008 levels.
A 2013 CNBC poll asked those who expected to spend less on Christmas that year than the previous to tell in their own words the main reasons they were planning to cut back. About a quarter said they had a lower income than the year before, 22% cited general concerns about the economy, 16% wanted to save, and 14% said they had had trouble paying bills.
How do we afford it?
Christmas spending on not just gifts, but also entertaining, decorating and travel, comes on top of the usual bills and financial obligations. While 48% in a 2013 CNBC poll said they did not need to make any adjustments to their spending to cover the increased costs associated with the holidays, others were planning to spend less on things like eating out, travel, or entertainment. Seven percent intended to spend less on credit card or other debt payments. In the same poll, about one in five admitted they would use credit cards to make purchases and would not pay off the debt right away. A significant share of Americans will enter the shopping season already bearing credit card debt. A 2013 Allstate/National Journal poll found 38% of Americans carry at least some credit card debt, while 20% said in a July 2014 NBC/WSJ poll that they carried more than $2000 in credit card debt that they were unable to pay off each month.

Father Christmas, bring me some money - or at least some economic security
Though Americans may be planning to spend much as they did before the recession, the financial picture for many this season is not all rosy. Last year, 39% of respondents in a CNN/ORC International poll said current economic conditions would make the Christmas season more stressful than in previous years. Forty-one percent of those who report an annual income of less than $50,000 said the holiday would be more stressful, while 27% of those with an income of $75,000 or more said so. Those who find it hard to be merry in the current economic climate have good reasons. Despite job growth and improvements in the stock market, a sizable share of the public report that over the past year, they have suffered from serious financial problems, like layoffs, difficulty paying rent or mortgage, and problems with credit or collection agencies. Almost no Americans see their income rising faster than the cost of living, while a majority believe they are falling behind. Twenty-five percent in a September Fannie Mae poll saw their monthly household costs as significantly higher than last year. Given these financial troubles, meeting expectations for a jolly Yuletide may be difficult for many Americans this year.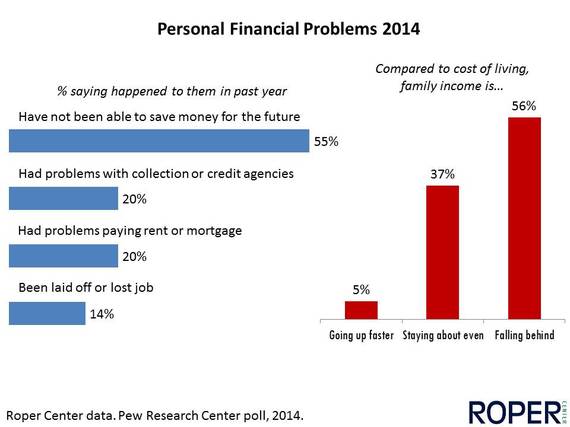 PHOTO GALLERY
29 Ways You Waste Cash