Last [Wednesday]: 8:40 a.m.  Morning ritual with my dog, Huckleberry: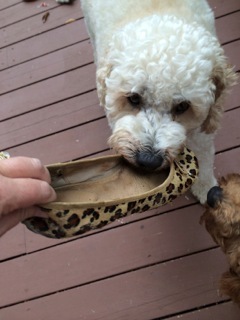 My train, of course, was at 8:48 a.m.  Won the battle (only lost one bow), but lost the war (ended up driving).  
 
In the height of irony, I was -- believe it or not -- headed off that day to interview two morphmoms, Sandy and Stefani, who've invented a revolutionary new line of shoes.  (Needless to say, at times during the interview, I twisted myself into a veritable pretzel trying to keep my right foot hidden behind my left leg.)
 
Now, I'm a sneaker girl at heart.  And having been at home with three kids for the better part of the last 14 years, the heels were (literally) shelved while the sneaker collection burgeoned.  Moreover, when, a couple of years back, I re-engaged and started to dress for my morphmom interviews in something other than sweats, I found to my shock and dismay that my feet had apparently grown since 1990.  Weird.  Anyway, any hopes of exhuming the old heel collection were quickly dashed; I was forced to, ahem, dip my toe back into the shoe market, circa 2012.  This may sound like a small thing, but to a mom who's been out of the workforce for over a decade, it's just one more barrier to re-entry.
 
Insult to injury, in addition to the dizzying array of fashion choices -- and sticker shock -- that awaited me, I realized that, in cruel contradiction of the laws of physics, it was actually harder to balance on my now-outsized feet.  (OK, maybe I was just out of practice, but still ...)  Wish that I'd met Sandy and Stefani, and that they'd invented "OneClique," back in 2012.  In their absence, I ended up opting for the comfortable, low-slung and (somewhat) up-to-date numbers you see pictured above.  Seemed to go with pretty much anything and, until about 8:45 a.m. or so last [Wednesday], they were at least arguably presentable.  But suffice it to say that, once I was out there on the road, one pair of shoes, however versatile, was simply not enough.
 
So here's the ingenious idea that Sandy and Stefani, in true morphmom fashion, have now succeeded in making a reality: "OneClique"- 17 different shoe tops that "clique" into 20 different shoe bottoms = 340 different shoe combinations.  One-stop shopping for an entire shoe collection at an affordable price.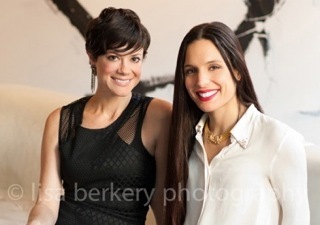 Sandy, mother of two, hatched this brilliant idea.  But like so many other nascent morphmoms, she was initially overwhelmed when it came to figuring out the next step.  Her first thought was, "It probably can't be done."  Her second thought, consistent with the lack of confidence that so many of us feel, was, "Even if it could be done, why would I be the one who could do it?"  Shoes?  How does one make shoes? 
 
Thankfully, instead of succumbing to those thoughts, Sandy instead adopted a new mantra: "We can do anything!"  The rest, as they say, is history.
 
Sandy went to work.  Found an artist on Craig's List to design the shoe, developed a prototype, did a ton of research, and found an industrial designer (who loved the idea) and, eventually, a partner: enter Stefani. Sandy met Stefani, who was styling segments for the Today Show, when she gave Sandy a job as part of her stylist team.  Shortly thereafter, Stefani had her first child, a tremendous change for a woman working full-time.  Then Sandy approached her with the concept for "OneClique."  Before long these two moms were on a plane to China, picking fabrics and colors for a shoe collection like none that had ever been seen before, and they never looked back.  A dream had been realized!
 
This is an archetypal morphmom story.  The fear that no one will take your idea seriously, the strength to overcome that fear, the perseverance to research the steps and actually carry them through to fruition, and the tremendous bond that these two women formed in the process of realizing a dream and reawakening to their self-worth.  By overcoming numerous barriers to entry, large and small, these two woman took what started as a simple (if unprecedented) idea and turned it into a massive success that's destined to help countless other moms, themselves ready to begin again, to overcome at least one barrier to re-entry  -- "dressing for success" -- that, if my own experience is any guide, may seem relatively insignificant in the grand scheme of things, but, once hurdled, can go a long way toward infusing that shot of self-confidence that so many of us need to take the next step.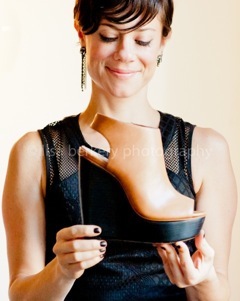 "We can do anything!" Sandy's mantra is like a morphmom battle-cry.  There really is nothing that can stand in our way if we work together and help one another.  And I'm confident that, through both their example and their product, Sandy and Stefani are helping legions of morphmoms-in-waiting take their temporarily retired dreams down off the shelf.  
 
 
Please watch their amazing story in their morphmom video, "OneClique" - http://morphmom.com/Videos.htm
 
Please visit their brilliant site -https://oneclique.com- and join the shoe revolution!
    
Photo credits to Lisa Berkery- http://www.lisaberkery.com