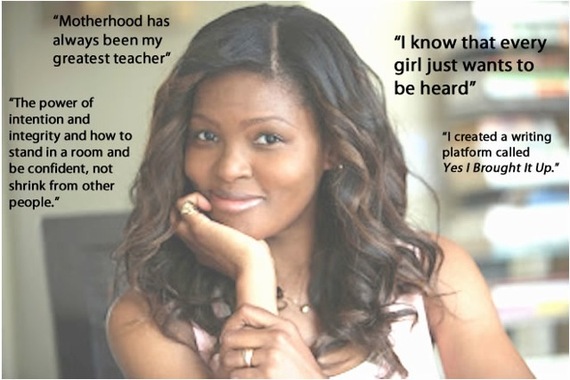 From Public Relations, to Media, to Mom, to Author CHRISHAUNDA LEE PEREZ

What is your favorite Job?
"There is no job that will give you AS much joy as motherhood because there's such great risk involved and in life we know that without great risk there is no great reward."

What was the greatest yet unexpected impact that occurred in your life?
"I fell madly in love to the point where I became married and then I had a baby, so life completely shifted for me [...] and to have my focus be shifted 100 percent ON my family could not have been a better or bigger dream for me."

Who was the most influential person in your life?
"THE TWO most influential women in my life my mother Patricia and my Aunt Oprah. Together embody the perfect women for me. [My mother's] love helped me grow as a human being and as a WOMAN. My Aunt Oprah has always been the person to teach me the power of intention and integrity and how to stand in a room and be confident and not shrink IN FRONT OF other people."

What advice would you give to other morphmoms?
"Make the mistakes and fall, and then get back up"

What is your current job?
"Because I was no longer on television for the time being I started a writers' platform called METIMESHOW.COM. We talk about all kinds of things that people are nervous to talk about. Then I cultivated the courage to put pen to paper [....] and I finished my first novel."

Are you happy now?
"I'm most excited because I'm able to speak directly to girls from all walks of life [...] This book is my celebration and gift to my children directly and that we can celebrate all that it means to be a girl."

What are your thoughts on morphmom?
"What I love most about morphmom is that you get to be part of a community, we all share one very special, fragile thing in common... motherhood."


Head to http://morphmom.comto hear the rest of Chrishaunda's amazing story!