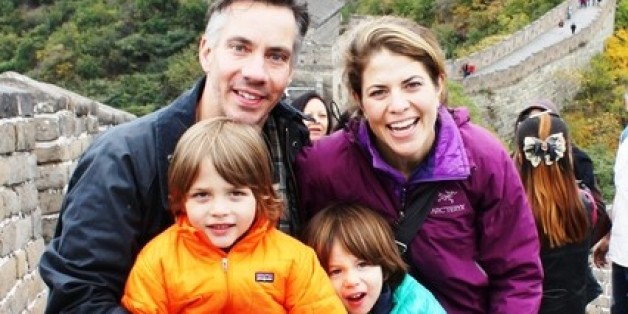 Louisa May Alcott once wrote, "I am not afraid of storms, for I am learning how to sail my ship." That's not as true for me. In fact, it's pretty much false. I'm deathly afraid to cross the ocean. Or the continent, for that matter, as I am extremely afraid of flying.
Now, my quest to document the incredible stories of "morphmoms" around the world has forced me to manage (if not quite overcome) those fears. These days, I'm constantly criss-crossing the country on planes (and in trains, and automobiles) when I hear tell of one of these amazing women. And recently, I met a morphmom who is certainly not afraid to sail her ship across oceans. And sail it she did. So far, in fact, that for this interview, I had to learn to Skype, which was terrifying in and of itself. But enough about me: Meet Gloria -- coming to you direct from Beijing, China!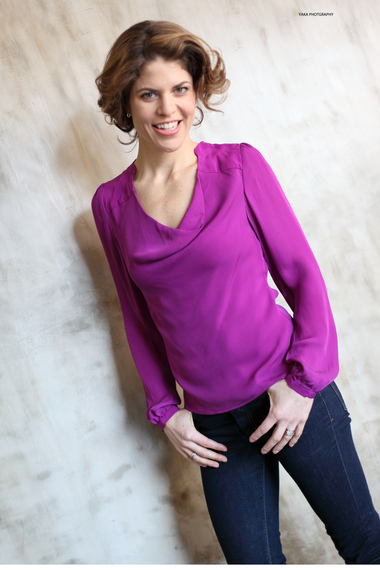 Gloria's a true Renaissance woman -- mother, friend and high-powered journalist -- with a compelling morphmom story. In short, a woman I was dying to interview (but for the small matter of the Pacific Ocean, which the wonders of technology ultimately allowed me to cross unscathed). Gloria is currently a foreign correspondent with ABC News in Beijing. An incredibly exciting, 24-hour-a-day sort of life. Gloria's beat has ranged from London to Washington, DC to New York. She's an Emmy award-winning journalist who's covered protests, politics, conflicts and disasters worldwide, up close and personal, from reporting September 11th to embedding with the troops in Iraq.
And she's absolutely fearless. Not just because of all of the above (not to mention her willingness to cross oceans and continents), but because, in addition to it all, she remains, by her own account, first and foremost a wife and the mother of two amazing sons.
This was not always Gloria's life. Her story is one not just of bravery, but also of perseverance. You see, she embarked on her latest adventure half a world away after having chosen, a year and a half earlier, to take herself "out of the game" and stay home with her two small sons. As she explains, the leaving was relatively easy. But when she eventually began to contemplate re-entry, she quickly realized that part was going to be much harder. Even this world-beating, fearless woman felt that loss of confidence -- of, well, her "mojo" -- that so often afflicts moms who've chosen to "unplug."
Meanwhile, her husband was offered a position in China and the family decided to uproot and move halfway around the world. For her part, this spurred Gloria to take an even further leap of faith: to return to journalism as ABC's correspondent in Bejiing.
This alone would have been the stuff of another inspirational morphmom story. But there's more. No sooner had Gloria begun to acclimate to life in China, re-acclimate to life as a journalist and do whatever the verb is for adjusting to all of that while at the same time continuing to be the loving mother and supportive spouse she'd always been, than her husband was offered his dream job -- back in the States! As excited as Gloria was for her husband, confused emotions set in as she realized that, having left home behind, traveled thousands of miles and settled in a completely foreign culture, she had successfully rejoined the world and begun to reestablish herself without having to sacrifice being a mom. In a word, she realized that she was happy.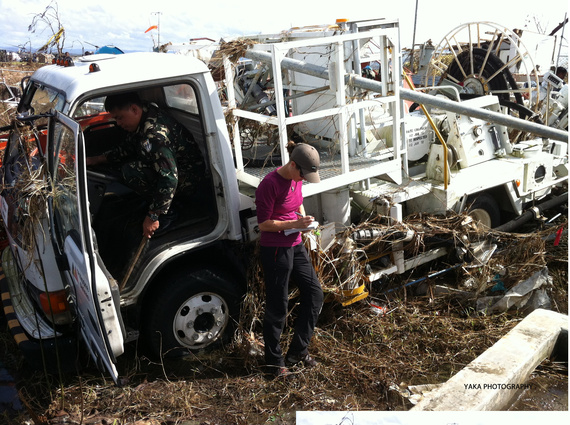 Gloria and her family were now faced with the near-mirror image of the incredibly difficult decision they'd only just made. But this time, things were different. This time, Gloria was a full-fledged morphmom. And they realized, counter-intuitively but clearly, that the most supportive, nurturing and life-giving decision that they could make -- albeit in many ways the hardest -- was to temporarily live on separate continents. They would do their best to see each other every month, but in the meantime... Gloria was in China. She didn't speak the language. She had just reentered the demanding life of a journalist. And she'd be on her own with her two young boys.
I wanted to better understand the emotions that Gloria must've grappled with in those early days and weeks and, perhaps more importantly, how she dealt with them. Luckily, in her interview, Gloria (ever-fearless) is not afraid to say what many of us are thinking, but never voice. On the one hand, she candidly describes the loss of self-confidence that so many of us experience after staying at home with our children for an extended period. But she also explains with great eloquence how she overcame it. Any woman facing similarly daunting circumstances who watches this interview can't help but be inspired.
Epilogue: After my interview with Gloria, I was, I'm not gonna lie, pretty proud of myself for my successful, if only virtual, Pacific crossing. But when Gloria and I exchanged emails the following day, I learned that, right after giving this incredibly generous interview, she proceeded to work well into the night, until one of her son's woke up with a cough, which, of course, accounted for the remaining hours before sunrise. Then it was off to report the news in a land that she'd successfully sailed her ship through storms to reach. A day in the life of a true morphmom.
Crossing oceans with the wonders of technology to do this interview -- and Gloria's literal circumnavigation of the globe -- got me to thinking. My greatest hope for the Morphmom website is that all of these video interviews will somehow do likewise, and in the process of crossing oceans help women around the world learn how to sail their ships through stormy waters. We've had some degree of success to date. In fact, Morphmom has now reached women in over 60 countries around the world, including moms who have visited the site from the sort of war-torn or troubled regions from which you'd expect to find Gloria intrepidly reporting. Ukraine. Lebanon. And, just last week, Malaysia. I can only imagine what might have led women in such circumstances to visit our site, and I can only hope that in watching the interviews they found there, they found in them some measure of sustenance, guidance, support or inspiration. If any of you are out there and reading this blog, please reach out to me; I would love to broadcast your story to the world. And if Skype can't reach you, fear of flying be damned. Inspired by Gloria's example, I'll do my level best to personally come to you. As we continue to make and grow these connections around the world and across cultures, I'm confident that there'll simply be no stopping the morphmom movement.