The International Foundation for Research and Education on Depression (iFred) launched its first annual Global Day for Hope on May 2, 2015, to support the 350 million people living with the treatable disease of depression. Organizations and individuals from around the globe joined together in solidarity to plant sunflowers, the international symbol of hope, in an effort to raise awareness and educate the public about treatment for depression. Through these efforts iFred aims to end the stigma around the disease that prevents so many people from seeking support.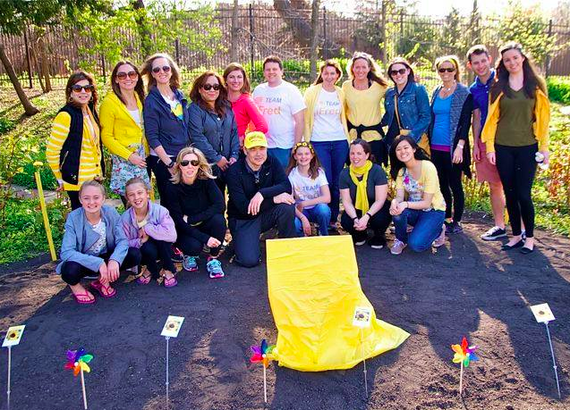 To date, plantings have taken place in Nepal, Germany, South America, and across the United States. Throughout the month of May, people of all ages are sharing messages of hope across social media, fueling the mission and inspiring a multitude of conversations promoting the importance of mental health care.
On May 2, iFred hosted the flagship event in Chicago with support from the Chicago Park District. Through their participation in Global Day for Hope, several speakers and organizations helped shine a light of hope for those living with depression, and amplify the message that depression is treatable.
Department of Public Words
Choices Magazine
The Respite A Centre for Grief & Hope
The North Suburban YMCA
MHCA
Operation Second Chance
NCDAA
The Creative Coalition
Project Helping
Jefferson Center for Mental Health
Cats in the Bag
United Services, Inc.
Radio Sonengrau
Kathy Hart of Health with Heart
The Mood Factory
Stiftung Deutsche Depressionshilfe
Positive Focus
Nepal Mental Health Foundation
Chicagonistas
Chicago Park District
Mental Health Services for Clark and Madison Counties, Inc. (MHS)
Special thanks to the Chicago speakers:
Dr. Elizabeth Lombardo
Phyllis Foxworth, Depression and Bipolar Support Alliance
Joyce Marter, Urban Balance
Jessica Mead, Catholic Charities LOSS Program
Dr. Eugene Lipov, Global Post Traumatic Stress Injury Foundation
Kathryn Goetzke, Founder of iFred
Penny Tate, iFred's Schools for Hope Program
Debbie Muraff, Providing Yoga in the Park
Even though Global Day for Hope has already passed, the important conversations are continuing throughout the month. Share your planting photos with @ifredorg and messages of HOPE using #hope2015.
Depression is treatable and by working together we can take the necessary steps to live in a world where stigma no longer prevents anyone from receiving help.
Click here to view the inspiring images of hope being planted around the world.