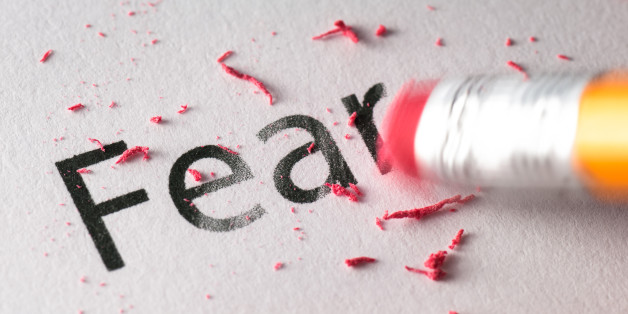 Maybe I should start this blog in the style of a 12-step meeting. "Hello, my name is Kathryn and I am a fear-a-holic." I have had fear for most of my adult life: a fear of heights, spiders, the dentist and, I'm sure, countless other very tangible sources of fear. Worse than this, though, are the fears of things more intangible, things we are less able to grasp but that manage always to grasp us, at 3 a.m., when we have every intention of being tucked up and sound asleep. But those existential little suckers have other ideas. Those are the fears that I fear the most.
And I know you know what I mean. It's those pesky little demons, those torturous self-doubts, the existential malaise that strikes just before action. I experience it as fear of failure and, paradoxically, fear of success. Let me invite you into my head for a moment. There are a couple of characters there and they sound a little like this:
"Don't do that. You might make a total mess of it, and then you'll look like a complete idiot and everyone will laugh at you."
"Don't even bother trying to do that. Just think of the sacrifices you'll have to make. All of your spare time will be lost, and imagine the expectations people will have of you."
And my favorite: "What will everybody else say?"
Yeah, great advice, subconscious mind! Way to make it easy on me!
It's at this point of frustration that I've been struggling for much of my young-adult life. The competing confidence tricksters of failure-fear and success-fear would tug-of-war across my cerebral cortex to the point where I actually couldn't do anything at all. I was frozen by my fears. I had absolutely no faith in myself and no clue about what direction to go in. Yeah, that "face your fears" thing that everyone talks about? That did not register in my messy little head. It was do or die, and I was dying.
I found myself one day last week browsing through the Healthy Living section of The Huffington Post when I stumbled upon the Fearless Living Boot Camp. The step-by-step approach to figuring out your fears and the social networking element was just the right amount of dip-your-toe-in fear facing that I needed, or could handle, in my life. It was kismet.
So I set about really thinking about what made me fearful in life, and I wrote about it on the Social Workout homepage. And the more I wrote, the more I thought and the better I got to know myself in those first few days of challenges. Suddenly the lights came on. I'd found the switch and I discovered something that was there in front of me, all along. I wanted the "right" choice to make itself apparent, and I wanted it to be easy to make. I wanted my desires to appear right before me and to look exactly as I'd imagined. Silly girl! All of these years and I hadn't realized that choices are all there ever are, and you have to make one. There's no telling how each choice will play out, but you have to participate in the game.
I am a new adventurer in fearlessness, but this insight allows me perspective enough to say that I was wrong to expect ease throughout life; I was wrong to reject opportunities because I was scared of what other people may think, or because they didn't look exactly as I had dreamed they would. What adventures I have missed out on! So I'm vowing to carry on with this voyage. To embrace the unknown, to ride out the storms of disappointment but also ride the waves of success. I'm going to play the game.
Ed. note: Boot Camp is still going on. It's not too late to join!
For more by Kathryn Lamble, click here.
For more on becoming fearless, click here.