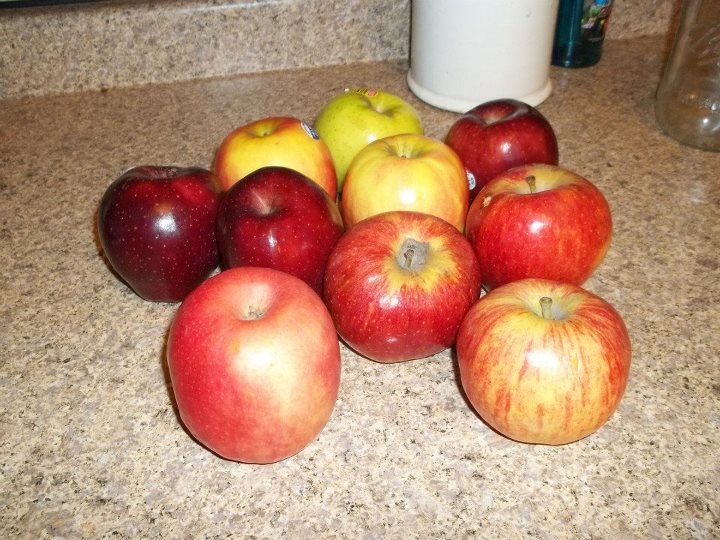 It's apple picking time!
Apple picking with the kids is one of my favorite fall activities. Dealing with mountains of picked apples - not so much.
Over the past few years we've come up with several ways to deal with apples so that they don't go to waste.
Here are a few of my favorites:
• Turkey burgers. Peel and core one large (or two small apples). Pulse the apple(s) in the food processor with one small onion. Season with salt and pepper. Add the apple/onion mix to ground turkey or ground chicken for a flavorful and moist turkey burger.
• Center pieces -- Fill a clear vase or bowl with as many apples as the vase will hold. Garnish with cinnamon sticks, fresh cranberries, apple leaves or whole walnuts.
• Frozen Chopped Apples -- Wash and chop apples into quarters. Place them in a freezer safe bag and freeze fresh apples. When you're ready, stream the apples with a little water and make fresh applesauce. You'll need to use a food mill to strain out the skins and seeds.
• Homemade Applesauce -- Making homemade applesauce is incredibly easy and delicious. I did a whole blog post with pictures about it here. Basically, you steam the apples in a little water. Then cook them to your desired consistency. If you have a food mill, you don't even have to peel or core the apples first. No food mill? No problem! Peel and core your apples. Then steam them with a little water (approximately one teaspoon/apple) over medium heat. The apples will soften and fall apart as they steam. Stir every now and then so that the apples cook evenly. Sweeten to taste.
• Frozen Apple Pie -- Fill a store bought crust with fresh apple slices, sugar, cinnamon and butter slices. Freeze the unbaked pie for later. When you're ready for pie, bake in a 350 degree oven for about one hour.
• Apple Juice -- This one seems like a no-brainer, but nine times out of 10, I totally forget that I have a juicer lurking in the back of the pantry. Drink fresh apple juice right away! Left over juice can be frozen into ice cubes for use in drinks or sauces.
• Apple Crisp -- This easy, midweek dessert is a real crowd pleaser. Slice three to four apples and arrange them in the bottom of a greased nine inch skillet. In a separate bowl mix ¾ cup brown sugar, ½ cup flour, ½ cup quick cook oats, 1/3 cup butter, ¾ teaspoon cinnamon and ½ teaspoon of ground nutmeg. Sprinkle the sugar mixture over the apples. Bake in a 375 degree oven until apples are tender. About 30 minutes. For an added treat, serve with whipped cream or ice cream.
• Apple Compote -- Slice and core four apples. Cook over medium heat with three Tablespoons water, ½ c. brown sugar, ½ teaspoon cinnamon and a dash of nutmeg. Cook until apples are soft. Serve cooled compote over yogurt and top with granola or on top of oatmeal.
• Sandwiches -- add thinly sliced apples to sandwiches for added sweetness and crunch.
• Apple dippers -- some restaurants serve apple slices as dippers with caramel sauce or peanut butter. I like to skip the crackers or bread and use apple slices as a lunch time dipper for tuna or chicken salad.
Hay rides, corn mazes and trips to local apple picking farms can create wonderful Fall traditions. As the leaves change colors and the weather begins to cool, I hope you'll hold your loved ones close and enjoy a bit of fun family!
Kathy Carter Woods writes the food blog What's For Dinner and documents her adventures fixing and creating here.