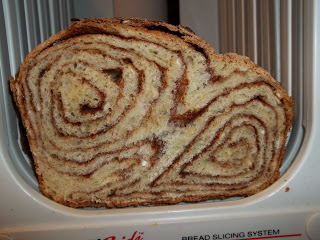 My kids call this cinnamon squirrel bread, you'll call it delicious! This easy homemade bread is ideal for first time bread makers and freezes beautifully!
Cinnamon Swirl Bread
Basic Swirl Bread (1 loaf)
For this recipe you will need:
2 1/2 cups all purpose flour
1/2 cup uncooked plain oatmeal
2 Tablespoons sugar
1 ½ teaspoon salt
1 Tablespoon oil
1 envelope of yeast
1 1/8 cup warm (NOT HOT) milk (room temp milk is fine)
Swirl: 1 Tablespoon melted butter, 1 Tablespoon cinnamon, 1/8 cup sugar
Make the sponge by combining 1 cup flour, oats, sugar, salt oil, yeast and milk in a large bowl. Mix well. This mixture is called the sponge.
Stir in remaining 1 ½ cups of flour.
Cover with a damp cloth and allow it to rise in a warm draft free place. I usually just leave it on my counter top. Allow the dough to rise until it has doubled in size (about 1 hour).
Once the risen dough, grease 1 loaf pan and set it aside. Turn dough onto a floured board or counter. Knead the dough about 5 minutes until it is smooth and elastic.
Using a well floured rolling pin, roll the dough out until it is a ½ inch thick rectangle.
Add the swirl:
Spread melted butter over dough rectangle. Mix sugar and cinnamon in a bowl. Sprinkle evenly over melted butter.
Starting at the long end of the dough, to roll it as tightly as you can. Tuck the ends under so that the loaf will fit snugly into the loaf pan.
Cover and set aside to rise. Allow the dough to rise until it has doubled in size. (About 1 hour)
Once dough has doubled in size, bake for 30 minutes in a 350 degree oven.
Remove from pan immediately. Set on a cooling rack. Once cooled, slice and eat!
Pro Tip: Use leftovers to make french toast
For a picture tutorial and additional baking tips, visit my blog.