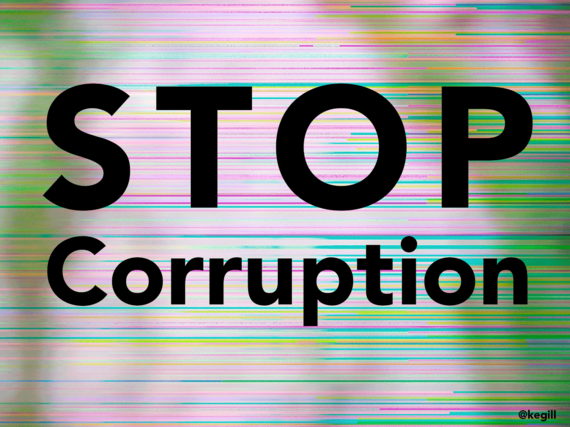 Georgia voters have the power to kick corruption in the face in two key, statewide races on Tuesday.
Political corruption -- government officials using their political power for private benefit, an abuse of power -- is as old as the republic.
For both Plato and Aristotle ... the leading characteristic that distinguishes deviant regimes from the ideal is that their rulers rule in their own interest rather than the common interest (emphasis added).
Are we too idealistic to believe that personal or private interests should not "illegitimately override the public interest"? I hope not.
Today, we tend to talk about political corruption as the triad of bribery, cronyism and nepotism. In this age of Citizens United, I'm adding deliberate misrepresentation in media.
Deal v Carter
Desperation leads to Hail Marys and the Georgia GOP exhibits just that with this corrupt (intentionally misleading) message circulating last week: electing Democrat Jason Carter as governor would "essentially hand Barack Obama a third term here in Georgia." Carter (the grandson of Jimmy Carter) is running against incumbent Governor Nathan Deal (R).

First, Obama will be president for two more years regardless of who is elected governor of Georgia.
Second, how, pray tell, would electing a Democrat as governor of Georgia be tantamount to a third term for President Obama? The "third term" reference seems deliberately designed to prey upon FUD (fear, uncertainty and doubt) among those who cringe at the thought of our current president.
Instead, voters should cringe when learning that Governor Deal's actions to get elected in 2010 have cost the state more than $3 million (not counting the related court costs).
In 2009, CREW named him as one of the 15 most corrupt members of Congress.
One reason: the chief of staff for then U.S. Representative Deal "used his official House email account to contact Georgia state officials" about retaining state money for a vehicle inspection program that yielded "$150,000 a year" for Deal. A program that Georgia Revenue Commissioner Bart Graham decided to shut down because it cost almost as much to operate as the revenue it brought in.
A Congressional ethics investigation (pdf) determined it had "substantial reason to believe" that Deal had violated House ethics rules. To escape censure, he resigned on March 21, 2010, "just minutes before the ethics committee faced a deadline to act in his case." The House at the time was under Democratic control.
Voters (53 percent of those casting ballots) elected him as governor anyway.
More ethics charges followed, related to his 2010 campaign. He "was cleared of major violations in those complaints" because the ethics commission dismissed the case after "pressure" from the Governor's office.
Subsequently, the state of Georgia has had to pay $3 million "to settle three lawsuits, and a threatened fourth, brought by former [ethics] commission employees who claim they were fired or forced from office over the Deal investigation or its aftermath."
Voters, take heed. Fool me once, shame on you; fool me twice, shame on me.
Finally, it is illegal to personally profit from campaign contributions (pdf). That didn't stop Deal from paying his daughter-in-law's LLC a quarter of a million dollars from his campaign chest between January 2011 and March 2013. During his 2010 gubernatorial campaign, he made $38,092 in direct payments to Denise Deal. The median household income in Georgia was $46,007 in 2011.
"It's not uncommon for candidate's relatives to work in their campaigns -- but they usually do so as volunteers," SavannahNow reported at in 2011.
Crony capitalism. Nepotism. Corruption.
Nunn v Perdue
This corruption runs deep.

Jay Bookman at the Atlanta Journal-Constitution lays out the use of public power for private gain involving not only the current Republican gubernatorial candidate, David Perdue, but his first cousin, former Governor Sonny Perdue.
Four months after leaving office in April 2011, Sonny Perdue, along with David Perdue, Trey Childress and Heidi Green -- all appointed to political office while Perdue was governor -- created Perdue Partners, LLC "a global exporting business focusing on importing, exporting and trucking operations through the port" of Savannah.
In preparation for this post-governorship private business venture:

September 2010: Four months before leaving office, Sonny Perdue made his third visit to China on the taxpayer dime; this trip was "focused on the ports."
July 2010: Sonny (then governor) appointed cousin David (current candidate for governor) to the Georgia Port Authority board of directors. From the AJC in July: "While on the board, Perdue took votes on tens of millions of dollars worth of infrastructure improvements designed to streamline and improve transportation at the [Savannah port]. They included $1.5 million to pave one terminal and $77 million for ship-to-shore cranes." David did not file required ethics disclosures while on the ports board.
July 2010: Sonny appointed Green as head of the state Department of Economic Development; she had been serving as deputy director.
April 2008: Sonny flew to China on the taxpayer dime, concurrent with "employees of the governor's grain-export and trucking companies... seeking [government] help in boosting export business to China and elsewhere." Green "helped to set up the meetings" while acknowledging (warning?) government employees by email that "Fyi, this is the Gov's company". Another Port official email claimed that the goal of the meetings was to "[lay] the groundwork so that when the governor leaves office, they will be in a position to start up an operation." Which, of course, they did.
July 2007: Sonny appointed Trey Childress as director of the Office of Planning and Budget, which made him a member of the governing board of OneGeorgia Authority, which provides grants and loans for economic development activities in the state.
Then there is this corrupt (intentionally misleading) "pants on fire" claim, from a Perdue ad attacking Nunn: "Michelle Nunn's own plan says she funded organizations linked to terrorists." Even Florida Republican Neil Bush panned that ad. (Note: no Nunn ad has been labeled pants on fire by PolitiFact Georgia.)
Crony capitalism. Nepotism. Corruption.
Georgia voters have a clear choice on Tuesday.
Shades of Caesar's wife. Good ol' boy politics shrouded with hints of corruption.
Or a new slate.
Kathy Gill is a Georgia native now living in the Pacific Northwest.
CORRECTION: This post previously identified Jason Carter as Jimmy Carter's son. He is his grandson.