The Los Angeles art scene is booming! As an arts writer, each weekend I attempt to see as many exhibitions as possible. Saturday, March 4, 2016 proved to be another fast paced evening...I hit nine galleries, enjoyed the art, the wine and some music too. A quick note - I travel to art events with a driver, hence I am the designated drinker (in case you are concerned).
Santa Monica's Bergamot Station is always a good choice when time is a priority. Each Saturday, one can enjoy at least two to three openings while taking advantage of the free onsite parking.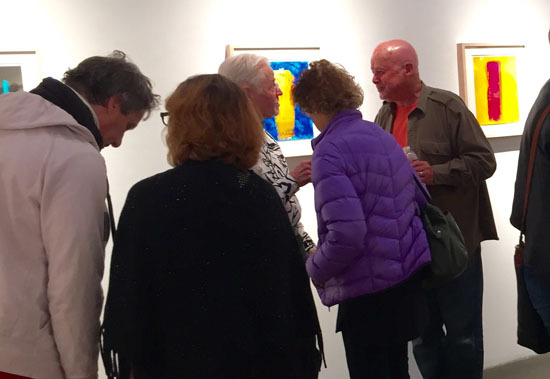 Photo courtesy of LAArtParty.com; Opening reception at Peter Alexander's exhibition at Craig Krull Gallery
Starting at 5:00pm, my first stop was the Craig Krull Gallery, which held an opening reception for two new exhibitions. "How Many Heartbeats in a Lifetime?," features the vibrant intricate paintings of Robin Mitchell. Also on view is the renowned artist Peter Alexander's exhibition "Strokes."
The opening reception was well attended, and I overheard art lovers clamoring to buy a Peter Alexander work. It's always exciting to witness people's appreciation for art and watch it move. Alexander is best known for his resin sculptures...of course, millennials may know him more for his glittering starry night works. However, "Strokes" features his small gouache drips on Yupo paper, a bold statement, using a broad brushstroke. Perhaps the only aspect reminiscent of his prior work is the contrast of color field background. Runs through April 9; Craig Krull Gallery (B-3) Bergamot Station, 2525 Michigan Ave, Santa Monica, 90404; 310.828.6410; http://www.craigkrullgallery.com
Next I made a quick detour to Peter Fetterman Gallery (which was not hosting an opening), to see the exquisite photography of Sebastião Salgado. Be sure to stop by for a peek. On View through June 11; Peter Fetterman (A-1) 2525 Michigan Avenue, Santa Monica 90404; (310) 453 6463; http://www.peterfetterman.com
Another opening took place at Ruth Bachofner Gallery. I headed straight to the back gallery to view "The Art of Taking a Line for a Walk," featuring new works by A.M. Rousseau. I happen to be a fan of this artist and was impressed with this new series. This is the first exhibition with the gallery, and her works were well received by many. I spoke with a couple of people who did not know the artist but were equally moved by the work.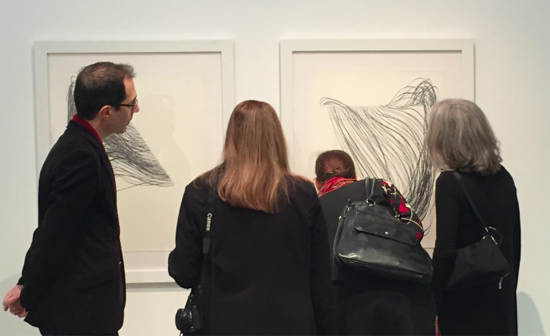 Photo courtesy of LAArtParty.com; Art lovers enjoying the work of A.M. Rousseau at Ruth Bachofner Gallery
Also on view in the main gallery is "New Paintings" by Robert Kingston. Understated, yet offering a complex stream of consciousness, the exhibit runs through April 16; Ruth Bachofner Gallery, Bergamot Station, (G-2), 2525 Michigan Ave, SM, 90404; (310) 829-3300; http://www.ruthbachofnergallery.com
For my final stop at Bergamot Station, I took in an exhibition of works on paper by Francisco Toledo titled "Sobre Papel" at Latin American Masters. The exhibition, which includes a combination of mixed media, watercolors, and ink drawings (from the 70s), emphasizes the carnal nature of our society through Toledo's tongue-in-cheek portrayal. On view through April 23; Latin American Masters, Bergamot Station, (E-2), 2525 Michigan Avenue. Santa Monica, 90404; (310) 829-4455; http://www.latinamericanmasters.com/
In West Hollywood...Leica Gallery LA offers an exhibition titled "Rolling Through the Shadows." The group exhibit showcases the photography of iconic skateboarders and well-known photographers. Although the exhibition does spotlight some action inspired images, the majority of the photographs focus on skate culture, creating a dialogue surrounding the sport and its participants. Artists include: Anthony Acosta, Ray Barbee, Joe Brook, Thomas Campbell, Jerry Hsu, Jon Humphries, Greg Hunt, Atiba Jefferson, Dennis McGrath, Fred Mortagne, Arto Saari, Ed Templeton and Tobin Yelland. Exhibition run through March 31; Leica Gallery Los Angeles, 8783 Beverly Blvd. West Hollywood, 90048; 424.777.0341; http://www.leicagalleryla.com/
Time for some art and music...my next destination was Jack Rutberg Fine Arts, where New York oboist Keve Wilson headlined an Evening of Music & Art with the the Lyris Quartet. Presented by Music & Conversation 2.0, the program included compositions by Wolfgang Amadeus Mozart, Ludwig van Beethoven, and more. The music was divine, and the players were excellent. What a lovely stop on my art party hop!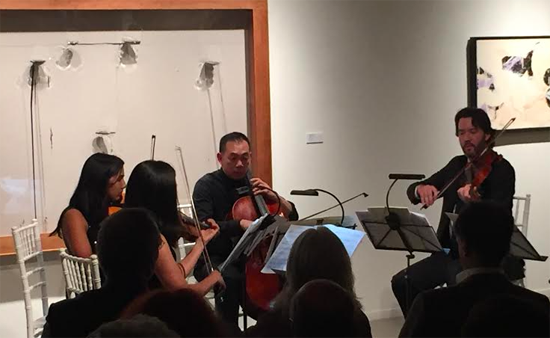 Photo courtesy of LAArtParty.com; The Lyris Quartet at Jack Rutberg Fine Arts

A beautiful setting, Jack Rutberg Fine Arts exhibited works by established artists such as Hans Burkhardt, George Condo, Max Ernst, Claire Falkenstein, Sam Francis, Frank Gehry, David Hockney, Ed Kienholz, Roy Lichtenstein, Henri Matisse, Ed Moses, Stas Orlovski, Pablo Picasso, Robert Rauschenberg, Edward Ruscha, Tom Wudl, and many more.
Delicious wine was provided by Casa Torelli Imports/Deluca Trattoria. "Modern & Contemporary Works" runs through April 30. Jack Rutberg Fine Arts, 357 N. La Brea Avenue, Los Angeles, CA 90036; 323 938-5222; http://www.jackrutbergfinearts.com/ http://www.musicandconversations.org/
KP Projects | MKG debuted new work by Victor Castillo and Tara McPherson. Castillo's exhibition "Born in '73" touches on his experience growing up in the dictator run country of Chile in the 70s. Offering a poignant, yet sarcastic view, one can assume that the artist strives to evoke the political and social injustices of the time.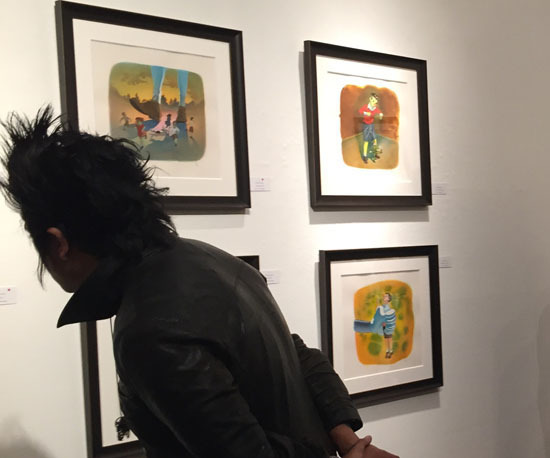 Photo courtesy of LAArtParty.com; An admirer taking in the art of Victor Castillo at KP Projects / MKG

On an entirely different note, artist Tara McPherson's exhibition "The Difference Between Here and There" celebrates heroines in dream-like portraits offering hope to the masses. Exhibitions run through April 2 at KP Projects / MKG, 170 S. La Brea Ave. (In the Art 170 Building), LA 90036; 323.933.4408; http://www.mkgallery.com
Upstairs at LAUNCH LA, "Random Acts of Fire" artist Ryan McCann pokes fun at popular culture, with his own technique of painting dubbed pyrography. On view through April 2; Launch Gallery, 2nd floor, 170 S. La Brea Ave. (In the Art 170 Building), LA 90036; 323.933.4408; http://www.launchla.org/
For the last stop of the night, I headed east to a funky little neighborhood where MuzeuMM is located. Here, I enjoyed a compelling exhibition titled "Abstract Never Is" presented by the Venice Institute of Contemporary Art and MuzeuMM. The exhibition co-curated by Juri Koll and Mishelle Moross originated at Photo LA this past January, and has continued at MuzeuMM. Additional artists were invited to exhibit. See my Huffington Post article about this exhibition.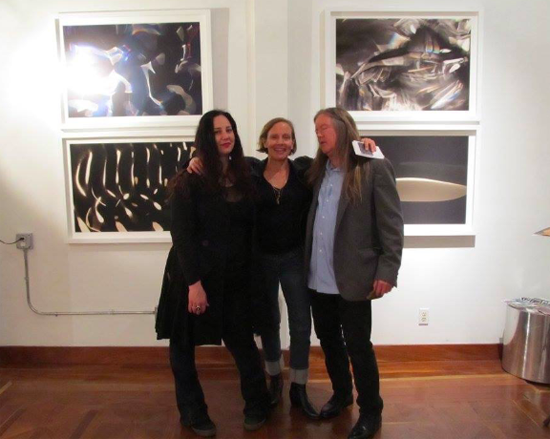 Photo courtesy of Jeff Ho, from left to right Mishelle Moross, Lisa Rosel, and Juri Koll

Artists include: Fatemeh Burnes, Sasha vom Dorp, Kio Griffith, Diane Holland, Suda House, Juri Koll, KuBO, Lawrie Margrave, Stefanie Nafé, Kirk Pedersen, Osceola Refetoff, Lisa Rosel, Edmund Teske, and others. Runs through April 9; MuseuMM, 4817 W. Adams Blvd. Los Angeles, CA 90016; http://www.muzeumm.com http://www.veniceica.org
All of the exhibitions will remain on view through March (some longer) so be sure to stop in and enjoy the art! For additional info on art openings taking place each week, visit http://LAArtParty.com. Our weekend post goes up every Thursday at noon!
See you at the art parties!