Italy is so incredibly rich in history, culture, art and gastronomy that it is challenging to take in its many layers without consulting an expert. Hiring a local tour guide for even just a half-day can enhance a traveler's understanding immeasurably. At Dream of Italy, we set out to compile an ambitious list of Italy's best tour guides in locales from Amalfi to Venice. Here are a few of our favorites: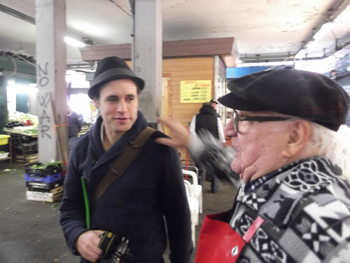 ROME: Eating Italy Food Tours
(800) 838-3006 (from the U.S.)
Rates: starts at 65€ per adult, 45€ for a child
Kenny Dunn (pictured above, talking to a fishmonger in Testaccio market) has masterminded some delicious, informative Rome food tours. (I've taken my mother to Italy a dozen or more times and she ranks her Eating Italy food tour as one of her best experiences in Italy!) Dunn's original tour is that of Testaccio, a working class neighborhood that was once Rome's ancient port. Kenny or one of his equally enthusiastic guides brings history alive as you eat your way through its streets (tiramisu, gelato, spaghetti, carbonara, salami). Eating Italy recently added two food tours of Rome's popular Trastevere neighborhood.
To be honest, I avoided going to Pisa for years, thinking it would be too touristy. (How wrong I was!) So when I finally made it there, I was thrilled to have Vincenzo as my guide. While his specialties are Etruscan and Medieval history, Vincenzo weaves every aspect of the local culture, from art to food, through his narratives. He's also a terrific guide for the surrounding towns of San Miniato, Calci and Volterra (where he was born).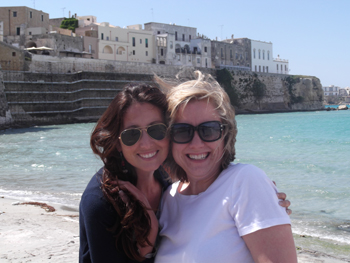 Rates: from 150€ per person (200€ per couple) full day
Vivacious Yle (pictured left above) is simply one of our favorite people in all of Italy. She has Puglia running through her blood and can take you to spots that only natives know about, like the Cava di Bauxite, a stunning hidden cave that will take your breath away. The day we spent with her was packed with incredible experiences including a tour of Lecce in a classic Fiat (followed by wine tasting at a local bar), olive oil tasting at a farm, a walking tour of Otranto and a drive by the lighthouse that marks the easternmost point in Italy.
This American expat is a jack of all trades in her adopted hometown. An avid rower, Nan can
teach you the voga alla veneta rowing style used by gondoliers. (80€ for two). An AIS
sommelier, Nan also leads wine tasting tours of the city's wine bars (where you can also try cicchetti - local appetizers). (65€ per person) Through Walks Inside Venice, Nan can be hired for a city orientation or photography tour.