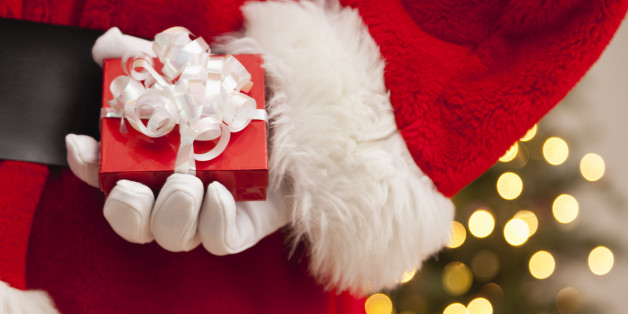 This is the time of year when children from all over the world write their letters to Santa Claus.
At 49, I'm fully aware that I'm older than most of his usual letter writers. But, since I was a young girl in the '70s, the technology Santa had to choose from during my childhood was pretty antiquated.
Back in the dark ages of 1972, it was a big deal that my dollhouse had battery-powered lights, or that all I had to do was pull a string to get Barbie to say how pretty she was.
When you think of the technology that's at our fingertips today, it seems Santa could really come through with a few items that would be helpful not only to me, but to mothers everywhere.
Plus, there is always the chance that he would like to make amends for that Chatty Cathy doll that never made it under my tree.
So, without further ado, here is my letter to the man in red.
Dear Santa:
I've been a very good mommy this year. Besides the usual cooking and cleaning that I do every day (please don't laugh, Santa -- I do all those things, I just don't do them very well), I have taken the kids to the orthodontist, the doctor, driven to music lessons, dance lessons, birthday parties, track practice, various clubs, and dances.
I also went to two birthday parties at Chuck E. Cheese's this year; this in itself should put me at the top of the "nice" list.
I know you are a very busy man, and I'm not expecting miracles, but if you get a chance and can send me a few of these items, I would really appreciate it:
A GPS to find the body I had before having my three children. I have looked for it at various weight-loss programs/gyms, and with a host of workout DVDs, but I can't find it anywhere. I'm getting desperate. HELP!
An app that allows my children to remember what I told them five minutes ago. I realize my mother asked for something similar when I was a kid, but technology has come so far since then that I'm thinking this really should be doable in 2014.
Extra memory would be a great gift and so helpful to my parenting. My memory card is so shot that I can no longer remember my kids' names. I have been cheating by using various terms of endearment and, of course, their siblings' names. Now that my youngest insists I only call him by his full name, I'm running out of options.
I could really use an upgrade on my patience. I have a teenager... need I say more?
A "pause" button would be fantastic! My children are growing up so fast. Yesterday, my daughter put on three coats, four hats, a tiger mask, and a princess crown, and then said to me, "Don't I look beautiful?" And, as I type this I can hear our youngest giving his teddy bear a time-out. There are so many moments I would just like to freeze.
I would like a power cord that I can plug in whenever my battery is low. Having three kids and very little sleep is starting to wear down my original power supply.
Finally, could you slip some gratitude into my stocking? I know I could use it. I have so much to be thankful for. Far too often, I let the day-to-day grind keep me from remembering this.
Thank you. Wishing you and the missus a very merry Christmas.
Kathy
This piece has been previously published on My dishwasher's possessed!
Like Us On Facebook |

Follow Us On Twitter |

Contact HuffPost Parents
Also on HuffPost:
PHOTO GALLERY
Elf Shaming