Mother's Day is a time to come together as families and friends to celebrate some of our greatest nurturers, teachers and providers. It's not easy being a mother under any circumstance, but I am particularly inspired by, and mindful of, the mothers we serve in countries where malnutrition and food insecurity still persist.
Malnutrition remains one of the world's most pervasive problems, especially for women and children. Right now there are two billion people under-nourished -- nearly one third of world's population. That includes 165 million children with chronic malnutrition who suffer from serious, often irreversible, damage to their bodies and brains. These children are at risk even before birth, as their nutrition levels are directly tied to those of their mothers. While it is our mothers from whom we receive our first nourishment, there are many who are unable to provide this adequately due to their own poor nutrition.
Malnutrition is one of the underlying reasons why the world is not on track to reach most of the Millennium Development Goals, notably on extreme poverty, hunger and child and maternal health.
But as Helen Keller once said, "Although the world is full of suffering, it is also full of the overcoming of it."
If we equip and empower more women in developing nations with the skills, education and resources needed to improve the health and economic stability of their families and communities, we can gain steps toward effectively and sustainably breaking cycles of poverty.
We are seeing this happen with initiatives like Helen Keller International's Homestead Food Production program, which helps women in impoverished regions establish and maintain small household farms to generate nutritious food and income. The program has created more than 190,000 jobs, primarily for women living in poorer households in rural areas.
Women like Ouoba Salamata, a hard-working grandmother I met on a recent visit to Burkina Faso. She is the sole breadwinner for five children, seven grandchildren and an elderly husband. Living in one of the poorest countries in the world with incredibly high malnutrition rates doesn't make things any easier. But like many women I know, she is a fighter and willing to do whatever she can for her family.
Three years ago, Salamata got involved with our Homestead Food Production program and received tools, seedlings and chickens, as well as agricultural training and nutritional counseling, so that she could start growing better food in her own garden and prepare healthier meals for her family.
Today, Salamata grows beans, cabbage, eggplant, soya and tomatoes, as well as orange-fleshed sweet potatoes, which are rich in vitamin A to help her children and grandchildren thrive. Her success as a farmer makes her a trusted leader and teacher among the other homestead gardeners in her village. And, thanks to the nutritional training she received, the village mothers also rely on her for advice on the care and feeding of their children, including such valuable lessons as the importance of hand-washing and breastfeeding.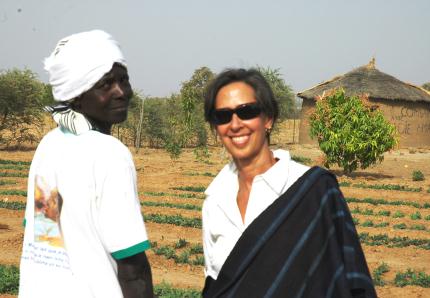 Salamata Ouoba gives Kathy Spahn a tour of her homstead farm in Burkina Faso
Former Secretary of State Hillary Clinton has been a tireless champion of these and other efforts to strengthen the world's women and children and, in so doing, make major strides toward eradicating world poverty. We will be honoring those efforts by presenting her with the Helen Keller Humanitarian Award later this month.
We are also celebrating Salamata and other women around the world trying to make better lives for their families by participating in the RaiseForWomen Challenge to raise awareness about the impact such programs can have in building a stronger world in which everyone can thrive.

So I encourage everyone to keep women like Salamata in mind as they celebrate this Mother's Day. Together, by supporting women's empowerment programs like Homestead Food Production and the others represented in the Challenge, we can take real steps toward change.

Mothers and grandmothers around the world are counting on us.