CO-AUTHORED BY TOM ARNOLD
Recent trends in the United States show more women becoming the breadwinners of their households. With increasing numbers of young women graduating from college and earning graduate degrees, this should come as no surprise.
Yet there are still some who still hesitate at the prospect, fearing they may be perceived as less feminine or too controlling. One only has to look at some recent Hollywood portrayals of successful women like The Devil Wears Prada or Damages to get that message.
As we approach Mother's Day this year, instead of perpetuating tired stereotypes of woman breadwinners, let's celebrate and encourage real women who are finding ways to succeed financially, especially those in the developing world who, through their efforts, are saving the lives of their families.
The Millennium Development Goals (set in 2000) target 2015 to halve the number of women and children around the world suffering from extreme poverty and hunger. Yet it's hard to ignore that one of the major barriers to achieving this goal is that women are not empowered in the fight against hunger - far from it. Social customs in many parts of the developing world often literally leave women and children with the scraps at the dinner table as the men eat first and best, and also determine how all of the family earnings will be spent. The fact is that a healthier future for our children requires more women and mothers to become breadwinners and economic decision makers.
There is still a long way to go toward significantly reducing the number of those who suffer from hunger - 870 million people, or one in eight worldwide. Empowering women with the tools and support needed to contribute to household income and have a say in how that money is spent has to be an essential part of that.
As reported in a new set of briefs published by the USAID-sponsored SPRING project, which helps developing nations reduce numbers of underweight children, there is a clear path to better nutrition that starts with the empowerment of women - socially, educationally and economically.
In fact, research has shown that throughout the developing world, when women have decision making power regarding income, it is more frequently used on food and health care for the family, particularly for children. And one of the best ways for women to gain that influence is, of course, to become a significant contributor to that household income.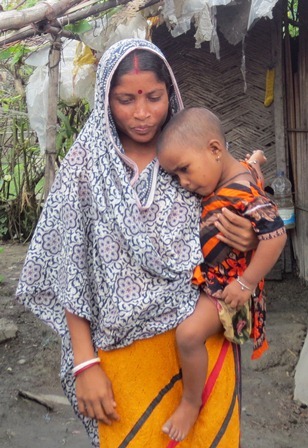 There is also strong evidence that supporting mothers with nutrition education, access to healthy food and knowledge about better feeding habits during the 1,000 days from pregnancy to their child's second birthday can not only save more than one million lives each year; significantly reduce the human and economic burden of diseases such as tuberculosis, malaria and HIV/AIDS; and improve a child's educational achievement and earning potential; but also increase a country's GDP by at least 2-3 percent annually, helping families, communities and countries break the cycle of poverty.
In order to capitalize on this evidence and make lasting change in the fight against hunger and malnutrition, women in these fragile communities must have a bigger voice in shaping the future for themselves and their families. This fundamental point is well recognized by Scaling Up Nutrition (SUN), a 50 nation-strong movement that unites governments, aid groups, the United Nations, donors, businesses and researchers in efforts toward improving nutrition in the developing world. Their 2013 Progress Report notes that, "Women, their households and their communities should be centrally involved in the development, implementation and evaluation of nutrition programs in their own communities."
As compelling as these research findings and resulting conclusions are, what is even more powerful is seeing how this change movement is impacting the lives of real mothers who, just a few years ago, did not see much if any hope for the future.
Take Parvin Begum (pictured below), who lives in Kuitpalli, a remote village in Bangladesh with her husband and three children. In Bangladesh, nearly half of all children under the age of five and 30 percent of women of childbearing age are victims of chronic hunger.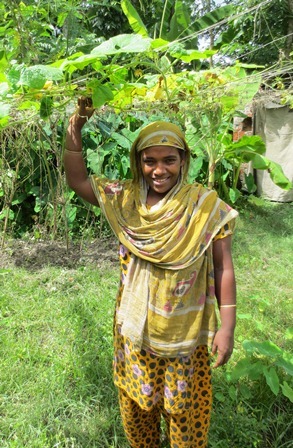 Not long ago Parvin's family was perilously close to becoming part of this bleak statistical portrait. Her husband lost his job with a road construction crew when he was injured, and their family income plummeted. To help pay for medical costs, he started a tea stand in their village, but what he made was not nearly enough to support a family of five. Parvin took cleaning jobs in the district, but her small wage barely made a difference. She found herself having to make hard choices at the market as she could not afford quality vegetables and other healthy options.
Last year Parvin joined the SPRING Farmer Field School launched in her district, in which the local team from Helen Keller International provides women with education and resources in cultivating nutritious food - vegetables, poultry and fish - right at home, as well as nutrition and hygiene practices that will help keep her family healthy. Through the program, Parvin learned how to maximize land on the small government plot she lives on with her family. She not only cultivates all the vegetables and poultry needed to feed her family well throughout the year, but can sell the surplus vegetables and eggs at the market for significantly more than what she made as a cleaner.
What's more, with the skills and knowledge she has gained Parvin can now make choices about what to feed her children, instead of just accepting what is available. She has the power to ensure that high nutrient vegetables, eggs and meat are no longer luxuries in her family's diet. She also has a say in how the additional income she is contributing is spent. In her case, it is being used for the education of their children, something they otherwise would not be able to afford.
Empowering mothers like Parvin to take more control of her family's quality of life and ability to prosper is what will help us achieve the Millennium Development Goals in 2015 and beyond. Each time we can empower women in developing nations to become breadwinners, decision makers in their homes, and inspiration to other women in their communities, we strike a blow against a future blighted by hunger and its devastating impact. We give their children a chance to avoid the pain of the irreversible physical and mental damage caused by chronic malnutrition.
When we give impoverished women a place at the global table of economic development, we take a firm stand in decreasing rates of child mortality and fostering health and prosperity in the developing world. This is something that is well worth celebrating on Mother's Day and supporting all year round.
Helen Keller International is an active partner in the SUN movement and promotes the 1,000 Days approach in its nutrition programs in Africa and Asia. Tom Arnold, former CEO of Concern Worldwide, is among a select group of leaders chosen by the UN Secretary General to serve as part of the movement's Lead Group. He will be honored with The Helen Keller Humanitarian Award on May 20, 2014, in recognition of his efforts in the fight against hunger.