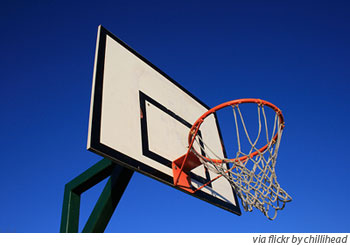 My mother was the starting varsity point guard at her high school and her proudest moment is earning the first legal foul in her alma mater's new gym (the births of her four children closely follow). This means that I've been filling out March Madness brackets since I could hold a crayon. But the excitement of filling out brackets and recalling school colors and mascots has dulled over the years.
Sure, I'll fill out my bracket, talk trash with a few friends, and catch the games, but I think this year it's time we take March Madness to the next level. Let's break free from the binds of our brackets and keep the madness going. How does one do that, you ask? Easy. Host your own basketball competitions for each stage of the tournament.
64 Teams, Second Round: Score 64
OK, so some of you are wondering what happened to the first round, and the rest of you are applauding the fact that I just skipped the First Four. This is where the real madness begins and where everyone is watching to see if a lower seed will upset everyone's bracket. So why not embrace the panic of a buzzer-beating Cinderella Story and gather some friends to see who can score 64 points in the shortest amount of time?
Be sure to start with a good ball by reading some basketball reviews -- the last thing you want to be accused of is hosting a tourney with sub-par equipment. Then you can choose to play on an indoor court, on an outdoor court (if you beat out the local teenagers), or measure the 3-point line and play on a goal at home. This will get your head in the game, and you can even turn it into a tournament of your own.
32 Teams, Third Round: Two 3s, Total Breeze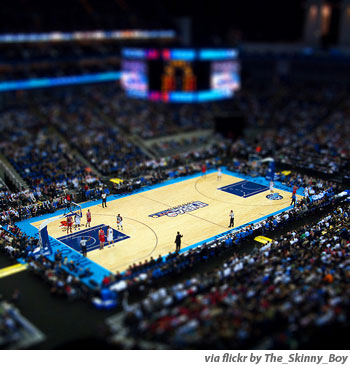 In this round, heartbreak is still up for grabs and even if all the 16 seeds were eliminated, there's still a few representatives from the lower half clinging to their positioning for the chance to have their sweat mopped up in that final game. Once you've managed to score 64, take your shooting to the next level and see which of your friends can sink two 3-point shots from each of the classic 3-point shootout locations (both sides of the baseline, elbow extended and top of the key). Though the traditional shootout uses five balls at each station, this will be less painful for those who never made if off the bench.
Place two balls at each of the shooting spots, set the clock for 30 seconds (with 25 shots, the pros get 60 seconds), and let them go. Whoever makes the most shots wins. Traditionally, two rounds are played, but if none of your friends are former NBA All Stars, and you're so inclined, play a few extra rounds. You can even give Wii Sports Resort version a spin.
Sweet 16: H-O-R-S-E, Of Course
In the sweet 16, we're ready to see some serious skill on the court. Wins are no longer about luck, but about hustle and the ability to make decisions under pressure. So what better game than H-O-R-S-E? Anyone can play and who knows what kind of talents your sixth man has been hiding. As my coach repeatedly said, "you're only as strong as the last player on the bench" (that was me). Well that, and free throws win the game. I missed a lot of free throws--see previous sentence.
The rules for H-O-R-S-E are easy and all you need is a ball, some friends and a basketball hoop. Feel free to play this tournament style, but be sure to stretch first or you won't be able to use your arms to click on the links to watch the streaming games at work the next day.
Elite 8 -- Can't Go Wrong with Beer Pong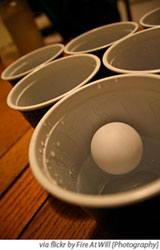 If there's anything that lends itself to drinking games, it's college sports. So grab your friends, who are of age, and set up a beer pong tourney. You can use your creativity to come up with your own team name or grab the elite 8 from the real bracket. You'll need to get a beer pong table and no make-shift tables made out of plywood this year. You can go for a personalized design, or splurge for a basketball-themed pong table.
If nothing else, beer pong is the perfect hybrid of basketball and drinking. It's great for those with and without athletic ability and great for casual and competitive beer drinkers alike. Just make sure you don't run out of ping pong balls.
Final Four -- Stay and Play
It is the biggest event in basketball, so if you're going to embrace it, why not lace up and hit the court? If you don't have enough people to make four teams of five, scale it back and play with three or four. Teammates can get together and make T-shirts or design them using a site like CafePress. Choose to have teams battle it out to the final round or hold off and host an EMMM (Even Madder March Madness) Title Game all your own.
Championship Game -- NCAA, Ain't the Only Way
For the championship game, relive all of your March Madness by taking the top two scorers of each round and letting them face off one last time for all the marbles and the EMMM title. If nothing else, you can eliminate yourself from the debate about whether or not March Madness is a drain on workplace productivity.
Of course, you could just stick with your basic bracket, but where's the fun in that? You got to leave it all on the court if you want to go home happy. You might not go home with the trophy, and your friends might make fun of you if you perform abysmally, but at least you won't be crying on the court or the losing team on the bus who's told not to talk, or smile. That is the spirit of high school sports -- at least it was if you went to my high school. Happy March Madness, everyone! This year, make the madness madder than ever.