Summer evokes a carefree spirit and brings longer days, shorter hemlines and summer love. Unfortunately, summer weather can make managing your beauty routine quite difficult. Humidity makes hair frizz and high temperatures could literally melt your face off -- cosmetically speaking of course.
Rather than getting worked up about how the summer season is ruining your appearance, build a Summer Beauty Survival Kit. What goes in this kit? Anything you need to look your best in spite of unexpected water balloon attacks, rain storms and heat waves. Here are a few basics to get you started: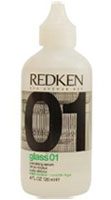 Frizz Free
Sunnin' and funnin' can leave hair frizzy and unruly. To regain control, start with a serum like Redken's Glass 01 Smoothing Serum. This product can be used on wet or dry hair, but be sure to only use a tiny bit as using too much will weigh your hair down and leave it looking greasy. The next most important item in summer hair care is a hairspray that controls frizz while allowing sexy summer waves to remain soft. Redken's Workforce 09 Flexible Volumizing Spray delivers volume that lasts, frizz-free shine, and even scored well in Good Housekeeping's Anti-Humidity Hairspray GHRI Test.
Fake, Don't Bake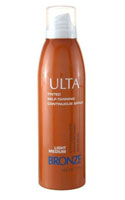 A sun-kissed glow is great -- unfortunately it can cause wrinkles, damaged skin and even skin cancer. Ulta's Tinted Self-Tanning Continuous Spray sprays evenly for a streak-free golden glow, and was named the best self tanner on the temporary tan market.
Self tanner isn't for everyone, but a sexy summer glow is. Using a shimmering bronzer like Lancome's Star Bronzer Magic Bronzing Brush gives a great glow and is packaged in an easy application brush. If you'd prefer to ditch the bronze altogether, dust cheeks with a blush like NARS Blush available in 21 shades. Don't know how to properly apply blush or bronzer? Julyne Derrick of About.com has great application tips for perfectly pigmented cheeks.
Bright White
Summer is prime camera time, which means plenty of opportunities to flash your megawatt smile. If your teeth are looking a little dull, try an affordable, at home solution like Crest 3D Whitestrips Professional Effects. Crest offers some of the best whitening strips on the market and has repeatedly delivered top-performing, reliable products.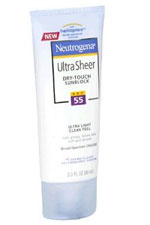 Don't Run from Sun
Protecting your skin from the summer sun is of paramount importance. The best quality sunscreens will guard against exposure to UVA and UB rays to keep your skin from burning and prevent premature aging. Neutrogena is known for their gentle formula sunscreens and their Ultra Sheer Dry-Touch Sunblock is a popular choice. You should also opt for a quality facial moisturizer with SPF. Real Simple has gathered The Best Face Moisturizers with SPF by skin type and price range. For more tips about sunscreen, check out the information provided by The Skin Cancer Foundation.
Salon Style
Mani-pedis are a staple in the summer beauty routine, but can be time and cash consuming. Though Sally Hansen's Salon Effects nail polish strips won't do for your toes, they come in several patterns and colors including Kitty Kitty, a leopard print, and Laced Up, a black lace pattern. The strips apply easily, are pre-sized, chip-resistant, and last up to 10 days. Sinking your nails into this product may be difficult because they sell out quickly, but they're definitely worth driving around for. Sally Hansen products can be found online, in drugstores, and at big-box retailers like Target.
Protect Your Feet
Your summer style isn't complete without a new pair of sexy sandals but if the straps rub your feet the wrong way, you could end up with unsightly calluses or blisters. To protect your feet, carry something to separate your new favorite strappy sandals from your tender skin. Though an adhesive bandage may do the trick in a pinch, pads like Dr. Scholl's Moleskin Plus Padding can be cut to size to save the day, and your feet.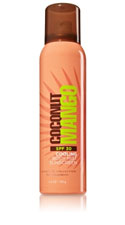 Stay Fresh
Perfume is great for cooler months, but in the summer it can be too heavy and, well, perfumey. Choosing to go with the light scent of a body splash will keep you smelling great, without overtaking the room. Bath and Body Works sells several popular Fragrance Mists and Body Splashes for around $12 a bottle. If you want to be the freshest version of yourself, it doesn't hurt to grab a travel-sized deodorant too. Go for an unscented variety like Ban's Original Roll-On Antiperspirant to prevent it from competing with the delicious scent of your body splash.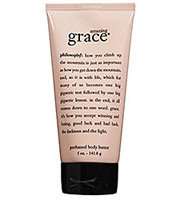 Rehydrate
Making sure you get your 8 glasses of water per day will keep your body hydrated and healthy, but what about your skin? To keep skin looking its best remember to rehydrate it, especially after long days spent outside or swimming. A body butter like Philosophy's Amazing Grace Perfumed Body Butter will leave skin feeling refreshed and lightly scented. If your skin doesn't get quite dry enough to justify a body butter, go for a good moisturizer like Aveeno's Active Naturals Daily Moisturizing Lotion.
Shine On
The summer sun may feel great on your skin at first, but it can leave your forehead, and other areas of your face, glistening and a little greasy. Rather than worsening the situation by wiping it with the back of your hand, blotting sheets like Bosica's Blotting Linens will help you remove excess oil and shine without disturbing your makeup. It's also a good idea to carry cleansing cloths like Philosophy's Purity Made Simple One-Step Facial Cleansing Cloths or Neutrogena's Makeup Remover Cleansing Towelettes for especially steamy days.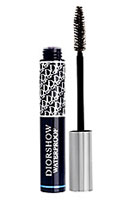 Lasting Looks
Though it may be a little trickier to get off at the end of the day, waterproof mascara and eyeliner are necessities for summertime. DiorShow Waterproof Mascara comes in three colors, delivers pure lash glam, and has received rave reviews from beauties everywhere. If Dior mascara is out of your price range, try L'Oreal's Voluminous Waterproof Mascara another popular choice for mega volume and waterproof protection. Pair perfect lashes with a liner like Stila's Smudge Stick Eyeliner for lasting pigment in 8 different shades including metallics.
Once you've gathered all of your materials, put them in a bag with a plastic liner like Vera Bradley's Large Cosmetic Bag. A few other items you may want to consider tossing in are a compact mirror, collapsible brush, hair elastics, bobby pins and safety pins. Keeping everything together will make managing your beauty routine much easier this summer, even when you're on the go. Stocking your Summer Beauty Survival Kit with all the necessities will keep you looking hot, no matter how high the temperature gets.