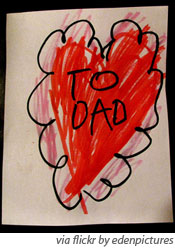 There are many types of dads in this world (no surprise there): dads who like ties and razors, dads who want a jersey or autographed merchandise, dads who want video games and nerd gear, and every type of dad in between. But there are also those of us who have dads who don't want anything, at least nothing purchasable. If you're like my siblings and me, when your dad tells you he wants kindness, you smack whomever is standing close enough, and you ask what else you can get him.
For the dads who ask for things you can't exactly put a bow on, here are their most popular requests and how to wrap them up for Father's Day:
Peace and Quiet
Because there's no peace without a little war, first focus on the quiet. And while you're doing that, you might as well focus on quiet in the sense of "the absence of undesirable noise." And that leads us to one very specific item: headphones. For headphones that do it all and block it all out, consider Dr. Dre's Beats Headphones or Koss' Striva Tap headphones.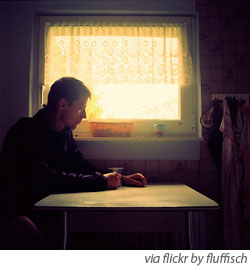 If your dad is more into going big and sending you home so he can find his inner peace, consider getting him started with a home theater system. Whether he chooses to find his inner zen while watching the Discovery Channel, ESPN, or the Pauly D Project on MTV (don't judge: there are spiky-haired dads, too), he'll be able to immerse himself in the experience.
If your dad actually wants peace and quiet and you actually want to give it to him, books are a great gift. With choices like The Odyssey, The Divine Comedy, and Little Women (don't get him that one), even if dad isn't a reader, he can fool his friends into thinking he's pretty smart with Penguin's Hardcover Classics. Too serious? Think about niche books like Top 10 for Men, The Mighty Book of Sports Knowledge, or Go the F**ck to Sleep, something all dads can relate to.
To Hang Up the Whistle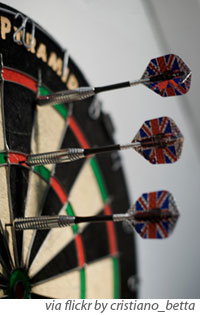 With four kids in my family, there were a lot of references to whistles and striped shirts in my parents' house. So what do you do when your dad just wants to hang up his whistle? Buy a hook would be disrespectful, funny, and probably not a great idea. If he's tired of refereeing, give him something to do that lets him blow off steam somewhere other than a whistle. The Arachnid Interactive 6000 Soft-Tip Dart Game is one of one of the best electronic dart boards, and though it doesn't come with targets (read: family photos), you can print some of your own.
If there's one nearly universal male activity, it's golf. Why golf? I can't say. If your dad is already a golfing pro, set up a trip for him and his friends to one of the Top 100 United States Golf Courses as chosen by GolfLink.com. If your dad thinks birdies and eagles only relate to feathered foul, start him off slow with a lesson at your local course or driving range.
For the ultimate hang-up-the-whistle gift, look no further than a universal remote. With all the power, dad will feel like king of the castle, and the lights, and the music, and the television, and maybe even his children. Be sure to read universal remote reviews, and check out the Logitech Harmony One with a color touchscreen that will make Dad forget all about his whistle, until someone tries to take the remote.
Time With the Family
If Dad asks to spend time with the family, don't start sweating. This doesn't have to mean camping trips, long car rides, or a day spent awkwardly discussing topics you never want to cover with Dear Old Dad. First up, consider tickets for the family to Dad's favorite event. Whether it's a concert, comedy show, play, or sporting event, pick something you like, too, and check out StubHub or TicketMaster. If Dad's favorite sport isn't in season, print next season's schedule, if available, and let him pick the game.
As a way to spend time with the family, televisions may seem like a stretch. However, if you present it as a means of gathering around a bowl of air-popped popcorn and a way to share a few laughs, tears, or both, you can't lose. Plus, it's a new TV! The Samsung UN46ES65 delivers a great picture, has solid performance, and has been well-reviewed. Whatever you decide to watch, just make sure you make an event out of it to keep Dad feeling special.
Though photo books are touted as more of a Mother's Day gift, Real Simple suggests an iPhoto book for this Father's Day. Photo books are a great option for dads on the go, and iPhoto gives you a modern, customized product that doesn't have the flowers and frills of your standard photo album.
No matter what Dad asks for this year, remember that there's a way to put a bow on it. Of course, you can always try your best to give him whatever he's actually asking for, but I've found that having a backup plan is the best approach. Who knows what side of the bed he'll wake up on, so be prepared to give him what he seems to want and what he really wants, however you choose to interpret that.