Toddlers get obsessed. Almost every parent has countless stories to tell about their child's obsessions and the funny stories that came about because of them.
Trucks? Pack a lunch, as you might be stopping at every construction site you see to sit for a while and watch.
Firefighter hat? Get a nose plug. Don't even try to take off that firefighter hat to wash dirty hair!
Pink tutu? Buy a comfy couch: You'll be watching that new ballet movie 17 times straight the first morning. And 42 times later that afternoon.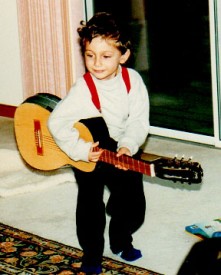 We've all been there, in one way or another. Whether it's construction, trains or Princess Barbie, the drill is the same. Our kids live it and breathe it until we think we just can't stand it another second! I was lucky. My son Benny became obsessed with a real but miniature guitar at the age of two -- to the point that he was sleeping with it like a teddy bear!
So how is an obsessed toddler like Benny the perfect pre-reader?
When your child wants nothing but more trains, trains, trains, don't try to distract him. Give him trains! Go to the library and lead him to all those delectable books about trains.
Get your child his or her own library card and start checking out a few books at a time. Make sure to explain that you can go back and check out more books when they've been read (probably ad nauseum)! They'll begin to understand the concept of libraries, the borrow system, and that the books are not theirs to keep...and that they can always get new ones!
Let your child not only pick books you read together, but also decide what and how long you read a specific book. It's OK if they want to stop in the middle -- prolonged attention spans haven't kicked in yet!


They might want to just look at it all by themselves or better yet, let them "read" to you!
Catch your kid at being good and and reward with books about trucks/hats/tutus/whatever and
You don't only have to gift a new book about trucks/hats/tutus/guitars/whatever. Imagine how much fun it'd be to get a big empty shopping bag to take to the next yard sale -- empty now, but soon to be stacked with books for all that good behavior.
You can leave a surprise book on his or her pillow as an extra bedtime story.
Or how about earning star stickers for a trip to the local store for a new book?
What do you do if your child expresses no interest in books at all?
Leave piles of books all over the house, within reach. (If it's a paper book and they need supervision, you can leave it on a high shelf where it is still visible.)
Keep a bunch of books in the car. Don't push your kid to read them -- just have the books within reach.
When you do have that picnic as you watch the construction site, read the book about trucks right then and there.
Leave books just lying around and let them discover it or rediscover it on their own.
Forcing a child to sit down and listen to a book before they're ready will put the kibosh on the love of reading and will send the wrong message. You don't want them to start to see it as something to dread. And if they get a cuddle with you, it'll soon be something they're begging for.
If all else fails, grab a truck, a firehat and a tutu and get that kid obsessed!
Book suggestions:
Chugga-Chugga Choo-Choo by Kevin Lewis and Daniel Kirk
The Little Train by Lois Lenski
Freight Train by Donald Crews
Ballerina by Peter Sis
Ballet Beginnings for Children: Pre-School Movement Fundamentals for Ages 3 and 4 (Bk. 1)
by Rosemary Boross
Fire Truck by Peter Sis
Pinkalicious and the Pink Hat Parade by Victoria Kahn