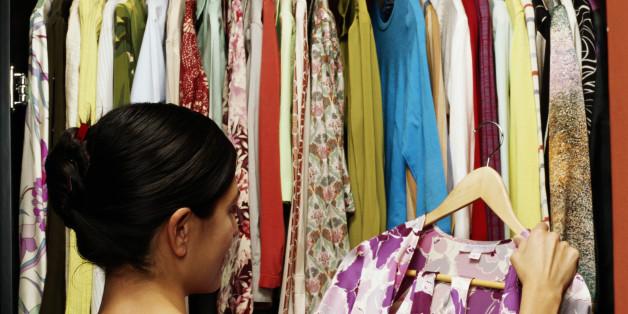 I just got back from the biggest business trip of the year for me -- The Cannes Lions Festival, a week-long global conference and awards show and by far the most prestigious event in the advertising industry. It's a crazy, glamorous, important and exhausting trip and I both look forward to and dread it every year.
Because I have gone for so many years (this was my 14th), it has unofficially become a sort of touchstone for where I am in my life. I've always loved clothes and the power they have over how you feel, you look -- not how you actually look in many cases, but how you think you look and want to be portrayed. So naturally, the question "What am I going to wear?" starts in May as I decide what I am going to pack and "need" to buy, but really comes down to how do I want to portray myself right now in my life, most especially through my clothes in Cannes.
The first time I went to Cannes I was the mother to an almost-2-year-old and almost-1-year-old. I was exhausted all the time and wasn't sure what to wear and didn't have a lot of money to spend on clothes, anyway. Over the years, I went to Cannes when I was unhappily married (probably cared more about what I packed then as it was something exciting to look forward to), divorced (probably the most fun to dress for as I was at my thinnest) and now happily married.
Figuring out what to wear and how to look is certainly not something I am alone in, obviously. I've been very lucky to grow up in this industry with a bunch of women who have become true friends over the years. They are all similar ages and are at somewhat similar life points and how our wardrobes have changed -- subtly in most cases, as we have aged, gained or lost weight and amassed more disposable income and confidence is an interesting thing.
This year leading up to Cannes, some of those friends called me so we could discuss what to pack. Which really translates into how do I present myself on this industry stage? How do I look professional, accomplished, young, fun, fit and fabulous while still dressing my age?
I like to consider myself to be a somewhat young-looking 44-year-old. I do Pilates faithfully several times a week, highlight my hair and thanks to the fabulous ministrations of my good friend the amazing Dr. Leslie Baumann, I am privy to the best skin care money can buy. And yet, I am aging. And how to do that gracefully in an industry that is obsessed by youth and beauty is an interesting thing.
My daughter is about to turn 15 now and has grown into a truly beautiful young woman. I believe that I have taught her that intelligence, a sense of humor, a good heart, loyalty, humility, kindness and generosity are the most important qualities in a person. Yet it's hard to get around wanting to look good. Should we? As a woman who works in an industry that in many ways helps to dictate the standards of beauty, it would not be genuine if I were to pretend that I don't care how I look. Of course I do, but how to age gracefully with purpose and style is something that I am often not quite sure of. And I realize many other women are not, either.
When I was a girl, my mother never let my sister or me play with Barbie dolls. She was afraid that if we did, we would get a skewed sense of beauty. We desperately wanted Barbies, though, and at one point she finally agreed to let us get a Darcy doll. Although in retrospect I'm not sure why, as Darcy was basically an Amazonian Barbie. People come in all shapes and sizes, and Darcy was no exception. She didn't fit into Barbie's dream house, car or boat, but she was beautiful in her own way.
And maybe that is the point. We tell young girls to be comfortable in their own skin and yet as we get older, we are often not sure who our own role models should be. Women that age gracefully and beautifully? One woman who is a fantastic example of beauty and grace is the very founder of this site, Arianna Huffington. I had the pleasure of interviewing her during a book party for her new book, Thrive, hosted by Advertising Week at the Paley Center in Beverly Hills last month. She had so many amazing things to share during our talk that I wanted to share them with you.
So here is to aging gracefully and living with beauty, dignity, grace and most importantly, a sense of humor. Because that is always in style.