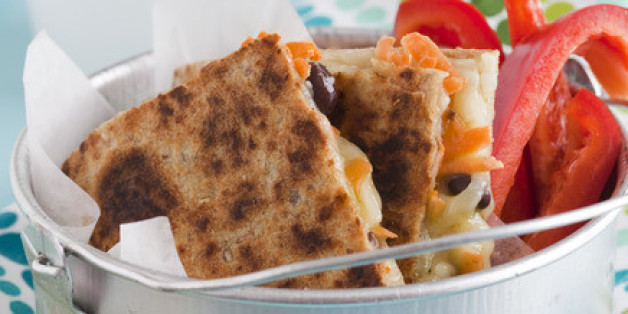 The National School Lunch Program has taken a lot of heat over the years for its shortcomings in nourishing American school children. Well, according to a recent study at Tufts University, many parents aren't doing so well either, sending lunches that are loaded with packaged foods and sugary drinks, with little in the way of fruits, vegetables and other wholesome foods.
Below, you'll find six steps to help you buck the trend and pack lunches for your kids that are both nourishing and delicious.
1. Start with the main course: This could be a sandwich, salad or thermos of rice and beans. Be sure you've got some protein in there and tailor portions to your child's age and appetite.
2. Add fruit: Include cut or whole fruit and do any of the work that will help your child reach for the healthy stuff: peel tangerines and slice melon into bite-size chunks. Aim to offer seasonal fruit: strawberries in spring, grapefruit in winter.
3. Add a vegetable: If your main course is loaded with vegetables, this can be optional. Try to mix it up by experimenting with crunchy options, such as jicama or fennel. Add a container of salad dressing or other veggie dip to up the interest.
4. Include a satisfying snack or side: Kids like crunchy sides, and there are plenty of options that are relatively wholesome (there is more to life than little fish-shaped crackers). Often, the side becomes a midmorning snack that tides them over until lunch.
5. Don't forget a drink: An icy thermos of water or milk to keep the kiddos hydrated is a lunch box must, unless those are provided at school, of course.
6. Surprise them with an occasional sweet or loving touch: Goodies and non-food "treats" (a note, sticker, drawing) make lunch something to look forward to.

This post is an excerpt from the award-nominated cookbook, Best Lunch Box Ever (Chronicle Books, 2013). You can learn more here.
Follow Katie on Instagram here and find her blog here.
photo credit: Jennifer Martine