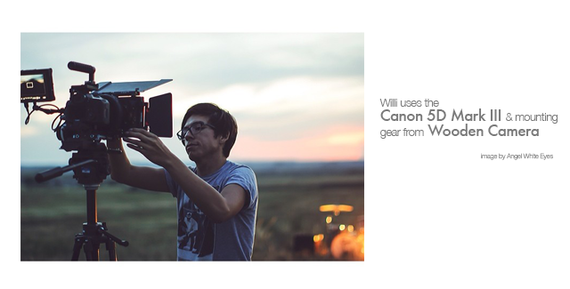 Willi White wants badly to speak for himself. Like many people on Pine Ridge Indian Reservation in South Dakota, he's tired of outsiders coming in to tell his people's stories.
"It's always through the same lens -- about people who are riddled with poverty and struggling, and that's it," White says. "People feel like we're lost, like we're done."
The "we" he is referring to are the Oglala Lakota people, more generally known as Sioux Indians. The Oglala's reservation of Pine Ridge is among the poorest of the 334 Indian reservations in the United States. Its people face as much as 80 percent unemployment, life expectancy of age 48, and median income of $3,000 a year.
And then there's White and his best friend, Angel White Eyes. Both are in their 20s, college-educated, and have a plan for taking back those startling sound bites about Pine Ridge strewn across the media.
White had dreamed of creating a reservation-based entertainment studio since he was in high school at Red Cloud Indian School. More recently, in post-college downtime, he would meet with White Eyes and discuss their plans for future projects.
"We wanted to bring the arts and our love of the arts to the reservation," White says. "For me, growing up here, there was no opportunity to express that. We want to get the community involved and tell our own story."
In White Eyes' living room one day, Indigene Entertainment Studios was born. "Indigene" means indigenous person, and White says he was drawn to the word because though it described him, he'd never heard it used before the moment he and White Eyes found it.
Finding the Right Story
The studio may have only found its name last month, but White and White Eyes already have big plans underway. They launched an Indiegogo campaign this past week to fund their first short film, "The People," which they plan to enter into South by Southwest, Tribeca, and indigenous film festivals.
"Our goal with getting into festivals is to develop this into a feature film and get people interested in what we're doing, interested in Native film," White says.
The 15-minute short takes place 71 years in the future, in a dystopia where TransCanada's Keystone XL Pipeline has been pushed through. It focuses on a group of young Oglala Lakota people living on a quarantined reservation. In the film, the quarantine results from the grandparents' generation fighting the pipeline violently. Now, this younger, future generation wants to escape the armed militia guarding their land.
Drawing from Current Events
Part of what makes the film universally appealing is that it pulls from current realities, as people across the United States fight the proposed Keystone XL Pipeline. The pipeline potentially will run from Canada across the U.S., impacting areas from Montana to Illinois to Texas.
In April of this year, on Pine Ridge's neighboring Rosebud Reservation, the tribe set up a Spirit Camp--a peaceful way to protest the pipeline's construction. And in September, Willie Nelson and Neil Young will perform a concert at a farm in Nebraska to benefit Keystone Pipeline opposition groups.
Isnalawica Belt, also of Pine Ridge, wrote the film's script. He saw a music video White directed last fall for Pine Ridge's Scatter Their Own, and approached him about writing a screenplay.
"What we're really trying to highlight is all of the issues that we as native people face throughout our lives, dealing with political issues, land rights, water rights," Belt says in the Indiegogo campaign video. "But also we just want to have fun. We want to make our own movies, and we want to be able to produce our own films and our own stories, and tell them the way that we want to."
Into the Future
To make that happen, Indigene Studios is seeking interested people who want to be involved: crewmembers, actors, extras--people interested and willing to learn. They also need funding for camera and light rentals, wardrobe, and gas to get to shooting locations scattered throughout the 2 million-acre reservation.
"It's very surprising and humbling how much people are interested and want to be involved," White says.
With festival deadlines fast approaching, Indigene Studios is on a relatively tight deadline to complete "The People." Filming will begin in early October.
"This whole experience is not about me, but about the we," White says in the campaign video. "That's built into our culture. We've always been a people about community and about supporting each other and helping each other, and it never being about one person."
A screening of "The People" tentatively will take place later this year at Nunpa Theater, in the district of Kyle on Pine Ridge. For more information or to help fund Indigene Studio's first project, visit their campaign page.