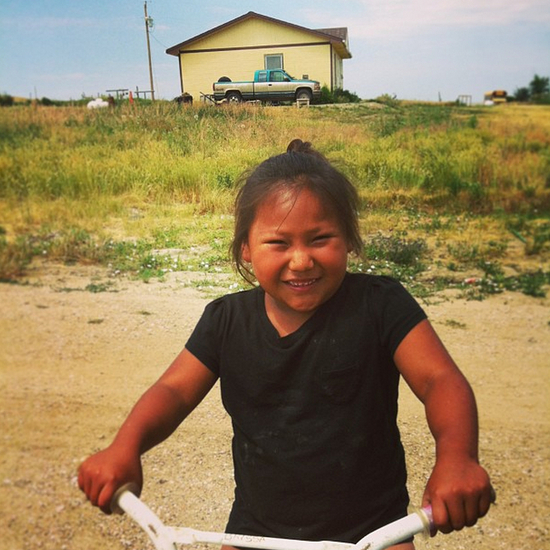 There are certain constants in my trips to Pine Ridge Indian Reservation in South Dakota. Days start with no less than three cups of coffee. KILI Radio, 90.1 FM, plays in the background of most scenes. Paved Bureau of Indian Affairs highways turn off onto gravel roads, and in the town of Kyle, one of those roads leads to the home of Delores Takes War Bonnett.
There, I experience more constants. Dogs race to the car as I pull down the driveway. Inside, Delores' daughter Bethel washes dishes while her husband works on a car parked in the front yard; and Brissa, Delores' granddaughter, is always close by watching, curious.
At 5 years old, Brissa's life is full. In many ways, it resembles any 5-year-old's life, comprised of kiddy pools, crayons and cartoons. Virtually every time I arrive, Brissa escapes to the back of the house, only to return seconds later in a floor-length silk skirt, twirling from side to side. However, Brissa carries an undercurrent of responsibility that I don't remember seeing in the kids I grew up babysitting.
If she wakes up before the adults in the house, Brissa makes sure her younger siblings get their cereal for breakfast; she helps her wheelchair-bound grandmother navigate their home; she somehow has a steady supply of stray puppies, whom she wraps in blankets and parades around like babies.
And while Brissa is unabashedly curious about me, I also wonder about her. I've started bringing her a disposable camera whenever I go to the house, wanting to see this place through her eyes.
Sometimes, I give her the camera without saying anything. Other times, I give her prompts. "Take pictures of the things you love, whatever is special to you." And she's out the front door, camera pressed to her eye, doing exactly that. Her enthusiasm creates another constant -- the sharp click and plastic wind of the film cameras I remember from my own childhood.
The following photographs represent one corner of Pine Ridge Indian Reservation, as seen through the eyes of a 5-year-old girl.