This year the Sundance Film Festival was all about the ladies. OK, maybe halfway about the ladies, which is still a very good sign. For the first time ever, eight of the 16 directors in the U.S. dramatic competition were women. Another promising sign was the timely release of an official study conducted by the Sundance Institute and Women in Film exploring both the barriers and opportunities for women independent filmmakers.
The roster included: Lynn Shelton's Touchy Feely, starring Rosemarie DeWitt and Ellen Page; Francesca Gregorini's Emanuel and the Truth About Fishes, starring Jessica Biel; Liz Garcia's The Lifeguard, starring Kristen Bell; Jerusha Hess's Austenland starring Keri Russell; Stacie Passon's Concussion and Cherien Dabis' May in the Summer. But the heads of this class were Lake Bell's In a World and Jill Soloway's Afternoon Delight, both of which took home top honors at Sundance's awards ceremony.
Although strides were made in the category mentioned above, women filmmakers were sparsely spread throughout other sections of the festival including Casey Wilson (Happy Endings) and June Diane Raphael (New Girl), who co-wrote and co-starred in Ass Backwards. The comedy about two best friends who embark on a cross-country trip back to their hometown was primarily funded through Kickstarter and premiered during "Park City at Midnight." At a private dinner party hosted by Luminara and Mulberry Project celebrating their Sundance debut, the real-life best friends talked about the support they rely on among women in the industry. After tearfully thanking their cast, crew and each other-both agreed that it was a groundbreaking year for women at the festival.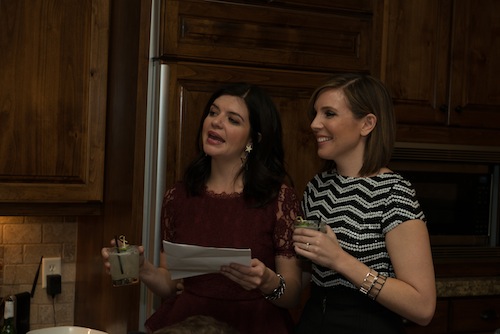 Casey Wilson & June Diane Raphael (Photo courtesy of Michael Stewart)
And while women fare better than men in independent filmmaking compared to Hollywood overall, there is still a long road ahead. According to the study, women held only 29.8 percent of the top jobs on films (director, screenwriter, producer, cinematographer and editor) over the past decade that have screened at Sundance.
Locally, the Denver Film Society's Women+Film Voices Film Festival is also focused on shining a larger spotlight on female filmmakers. Festival co-founder Tammy Richards Brislin has traveled to Sundance each year since launching the festival with philanthropist Barbara Bridges in 2010. Scouting films that will screen in Denver come March means a tight turnaround, but the past two festivals have opened and closed with films that had Park City premieres: Miss Representation, Jane Eyre, Ethel and Wuthering Heights.
"It's very satisfying to bring these types of films to 'Voices' because we are giving our audience a unique opportunity to see films hot off the festival circuit and before anyone else," says Brislin.
After Tiller, Pussy Riot -- A Punk Prayer, The Square (Al Midan), Anita, The Crash Reel and The Stories We Tell were all on Brislin's radar in Park City. With a "weakness for documentaries (all of the above)," she was most impressed with the level of story telling that came out of Sundance this year.
"In each of the films, the viewer is granted intimate access to incredible stories that take place all over the world -- the U.S., Egypt, Canada, Russia -- you really are experiencing the stories as they unfold."
Feature length films are also showcased and with the help of Brit Withey, artistic director for the Denver Film Society and Britta Erickson, director of the Starz Denver Film Festival, Voices will announce the official program on February 11. The festival (March 3-10) is scheduled in conjunction with International Women's Day (March 8) to raise even more awareness and cultivate community around global woman's issues.
The programming team also welcomes stories from male filmmakers, but seeks out films that feature women in leadership roles, inspiring roles, female directors of note or current human rights issues that women are facing today. A highlight of Voices is the dialogue the screenings inspire during its many post-film Q&A discussions.
"My hope is that everyone takes away inspiration from what they see at the festival and turn it into action... either in what they do or simply how they view a specific issue," says Brislin.
Festivities for the 3rd Annual Women+Film Voices Film Festival get underway this month with a special presentation of Academy Award-nominated The Invisible War and shopping event on Larimer Square. For festival information, tickets and pricing, visit: www.denverfilm.org.
Special Events:
Women+Film Voices Kick-off
Reception and special screening of The Invisible War
Monday, February 11, 5:30 p.m. (reception), 7:00 p.m. (film)
Sie FilmCenter
GlitzGlamGive: A Special Evening on Larimer Square
A portion of sales from Apricot Lane, Blush, Eve, Jewelry at the Square, Moda, Nest, Posh, Roxy, Scarpaletto and Blue Ruby will benefit the Denver Film Society and Women+Film Voices Film Festival
Wednesday, February 13, 5 p.m.
Larimer Square
Women+Film Voices Film Festival Opening Night
A Conversation with famed costume designer Edith Head
Sunday, March 3, 7 p.m.
L2 Cultural Center
PHOTO GALLERY
Sundance Spotlight: Female Filmmakers