Sometimes life calls for a filet, a tender, luxurious cut of meat that says "good job, laddie, you deserve a treat." This recipe calls for petite filets, a tidy, juicy shoulder cut of beef. You can often find them for a better price than the big loin filets, and they slice up into neat smaller slices, which are also a pretty kid-friendly size.
The amount of mustard sauce here is enough to generously coat two of the three little filets, leaving the third on naked for anyone who might not be up for a bracing hit of mustard and garlic. If you want you can divide the mustard sauce over the three filets, using a bit less on each or just add a bit more of all of the sauce ingredients and slather them up but good.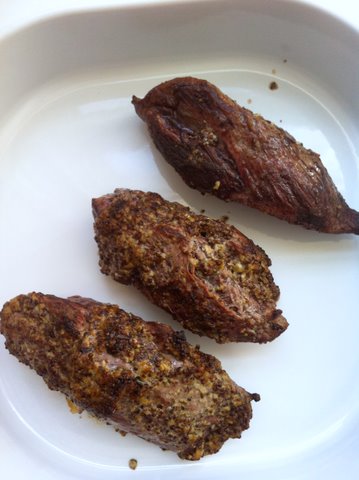 Serves 6 to 8
3 petite filets of beef (about 2 pounds total)
Kosher salt and freshly ground pepper to taste
3 tablespoons olive oil, divided
¼ cup coarse ground Dijon mustard
1 ½ teaspoons finely minced garlic
1 teaspoon dried tarragon, crumbled
1. Preheat the oven to 450°F.
2. Season the three filets with salt and pepper. Heat a large cast iron skillet over high heat, and add 2 tablespoons of olive oil. When the oil is glimmering, add the filets, so that they are not touching, and sear them on all sides, about 2 minutes per side, so that they are browned all over, about 8 minutes in all.
3. Meanwhile, in a small bowl, whisk together the remaining tablespoon olive oil, Dijon mustard, garlic and tarragon. When the meat is seared, spoon the mustard sauce over two of the filets, spreading it with a spoon so that it covers the top and sides of the filets evenly. Leave the third filet plain.
4. Transfer the pan to the preheated oven and roast the filets for about 15 to 20 minutes, until the center reaches 150°F. for rare, 160°F. for medium. Remove the pan from the oven, transfer the filets to a cutting board and let them sit for 10 minutes. Slice them as thinly or thickly as you like.