What's a fork-in-the-road dish? This is the idea that you can separate out some of whatever you are making and make a simpler version for picky eaters, then continue on your merry way and gussy up the rest of the dish with gutsier ingredients, herbs, seasonings, etc. to give it more oomph for the grownups and adventurous eaters.
This dish is one of the most popular in Thailand, and in Thai restaurants throughout the world for excellent reason. It's amazing. It's a quintessential example of the homerun that is Southeast Asian food -- a blend of hot and sour, salty and sweet. It provides your taste buds with plenty to keep them busy, and it's addictive.
This simpler version should please most kids. The rice noodles are an interesting change of pace from traditional wheat pasta, and the gentle tang of lime juice with a hint of sweetness from the sugar balance out the small amount of fish sauce (which you might not want to mention, since the words fish sauce may not elicit cheers from your peanut gallery -- speaking of peanuts, of course skip them altogether if there are an allergies in your household.) Cubes of sautéed tofu are innocently tucked in amidst pink bites of shrimp.
Then after the milder portion has been removed from the pan, in go chewy bits of dried shrimp, a generous portion of scallions, red pepper flakes and another shot of fish sauce, because you can take it.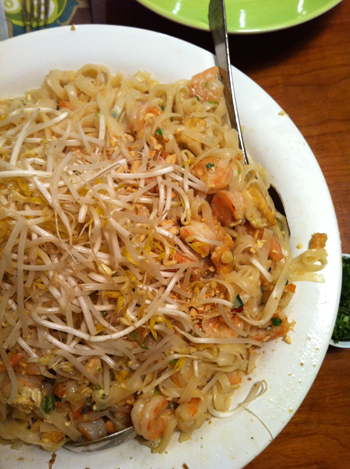 Serves 4 to 6
16 ounces rice noodles (fettucine-like cut)
4 tablespoons canola or vegetable oil, divided
1 pound firm or extra-firm tofu, pressed (see Note) and cut into 1/3-inch cubes
1 ½ pounds medium shrimp, shelled and deveined
2 shallots, chopped
1 tablespoon granulated sugar
4 tablespoons fish sauce, divided
3 tablespoons lime juice
3 large eggs, lightly beaten
¾ cup sliced scallions, both white and green parts
3 tablespoons chopped dried shrimp (available at Asian specialty markets)
Red pepper flakes to taste, plus more to serve if desired
3 tablespoons finely chopped roasted peanuts, plus more to serve, if desired
1 cup bean sprouts, plus more to serve, if desired
1. Soak the noodles in a bowl of warm water to cover for 2 hours until they are soft. Drain the noodles.
2. Meanwhile, heat 2 tablespoons of the oil in a wok or a large skillet over medium high heat. Add the tofu cubes and sauté until they are golden brown on all sides, about five minutes. Transfer them with a slotted spoon to a paper-towel lined plate to drain, set them aside, and wipe out the skillet.
3. Heat another tablespoon of oil in the skillet over medium-high heat and sauté the shrimp until they are just turning pink, about 2 minutes. Transfer them to a paper-towel lined plate to drain, set them aside, and wipe out the skillet. In a small bowl combine the sugar, 2 tablespoons of the fish sauce, and the lime juice, and set the sauce aside.
4. When the noodles have been drained, add the remaining tablespoon of oil to the pan and heat over medium high heat. Add the shallots and sauté until tender, about three minutes. Add the beaten eggs, and stir until cooked, about two minutes. Add the noodles and tofu and stir to combine and heat through. Stir in the sautéed shrimp and pour in the sauce. Toss over the heat for a minute, then transfer out about a third of the Pad Thai to a serving dish.
5. Return the pan with the rest of the Pad Thai to the heat, and add the remaining two tablespoons fish sauce, scallions, dried shrimp and red pepper flakes and toss over the heat for one more minute. Transfer to another serving dish.
6. Sprinkle either or both of the platters with the peanuts and bean sprouts, and pass small bowls of additional peanuts, sprouts and red pepper flakes at the table if you like.
Note: Tofu is sold packed in water so it's hard to get it really brown in the skillet. Pressing it helps. Place the block of tofu on a large flat plate, place a paper towel on top, then place second plate on the paper towel). Place a heavy book or some cans of beans on the top of the plate and let it drain for about 45 minutes. Pour off the liquid and cut the tofu into 1/3-inch squares.