I was looking at a bunch of beautiful string beans that had been waiting patiently for me to decide what to do with them, and I got a weird craving for Nicoise salad. But that day, for that dinner, a salad was already in the works, and an appetizer was needed, so that craving translated itself into a one-step removed thought of tonnato sauce, usually served with cold, sliced veal in a classic Italian dish, which I hoped would kind of turn the green beans into a Nicoise-ey side dish, all on their own. Tonnato sauce is a mayonnaise-based sauce with canned tuna, often flavored with anchovies, super flavorful, quite rich and pleasingly retro. So, the whole tuna-green bean thing just was going to happen a different way.
Some beans were left simple, for the less adventurous kiddies, and the rest of us had a Mediterranean-inspired appetizer that just plain hit the spot.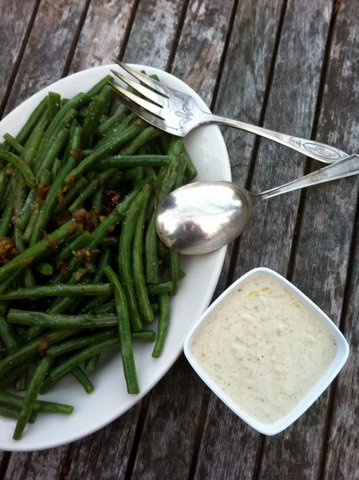 1 tablespoon olive oil
2 large shallots, sliced
Kosher salt and freshly ground pepper to taste
2 pounds green beans, trimmed and rinsed
1/3 cup mayonnaise
3 tablespoons extra-virgin olive oil
1 6-ounce can tuna, preferably dark tuna in olive oil, drained
2 anchovy fillets, rinsed and chopped
1 tablespoon fresh strained lemon juice
2 tablespoons drained capers
1. Heat the olive oil in a large skillet over medium high heat. Add the shallots and sautᅢᄅ, seasoning with salt and pepper, for 4 minutes until tender and golden brown. Remove half the shallots and put them into a food processor or blender. Add the green beans to the pan with the rest of the shallots and sautᅢᄅ for 3 minutes until well coated with the oil. Add 1/3 cup of water, cover and cook, lifting the lid and stirring every once in a while for 5 minutes, until almost tender (they will cook a bit as they cool, so keep that in mind). Turn on to a serving platter, and let come to room temperature.
2. While the beans are cooling, in the food processor or blender add the mayonnaise, olive oil, tuna, anchovies, lemon juice and capers to the shallots already there. Puree until well blended. Add some extra ground pepper if desired (there will probably be plenty of salt from the anchovies and the capers).
3. Drizzle the tonnato dressing over the platter of green beans, or individual portions of green beans as desired.