Having a Super Bowl get-together without dip is like watching a movie without popcorn. The point escapes me. This is a rich, hearty dip, almost a main course dip, if you will (and why wouldn't you). The milder version is gentle and creamy, and the zingier version has more chipotles in adobo and a burst of cilantro. Add as much chipotle sauce and cilantro as you like.
Additional thoughts: cilantro can be replaced with parsley, for those who can't abide it, and the yogurt is a well-intentioned, if slightly feeble attempt to take the edge of the fat and calorie content. If you are in a sour cream kind of mood, then by all means. Also, I haven't tried this with crab instead of chicken, but I am planning to.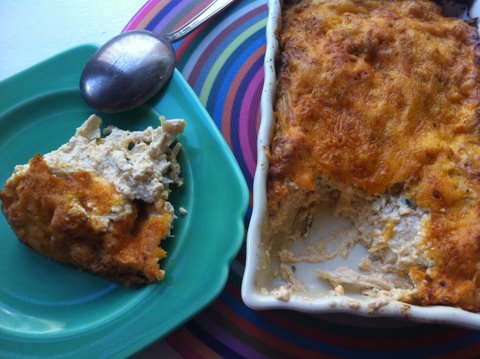 Makes 10 to 12 servings
3 cups finely shredded cooked chicken
1 (8-ounce) package cream cheese, softened
1 (7-ounce) container plain Greek yogurt
1/2 cup mayonnaise
Kosher salt and freshly ground pepper to taste
2 cups shredded sharp cheddar cheese, divided
2 tablespoons pureed chipotle peppers in adobo sauce, divided
1 tablespoon chopped fresh cilantro
1/4 teaspoon hot or sweet paprika
Pita chips, crackers and crudite to serve
1. Preheat oven to 350F. Lightly oil or butter two 1-quart baking dishes
2. Combine the cream cheese, yogurt, mayonnaise, salt and pepper, 1 cup of grated cheddar and 1 tablespoon pureed chipotles in adobo in a large bowl, mixing well. Mix in the chicken. Spread half the mixture in one of the baking dishes. Add the remaining chipotle puree and the cilantro to the remaining half of the dip mixture and stir to blend. Transfer that mixture into the other baking dish. Top the two casseroles with the remaining cheese, dividing it evenly, and sprinkle them with the paprika of your choice (you may use hot paprika for the spicy dip, sweet for the milder dip, if you choose).
3. Bake for 30 to 35 minutes, until golden brown and hot throughout. Serve with pita chips, crackers and crudités.