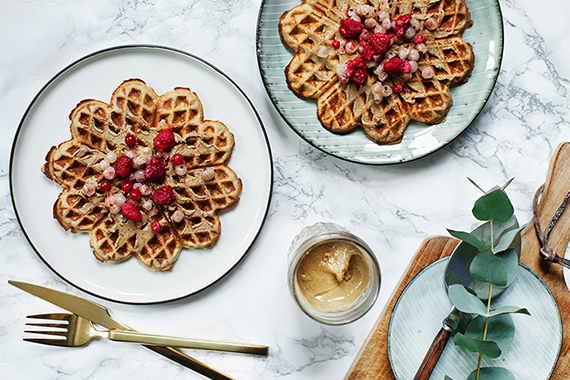 Gluten Free Buckwheat Waffles for Breakfast anyone?
Waffles are something us Scandinavians do not eat for breakfast, unless it is a weekend treat. But this Buckwheat Waffles Recipe is gluten free, and you can have it both sugar and dairy free as well by skipping the palm sugar and using dairy free milk and coconut oil instead of milk and butter.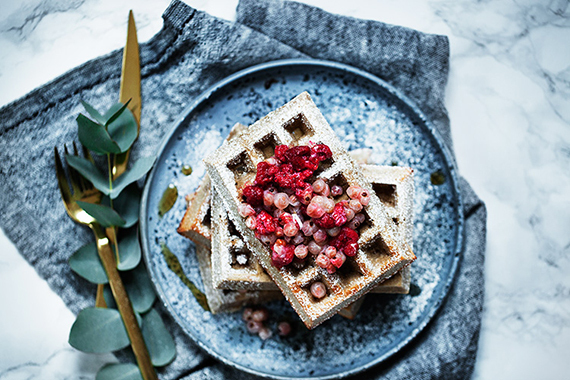 You can make the buckwheat waffles in a regular waffle iron or in Belgian Waffle iron. Both come out crispy on the outside and wonderfully soft and moist on the inside.

Serve your waffles with fresh berries and homemade Sun-butter or whipped coconut cream.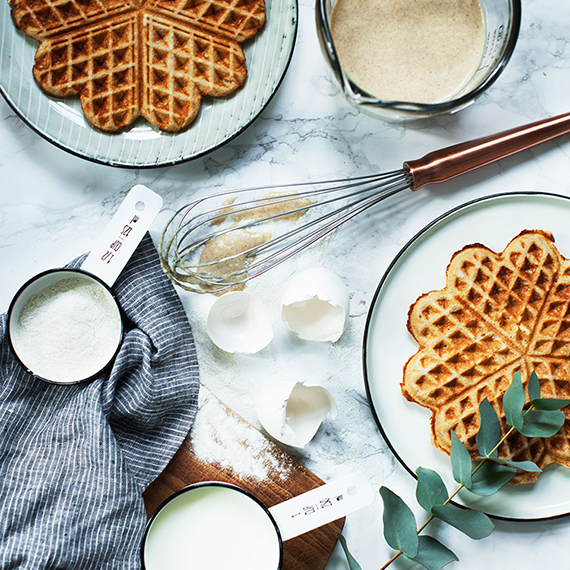 What is Buckwheat?
The name "buckwheat" or "beech wheat" comes from its triangular seeds, which resemble the much larger seeds of the beech nut from the beech tree and the fact that it is used like wheat. Despite the name, buckwheat is not related to wheat as it is not a grass. Instead, buckwheat is related to sorrel, knotweed, and rhubarb. The fruit is similar to sunflower seeds, with a single seed inside a hard outer hull. The starchy endosperm is white and makes up most or all of buckwheat flour.
Japanese and Korean noodles are made with buckwheat and so are many eastern European dishes such as Kasha and Blinis.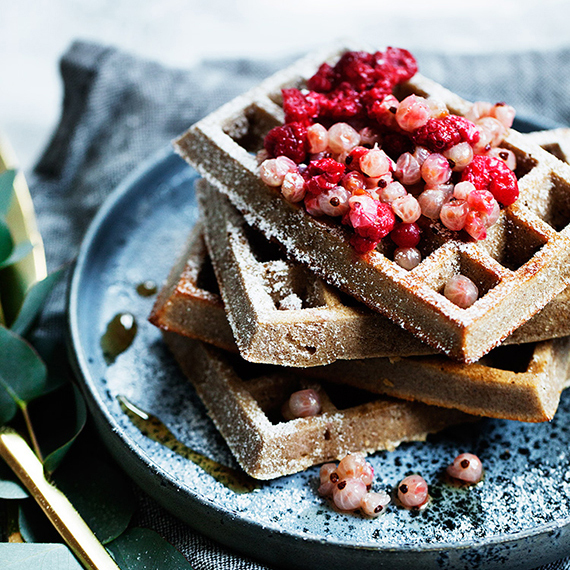 Buckwheat Waffles Recipe
INGREDIENTS
1 cup Buckwheat Flour
1/2 cup Almond Flour
1 tsp. Baking Powder
1/2 tsp. Salt
1/2 tsp. Cinnamon
2 Eggs
1 tbsp. Coconut Palm Sugar
1 cup Any kind of Milk
1/4 cup Butter (or Coconut oil)
DIRECTIONS
1. Mix the dry ingredients together in a bowl and set aside
2. Whisk eggs (and sugar) then add milk and butter/oil
3. Slowly whisk in the dry ingredients until just incorporated
4. Let the batter stand in the bowl for 10 minutes before you use it
Hungry for more Breakfast Recipes? Check out my food blog Modern Wifestyle for inspiration.
Find more Food Photography Inspiration on my Instagram @katrinbjork