26,000 electronic music fans gathered at Randall's Island Park over the Labor Day weekend for the inaugural Electric Zoo Music Festival, the first get-together of its kind in New York -- a city used to seeing rock and folk bands descend on its various stages for festivals like All Points West (ok, technically it's in Jersey, but New Yorkers have claimed it as their own) or CMJ Music Marathon (where, allegedly, Coachella booking agents come to scout bands for the next year's lineup), but a city not familiar with having some of the worlds most famous electronic DJ's in its realm, all at once.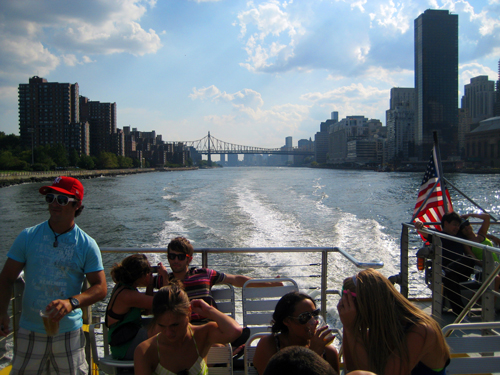 Lucky for those concert-goers attempting to indulge the last glimpse of Summer sun, water-taxis ferried concert-goers from Manhattan to Randall's Island all weekend.
Electro kings including Roger Sanchez, Armin Van Burren, ATB, David Guetta, Deadmau5 and Ferry Corsten, drew guys and girls from all over the country, as well as a huge contingent of Europeans, who can't always get their electro fix in the Big Apple.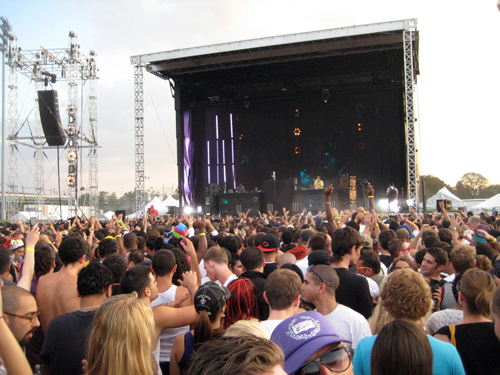 Mainstage at the Zoo
As an Australian, where DJ's at our biggest clubs would be castigated for playing anything but the latest electronic hit, it seems incredible to me that New York's dance music scene isn't bigger, when it's the norm in the clubs of Britain, Europe, Asia, South Africa and my own homeland. In New York, it's the exception to walk into a club and hear a thumping synthesized beat instead of the latest Top 40 hit, and if you do, they're often over a year old. Of course, new dance music does exist here, but you have to go looking for it.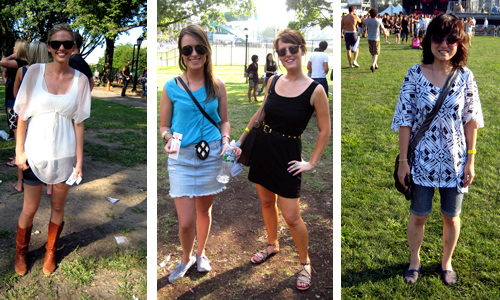 Style-savvy electro lovers from locales as near as North Carolina, and as far as Seoul, South Korea, journeyed to see DJ's from 13 different countries.
With beautiful late-September weather, locals and visitors ventured en masse to see over 67 artists. Randall's Island was the perfect locale -- spacious, airy and clean, if you needed a break between vigorous dance sessions, there were grassy hillsides on which to relax with a beer... Or, a can-pagne... (the canned champagne that may be run of the mill for New Yorkers, but with which my Australian brethren became besotted -- I think they plan to import.)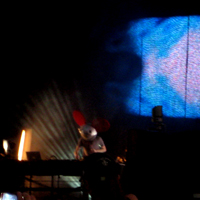 French mega-DJ, David Guetta, was in exalt, declaring the festival to be "the best gig [he'd] ever played in NYC."
"Whoever says that there is not a dance music scene in the United States is wrong," Guetta said. "There is definitely a big scene that is constantly growing and Electric Zoo is a great example. I can't wait to come back and play in New York again."
Guetta's feelings were echoed by local DJ, Steve Aoki: "I was excited to see a purely electronic festival in New York City. To my knowledge the first of it's kind and was a success. A big triumph for the big apple."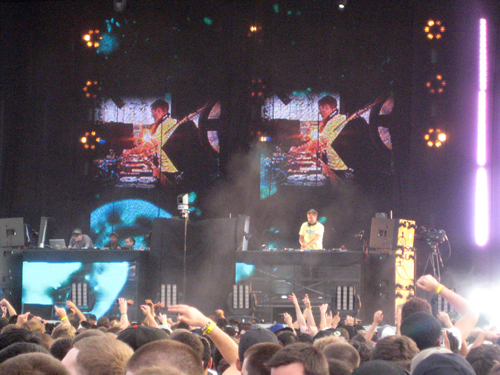 Local favorite Kaskade, who hails from Chicago, plays to thousands of fans late Saturday afternoon.
Armin Van Buuren always draws thousands wherever he goes. There was a mad rush to the main-stage ten minutes before the Dutch DJ arrived at the decks, just as Canadian DJ Deadmau5 was finishing up his set. He had the crowd bouncing to classics like "Not Exactly" and "I Remember" as well as a localized version of Chuckie's "Let The Bass Kick," where the usual Los Angeles refrain was replaced by, "I'm In New York Bitch," much to the audience's delight. Before Deadmau, America's own Kaskade played a stellar set (my favorite, by far...), while at other tents Roger Sanchez, Tiga, Benny Benassi, Ben Watt and Busy P had the crowds in rapture.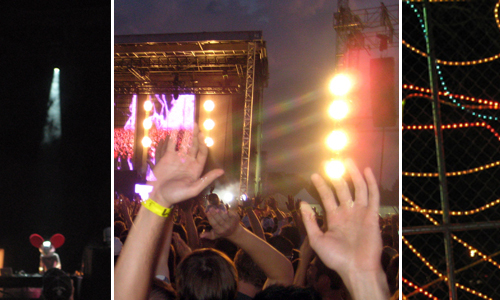 Sirius XM Radio broadcasted live all weekend from the festival, which, according to the Twitter-pages was very much appreciated. Due to popular demand, various sets were re-broadcast the next weekend.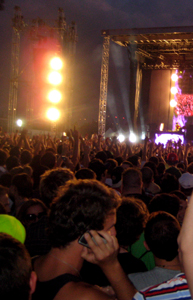 "It was so refreshing to finally see an event of this size take place in our hometown," said Francois K, a French DJ who lives in New York. "A perfect end to this Summer... Here's hoping that it will become one of our institutions for years to come."
British music man, Tom Middleton, who has remixed for the likes of Coldplay, Prince, Spiller, Goldfrapp and Royksopp, summed the Zoo up like this: "This is really special. I think NY has been crying out for this for a long, long time."
With its debut session pulling more than 25,000, next year promises to be even bigger and better.
And since New York has a way of becoming the prime destination, for everything, I would not be surprised if in a few years, Electric Zoo becomes another stop on the electro-festival tourist-track.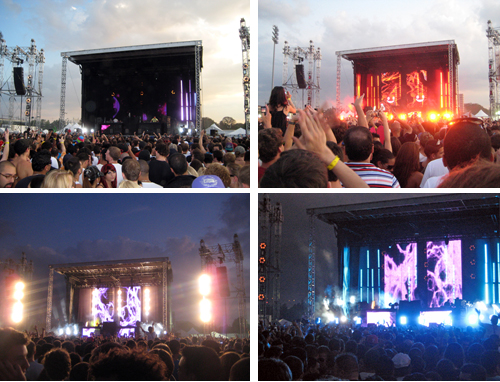 Light to Dark and Light Again: Clockwise from Left, the light-shows at Ben Watt, Kaskade and Deadmau5