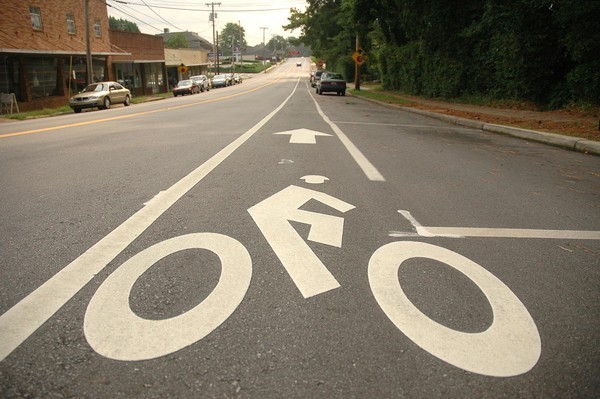 It was just an hour. It was just a couple of dozen people. It was just a bike ride, for goodness sake.
But it was more.
The bike ride recently organized by the mayor of a small central New Jersey town was emblematic of a cultural shift, a national movement toward embracing so-called "alternative'' modes of transportation, bike advocates say.
Any way you look at it, Sunday's hour-long ride through the streets of Freehold Borough led by the town's mayor, J. Nolan Higgins, was enough to turn some heads. Mine included.
"To me, that shows there's a sincere interest by the walking and cycling public to explore the future of cycling and walking in the town," said Wally Tunison, a bicycle shop owner and longtime cycling advocate who attended the April 1 ride.
* * * * *
Mayors of small towns around here don't call bike rides. It just doesn't happen. This is New Jersey, the suburban sprawliest of all the states, and the car here reigns supreme.
If this were, say, Berkeley, Calif., no one would even notice. But in the Borough of Freehold, the seat of Monmouth County, the move made headlines.
"It was really kind of spur-of-the-moment,'' Higgins said, seemingly a little surprised by all the attention the ride attracted. "I think we only announced it a couple of days before.''
Still, about 28 people came to ride with the mayor and talk about bikes, bike safety, the town's "safe streets'' initiative and more, Higgins said.
The ride started at Town Hall and weaved through the auto-centric streets of town to the Henry Hudson Trail, a 24-mile, paved, multi-use path that stretches along the Raritan Bay.
There were kids as young as 7 or 8 years old. There were seasoned riders. There were bicycle advocates from towns miles away, and they all came out despite poor weather -- it was a little chilly and damp that day -- and whatever other obligations they had.
That says something to Tunison.
"People don't show up unless there's a sincere interest, especially on a Sunday when there's a ton of other things to do,'' Tunison said. "Folks who were there were interested and they showed up on a very informal invitation.''
* * * * *
Higgins, a Democrat, describes himself as a recreational rider, owns two bikes -- one mountain, one road, he said. He prefers his mountain bike.
He's also the mayor of a town that has an increasing pedestrian and non-driving population that currently has no bike lanes.
Higgins said he and the town's governing body are in the midst of putting together a street policy for cars, bikes and pedestrians that would include street markings and signage to promote safer travels for all modes of transportation.
The first bike ride was a beginning, he said, a way to open the conversation. It was an introduction to the idea that riding bikes is a viable means to get around.
"This was the first step,'' Higgins said.
He plans to have more rides, although nothing is set yet, he said.
* * * * *
It's encouraging, Tunison said, Nolan's ride. It holds promise. It recognizes a larger trend.
"There's a cultural change happening nationally of leaving the auto at home and trying a different way to get around,'' Tunison said. "This mayor is part of a new generation of mayors willing to listen to the message.''
Of course, Higgins' group ride had a police escort to help riders cross the busier streets in town, something not afforded to every bike commuter trying to get to work on time during rush hour.
At first, we take baby steps. Sprinting comes later.
The Unnamed Bicycle Column appears on the Wall Township Patch website at wall.patch.com on Thursdays.