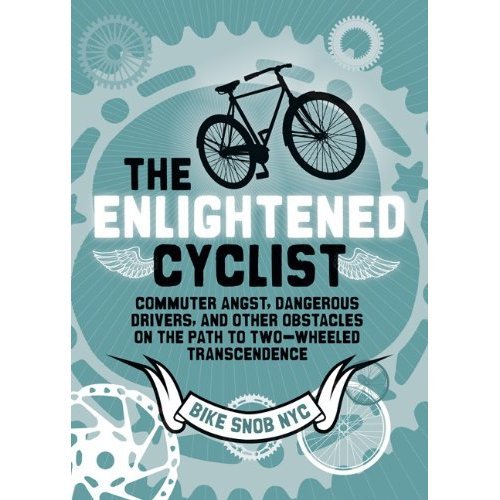 I had for once remembered to bring my camera on a recent ride through town. There were some offbeat landmarks I wanted to get photos of for work, but I almost never remember to bring the blasted camera with me. Today I did. And so pleased with myself for remembering to bring it, I nearly rode past one of the landmarks I wanted to shoot. As I stopped on the side of the road, rather abruptly, I noticed another cyclist up the road, heading in my direction.
I pulled out my camera, snapped a couple of quick shots and jammed the thing back into my side pocket. Right about this time, the other cyclist approached on the opposite side of the road. He was slowing down.
"Hey, you okay over there?'' he asked.
"Yeah, fine,'' I said. "Just taking a picture. But thanks!''
A few miles later, a guy in a silver Honda Accord cut me off at a stoplight so he could make an illegal turn. I couldn't tell exactly what he was saying inside his climate-controlled cockpit as he passed just inches in front of my front wheel, but I got the feeling he wasn't all that concerned about my well-being.
***
The sometimes palpable tension between cyclist and driver as each vie for slices of the road is among the topics in Eben Weiss' new book, The Enlightened Cyclist: Commuter Angst, Dangerous Drivers And Other Obstacles On The Path To Two-Wheeled Transcendence.
Weiss, better known by his online moniker "BikeSnobNYC,'' since 2007 has run a blog by the same name, where he deconstructs and frequently lampoons bicycle culture while detailing the perils of bicycle commuting in New York. He also writes a column for Bicycling magazine.
If you're not familiar with his blog, do yourself a favor -- you will not be disappointed ponying up the $12 for a dead-tree version, cheaper still if you've got an electronic bent. It's available essentially wherever there are books.
Weiss is a Brooklyn-based cyclist and writer. His book is 240 pages of optimism hidden in snark, of hope cloaked in sarcasm, and it's full of sometimes scathing, always accurate cycling observations that occasionally border on genius. With chapter titles reminiscent of a biblical tome -- "Revelation," "Genesis," "Leviticus Now," "Transcendence" -- The Enlightened Cyclist is clearly trying to put forth a path to bicycle commuting enlightenment. It's also damn funny.
But for all its sardonic wit -- and there is a lot of it -- The Enlightened Cyclist at its core is an honest look at a growing culture of bicycle commuters vying for a slice of the road in a car-dominated culture that still considers the bicycle an "alternative'' means of transportation. Mixed into the snark stew is a plea for commuters of all stripes -- pedestrian, cyclist and driver -- simply to get along. Weiss' description of getting around New York City by bike on the day of the 9-11-01 terrorist attacks is particularly moving.
In a recent interview with The Unnamed Bicycle Column, Weiss called bicycle commuting the most interesting part of bicycling culture today, but one that is underserved within the cycling community. That's why he started his blog.
Nearly every major bicycle manufacturer now produces at least one commuting-specific model. There are major clothing companies, like Levi's, that are making bicycling-specific jeans. Bicycle commuting is seeping into American culture like never before, Weiss said.
"We're at a point now where as a society we're moving past being interested in cycling as recreational activity and we're really beginning to embrace it as a form of transportation," Weiss said. "The issues that arise from that are the most interesting and most vital aspect of cycling today. Once you start getting around by bike, there's another whole set of challenges.''
Aimless pedestrians, thoughtless drivers and arrogant cyclists are among them, Weiss says. Each are given his or her due in The Enlightened Cyclist, because there is plenty of "silliness in all aspects of transportation," to make good fodder for mockery.
But get past it, Weiss says. Your commute can be something that you enjoy. And if you've chosen to get around by bike, you're already halfway there, he says.
"If you get around by bicycle, chances are you are a little more aware and compassionate," Weiss said. "You're already in a more positive mindset. There's a lot of stuff that makes that difficult, but we do it anyway."
***
The driver who cut me off passed. Our interaction lasted but seconds.
I'm not going to say I wasn't a little put off by his seemingly unprovoked anger. I was. But it was a sunny, warm day, and I was out for a bike ride. How angry was I really going to be?
This is key, Weiss says. It's your mindset, your desire to make moving from Point A to Point B as enjoyable as humanly possible. Save the Car vs. Bike Mega Cage Match for the ratings-grubbing media.
"If you can make commuting into something you love, that will ultimately turn into something more positive for everyone,'' Weiss said.
The Unnamed Bicycle Column appears on the Wall Township Patch website at wall.patch.com Mondays at 11:11 a.m.