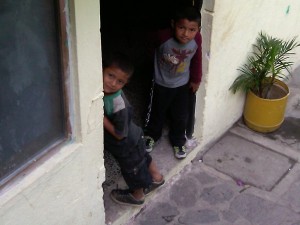 Two years ago we visited Carlos' school, which was running out of funding and couldn't pay the rent or salaries for the teachers. A major problem in Guatemala is the economic disincentive for kids to go to school. Either you can pay for tuition and books from money a family doesn't have, or send your child into the fields to make money for food. Carlos was a rare advocate for an alternative solution. His was the only daycare and school option in this small village, preventing these kids, some as young as 6, from having to go to the coffee fields. But he was running out of money.
However, Carlos had a vision. A vision of sustainability for his school. What if he could create something that he could sell and fund his school? Like any entrepreneur, he had his false starts. A sewing program to make clothes for the kids and also sell them locally. A program where the kids could make jewelry from materials found locally and sell that. None panned out.
Then Carlos came across a soy milk machine. He could make milk, have milk for his kids, sell the extra to local schools, and make enough money to pay teachers with the profits! We had to give the guy credit for trying.
The last piece his venture needed was a refrigeration system to preserve the milk. It seemed like a long shot, but I wanted to reward his philanthropic zeal, so I asked our community for help and one of our followers stepped up with a $500 donation to help complete Carlos' project.
Unfortunately we didn't hear anything from him after that. I knew the communication infrastructure was scarce, so I wasn't offended. But after repeatedly asking others in the community how the soy milk project was doing and not hearing reports, I wrote off my expectations for that particular investment. Oh well, one out of all the projects here, no sweat.
Then last night we threw a "Big Task" dinner for all the project leaders we have been funding and invited a number of the local business leaders and larger NGOs, like the Peace Corps, hoping to advance new relationships and gain some greater collaborative action among these local groups. My desire was to create collaborative support among the nonprofit community and to extend and accelerate their network, not only among each other, but up to the larger NGOs and the major money and business leaders in the region.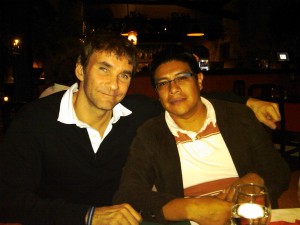 I walked in and there was Carlos. He had the biggest smile, walked over and gave me a hug. Through translation we discovered that, indeed, our investment paid off. His soy works are in full force. He now feeds the kids a soy milk snack rich in nutrients and also sells the milk to other schools, making enough profit to pay his teachers!
So, the obvious next question for a successful entrepreneur, what's next? What can I fund that would give the highest return?
I got two answers. For $500 I could fund recyclable glass jars, so he could package the product better and save on containers. Done. I funded that. He also said that a $3500 investment would fund higher grade production that would allow him to sell to commercial entities like McDonalds. I said I'd consider it and solicit our community for support and perhaps get back on that one. Anyone interested in investing in this project?
Then I had an idea. I brought Carlos over to a woman who oversees projects for nearly 10 villages. "Lilian, I'd like to purchase $500 worth of soy milk for your kids." The idea of bringing Carlos a new 500 dollar client seemed like a big deal, and perhaps I would seed the idea with Lilian to become an ongoing client of Carlos. She was so shocked and excited. She said, "One of my dreams for the coming year was to find a way to provide a nutritious daily snack for our kids who sometimes eat only a small ration of tortillas." Collaborative action comes to life in Guatemala!
When we started www.BigTask.org and Big Task Weekend, we had the vision of bringing the most powerful companies TOGETHER to collaborate on key social reform and societal issues like health care reform, American wellness, education reform... And now the same principles were playing out for mutual benefit and societal gain in Guatemala! Mission advanced!!
Anyone want to help Carlos up his manufacturing standards for the big commercial projects? Any contribution, I'll match. If we raise half of the $3500 needed for Carlos to get to the next level, I'll contribute the rest!