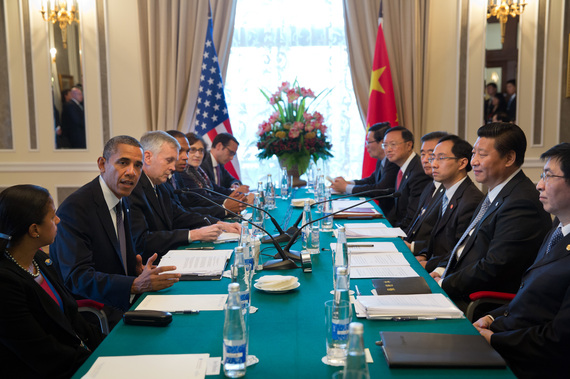 For long-time climate activists, it was a dizzying 24 hours. It's hard to know which would have been a greater surprise for a time traveler from, say, five years ago -- The Pope addressing Congress asking them to act on climate change, or the President of China standing in the White House Rose Garden after announcing a cap and trade system for his country.
The position of the Vatican is not new, but the emphasis Pope Francis has put on the climate issue is striking. Not only did he issue a major encyclical on the environment, but in the first-ever address of a Pope before the US Congress, his most specific request was for action on climate change. If you're looking for an influential voice to move the conscience of the world, you can't do much better than the spiritual guide of 1.2 billion people.
A few hours later and two miles away at the White House, the political leader of 1.4 billion people was taking a step that will have enormous practical and political impact around the world. For those who railed against America's attempt to enact a cap and trade system for climate pollution in 2010 -- often by saying the Chinese weren't doing anything -- it must have been a shock to see them beat us to it.
For those who pay close attention, the Chinese move was actually less of a surprise. They had already set up seven pilot cap and trade areas, covering 250 million people and one quarter of their economy. And since Presidents Obama and Xi made a joint announcement in China last year - that each nation would take steps to limit carbon - the two countries have stopped using each other as an excuse not to act, and started taking inspiration from the ambition of the other.
Climate scientists will point out that spiritual guidance and policy announcements will not save us if we keep filling the atmosphere with greenhouse gases, so we should temper our excitement. But the formula for solving great international problems is often complex, requiring unusual alchemy. We could hope that it's enough that NASA and all major scientific organizations have told us we must act, or that Citibank estimates the negative effects of climate change are in the trillions, but so far that hasn't been.
So let's take a moment to be happy about the events of last week. The leaders of the world's two largest economies and greatest sources of climate pollution, each leaning into the environmental challenge of our times, pushed the world forward. And the most visible spiritual leader on Earth, charged with defending the vulnerable among us, made a moral call that none could ignore.
Not a bad couple of days for us humans.