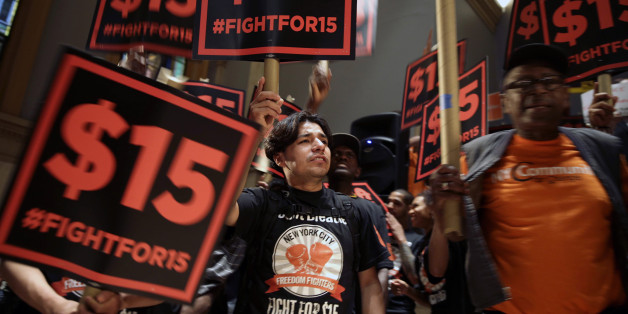 Breakfasts with my friend, progressive icon Jon Kest, were always lively. We'd talk about organizing, progressive politics and life. But when we met at a Brooklyn diner three years ago, even I couldn't believe what he wanted to discuss this time: an audacious plan to win raises and union rights for 200,000 fast food workers in New York, and help spark a movement calling for $15 an hour for hundreds of thousands of home care, child care, airport and other underpaid workers across the United States.
If you don't know Jon, he was one of New York's - and the nation's - premier community, political and labor organizers until his life was tragically cut short by liver cancer in December, 2012.
We didn't know about his diagnosis that morning. But we did know that we were on the ground floor of a potentially transformative movement. Jon and his staff at the New York Communities for Change (NYCC) in New York, and Madeline Talbott and her staff at Action Now in Chicago, working with SEIU, had been experimenting with organizing underpaid fast food workers in New York and Chicago.
I was somewhat disbelieving when Jon unveiled the idea of helping fast-food workers in New York organize and take action on a grand scale to help win historic raises. I organized fast food workers in Detroit in the 1980s. The work was hard and victories were few and far between. Although Jon and I worked in different regions, our experiences were similar: the hard working men and women in those jobs were excited and highly motivated by the idea of forming a union to win better wages that would support their families.
Still, the odds seemed long.
I listened to Jon sketch out ideas that he, SEIU strategists, community leaders and workers on the organizing committees had been researching and discussing: combining the overwhelming support and spirit among the workers with a vibrant, no-holds barred campaign that could spark support from the public, community organizations, elected leaders, labor allies, progressives, and others to help workers win raises while simultaneously organizing their union.
I had a million questions about how to actually get this done, but he answered them as only Jon could with a combination of detail and conviction and I gradually saw the genius in the plan.
We ended our breakfast and I walked away more of a convert than a doubter of this audacious plan. Even though Jon didn't live to see this victory, that plan is now bearing fruit.
Even in his final week of life he was still typing memos, talking with staff and workers and doing conference calls.
Hundreds of thousands of underpaid workers winning raises and fighting for a union through a recent decision by the New York Wage Board is a part of his legacy. Also part of his legacy is the movement that started in New York and Chicago amongst fast food workers more than two years ago and has now spread to over hundreds of cities in America and across the globe and added home care, child care, health care, airport workers, and adjunct professors to their ranks.
One of Jon's favorite sayings was "Never, ever give up."
And that is a legacy we can all admire and strive towards as we support these workers "Fighting for 15 and a Union" - we should never, ever, give up!
Keith Kelleher is president of SEIU Healthcare Illinois, Indiana, Missouri and Kansas, representing over 90,000 homecare, childcare, nursing home, hospital, and healthcare workers. Born in Brooklyn, he grew up on Long Island, and is married to Madeline Talbott. He began his organizing career organizing low-wage fast food and other workers in Detroit and now works in Chicago and throughout the four state region.