I just returned from a packed, standing-room-only briefing by Secretary of State John Kerry at the UN climate conference in Lima, Peru. Kerry is the highest ranking US official to attend a UN climate conference since the 2009 COP 15 in Copenhagen. Kerry's appearance is a positive development since we are only two days from the ending of COP 20 and still in need of a text.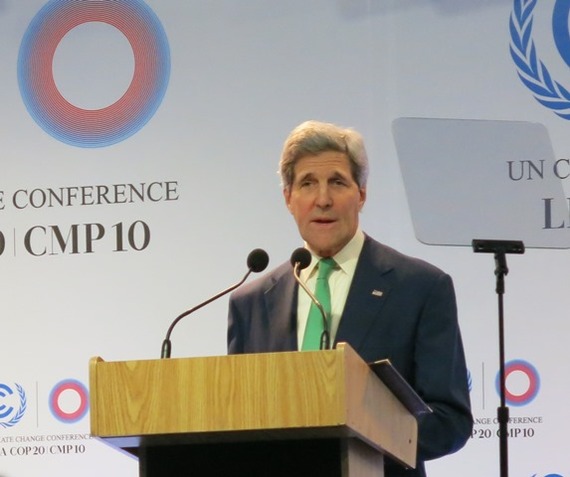 Kerry did not make any ground breaking statements or introduce any bold new US initiatives. He did, however, put forth a compelling call for action. He pointed to the clear and compelling scientific evidence that climate change is occurring and humans are responsible for recent warming. "Thirteen of the warmest years have occurred in this century and this year is on track to be the warmest." He rhetorically asked, "How could we together be so blind, so ideological and quite frankly so stubborn?" He declared, "The science of climate change is science and it is screaming at us to act" and pointed to "97 percent of peer reviewed climate studies" that support this position.
"The challenge may be immense, but this it is not insurmountable." He stated that "This has a ready-made solution. The solution is energy policy."
Kerry is no stranger to the climate change issue and the COP's. He last attended at COP back in 2009 at Copenhagen. Dubbed "Hopenhagen," COP 15 held high hope for a binding post-Kyoto Protocol agreement. I participated in COP 15 which saw the largest gathering of world leaders ever outside the UN in New York. President Obama used our press briefing room as a private conduit as he hustled back-and-forth between meetings. Then-Secretary of State Hillary Clinton laid out the US position which boiled down to three primary issues: targets, money and transparency. Hoping to be part of an historic agreement, US politicians from both sides of the isle and other dignitaries converged in Copenhagen offering speeches and press conferences.
Just prior to the COP 15 meeting, then-Senator Kerry (D-MA), Joseph Lieberman (ID-CT) and Lindsey Graham (R-SC) sent President Obama a letter stating "As you depart for Copenhagen, we wanted to provide an assessment of where we see the debate heading in the United States Senate. " The three Senators affirmed that "Americans are uniting to say that now is the time to address climate change and secure our energy independence."
Copenhagen failed to live up to expectations. Parties could only agree to "Take Note" of the Copenhagen Accord. Following the 2010 elections in the US and rise of the Tea Party, climate negotiations and consensus went to hell. "Climate change" was rhetorically redefined as a leftist political agenda. Any association with "climate change" was political poison on the right.
Since 2009, little has been accomplished at the subsequent COP's. This year, however, COP 20 might define a path for a universal agreement in Paris at COP 21. The Green Climate Fund has reached a tangible milestone of $10 billion. Kerry pointed out, "The US is proud to contribute $3 billion to the Green Climate Fund."
Kerry called on all nations to act. "Every nation has a responsibility to do its part. Only those nations that step up and do their part can claim leadership." He acknowledged the US's out-sized historical contribution of greenhouse gases to the atmosphere. "I know how angry people are at big countries... President Obama and I understand how countries feel about us and other [major greenhouse gas producing] nations." But, this cannot be an excuse for inaction.
Kerry admonished, "It's everyone's responsibility. Net carbon matters, not each country's share." Developing and developed nations must act in concert in order to achieve and agreement. "No single country, not even the US can solve this problem alone."
COP 21 in Paris may be our last best hope for holding the average global temperature increase below the threshold of +2 degrees centigrade since the start of the industrial revolution. As Ban Ki-moon has been emphasizing throughout the negotiations here in Lima, "Like never before there is a shared understanding that we are in this together. The more we delay, the more we will pay." We must act aggressively to keep temperatures below +2 degrees centigrade.
Kerry stated, "If we fail, future generations will not and should not forgive those of us here today. It will be an historic moral failure." He called on all citizens to "Make climate change an issue that your legislators will embrace."
What can you do? Contact your legislators in congress and the senate. Demand that the US makes a firm commitment at COP 21 in Paris.