 Strolling down Decatur Street in the French Quarter on a sunny spring day, it's not hard to appreciate New Orleans as "The Big Easy." Easy jazz mixes with Cajun aromas wafting out wide-open doors of bistros, restaurants, and pubs. The weather is quite agreeable this week as New Orleans plays host to both the NCAA Women's Final Four and the spring National Meeting of the American Chemical Society (ACS). Jock-ettes and nerds on the national stage in the same city at the same time... cool!
By the time this article is posted, you will likely know the outcome of the Louisville-Connecticut match-up. It will be front page sports news around the country as one of these NCAA powerhouses is awarded the national crown. ACS news however may be buried a little deeper, but it is certainly of no less importance. In fact, the very survival of our planet is the focus of much of what is taking place here.
The American Chemical Society is the world's largest scientific society with more than 163,000 members. Part of the ACS mission is to "advance the broader chemistry enterprise and its practitioners for the benefit of Earth and its people." I would like to shine the spotlight on a select group of these "practitioners"; namely, educators.
Matt Fisher, Chairman of the ACS Committee on Environmental Improvement (CEI), stated, "Educators are already doing thoughtful, creative, and intelligently engaging work." Here in the Big Easy, ACS-CEI has granted five awards to educators who "have made exemplary contributions to the incorporation of sustainability into chemical education." All awardees explained their work at a special symposium.
Joseph Vincente is a 10th grade chemistry teacher who collaborated with school librarian Andrea Swenson at a public high school in Manhattan on a project in which students created 3-minute Public Service Announcement videos on a water sustainability. Andrea said, "The school has really been working on a way to engage sustainability, and social justice is the piece we have really been trying to push." Students had to research a water sustainability topic, write a script, and then plunge in to the creative fun work. The outcome, after about 10 days, was an engaging PSA video such as six-graders speaking to their peers about "the truth behind bottled water."
At a later press conference, Joseph said, "My own education made me go through chemistry thinking that there were a limited number of questions that can be addressed in the classroom. It's been an arduous, anxiety-producing journey; but, I feel that I have grown."
Resa Kelly and Cristina Chang worked on a Google funded project aimed at pre-service teachers enrolled in math and science methods courses at San Jose State University. The overall goal was to inspire future educators "to consider relevant ways that they could incorporate sustainability threads in their lessons." Their work revealed significant challenges in that teachers "need pedagogical content knowledge [about sustainability] before they can teach it." In situations requiring analysis, students readily recognized the Environmental domain of sustainability, but only indirectly referenced the Economy and essentially missed the important component of Social Equity.
Christina stated, "We want to influence the younger generation who will inherit the problem." But, according to Resa, "The challenge is, how do we train our teachers?"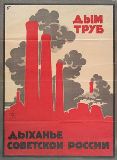 "The smoke of [industrial] chimneys is the breath of Soviet Russia." (Statement on a 1961 Soviet stamp.)
Natalia Tarasova is UNESCO Chair of "Green Chemistry for Sustainable Development" at Mendeleev University of Chemical Technology of Russia in Moscow. She has worked since the Soviet era to overcome entrenched ways of thinking and promote ideas for sustainable development in modern-day Russia. Due to bureaucratic matters, Natalia was not able to get a visa in time to attend the award symposium in New Orleans. However, one of her former students, Alexey Leontyev -- currently a graduate student at the University of Northern Colorado -- presented her lecture on her behalf. Alex noted that Professor Tarasova is a "pioneer in her efforts of bringing ideas of sustainable development into the [Russian] university curriculum."
Richard Jarman teaches at the College of DuPage. Richard was recognized for a collaborative project involving the College of DuPage, the City of Naperville, Argonne National Laboratory, and Packer Engineering. Collectively, they designed and constructed a Green Fuels Depot (GFD) as a sustainable energy source based on the gasification of community-generated yard waste.
While a biomass energy source such as corn might create an ethical issue because corn is food, Richard's GFD uses cellulose, thus avoiding the ethical concern. He mused, "Not too many people eat grass." Richard further stated, "Education is more than just balancing equations." He has "a responsibility as an educator to introduce [his] community college students to the larger issues of society."
Andy Jorgensen is a professor at the University of Toledo. He was recognized for his outreach efforts to increase climate change literacy. Climate change is one of the most pressing sustainability issues of our time. Andy stated, "Climate change is not broadly understood and there are many misconceptions." He has taken on a mission as an educator and scientist to inform the general public in a respectful way about the physical facts and possible consequences of climate change. He has developed a talk that utilizes personal response devices to probe the knowledge and opinions of audience members. His methods allow greater participation by audience members which helps to increase the impact of the message. He has given his talk to more than 50 audiences.
CEI Chair Matt Fisher stated, "Curricular content versus sustainability is not an either-or. It is both." With educators like those recognized by ACS in New Orleans, "Ten years from now, hopefully, we won't need this award program. People will be doing it."