I read with interest, and a good bit of sadness, the story in The New York Times this week about the decline of the U.S. Senate Dining Room, apparently yet another victim of the noxious partisanship in our nation's capital. It seems that the days when Republican and Democratic senators could put aside their differences to meet for scrambled eggs and bacon first thing in the morning are going the way of the afternoon cocktails in the majority leader's office. What's even more distressing is the fact that some senators choose to use the dining room (actually, there are two, one rather more exclusive than the other) as a place to impress big donors. And a few like to huddle alone, slurping their bowls of the signature bean soup in silence.
It wasn't always so. I have extraordinary memories of eating in the Senate dining room, beginning on my very first trip to Washington, 50 years ago this month. Already at the age of 13, I was enraptured by American history, and a complete student our of government, if there is such a thing. I read everything I could about Congress. And the White House. I had a passion to become a Senate pageboy, but never was able to do so. However, I did strike up a correspondence with my senator, John Sherman Cooper, who encouraged me and even, for a time, sent me a free subscription to The Congressional Record. Amazing thought it may seem, I actually used to read it in bed, after I had finished my algebra, Earth Science, English and French.
The spring after President Kennedy died, my parents decided that it was time to make a trip to our Nation's Capitol, so we could see how our laws are made, combined with a sojourn in Colonial Williamsburg. Both were places I longed to visit. So I began writing to my elected officials to ask for passes and advice about where to go. At the age of 13, I literally charted a four-day visit in the capital for my family, from breakfast to dinner, with visits to most of the major sites. It was one of the happiest times in my life, and it will always be.
We arrived in Washington -- or Arlington, actually -- late on a Sunday evening after driving two lane roads through Virginia. We were at a very posh motel, by 1964 standards, the Holiday Inn on Glebe Road. The next morning, I awoke at about 5 (my custom) and went down to the coffee shop, where I bought copies of The Washington Post and the Washington Daily News (long defunct). I read them while I waited for hours while my parents and brother woke, dressed and came down for breakfast. (An aside: Two years ago, I spent a week in Washington with my family and picked up a rental car and returned it in roughly the same place that Holiday Inn once stood. It is so different; I felt like Rip Van Winkle climbing down the mountain as I drove our hired SUV through the congested streets.)

Our first full day in Washington was a rare, chilly August day, with driving rains and wind. My brother, who was 11, and I were in sweaters and raincoats. I still have pictures of us, wide-eyed and excited to be in the center of things.
In 1964, security was beginning to tighten in Washington, but it was far different from the barricaded place we know today. On that Monday morning, we parked our new Chevrolet station wagon in a Capitol Hill parking lot and walked to the visitors' entrance. I do not remember any security. I think we just walked up the grand staircase and through the doors into the Rotunda. In that monumental space, the searing beauty of our democracy seemed to be enshrined. (Later, I would visit Les Invalides in Paris and Westminster Abbey, but never have had quite the same feeling of awe.) Armed with the guidebook, I had made sure we bought at the entrance, we moved from painting to painting and saw the great scenes of American history: the signing of the Declaration of Independence, the Embarkation of the Pilgrims, the Baptism of Pocahontas, the Landing of Columbus!
In 2014, you cannot even visit the Rotunda without being escorted by a member of Congress. Or one of her top aides.
As a child, I had heard about the delicious bean soup served in the Senate Dining Room, and I was determined that we should eat there. We weren't a terribly wealthy family, so we had to be careful about how we chose to spend our money. But my father was particularly fond of bean soup, and my mother was a great fan of Senate hearings, so she looked forward to seeing famous people enjoying their lunch. We found our way to the queue of tourists who must have felt as we did, and we waited our turn. It was worth it!
When our turn came, we were led to a linen-covered table with the kind of fine arm-chairs you would find in an exclusive club or hotel. My brother and I were still boys and our legs barely touched the floor. The uniformed waiter brought us baby-blue colored menus with a white drawing of the Capitol on the cover. The choices were widely varied, but very American. Sliced chicken sandwiches. Chef's salad. Club sandwiches. Black Bottom and Nesselrode pie. (Who knows what that is today?) Hot fudge sundaes. And -- yes -- Senate bean soup. All four of us had a bowl of the soup. I had a chicken sandwich with potato chips and a hot fudge sundae. My mother saw a few senators she recognized: Hugh Scott of Pennsylvania, William Fulbright of Arkansas, Jacob Javits of New York... My father enjoyed his soup. And I felt that one day, somehow, I would be a part of all of this.
It was never to be. But, there were moments...
Move the clock forward 20 years. I was a young editorial writer for The Courier-Journal and Louisville Times, and Mitch McConnell was a fledgling U.S. Senator. My wife and I were in Washington the week when he was sworn in for his first term in the Senate. I had known Mitch from his early career and the days when he was a reform-minded, bipartisan county executive in Louisville. My wife (who was his first campaign director and later his press secretary) attended the swearing in, and the next day I met the new senator for breakfast in the Senate dining room.
We were to meet there again a time or two. Although I represented a "Democratic" newspaper and he was a Republican senator, we had mutual respect and even, shall I say, affection. It is one of the great sadnesses of my life that those kinds of relationships are growing less frequent.
More about Washington in 1964. It was a city in mourning. Everywhere we went, we saw portraits of President Kennedy, many still decked with mourning wreaths, because our 35th president had been slain only a few months before. On our second day in Washington, we drove to Arlington (yes, you could still drive right up and park) and stood in the line to pass by the President's fresh grave. There was a cheap, white picket fence around it, and that kind of tawdry artificial turf that funeral homes place around newly dug graves. But the eternal flame, which Mrs. Kennedy had lit on Nov. 25, 1963, burned bright and inspired us.
One morning we arrived early at the White House entrance, with a letter from our congressman, certifying that we were eligible for the VIP tour of the White House. I think it began at 6:45. Maybe 7:45, but it was early. We were shown through all the beautiful public rooms of the Executive Mansion, and then -- how amazing is this? -- President and Mrs. Johnson walked through the Oval Office as we were there. They were on their way to the helicopter and outside the window, as we watched, an aide brought two beautiful beagles to join them. I don't know where the Johnsons were headed, but I am sure it was somewhere important.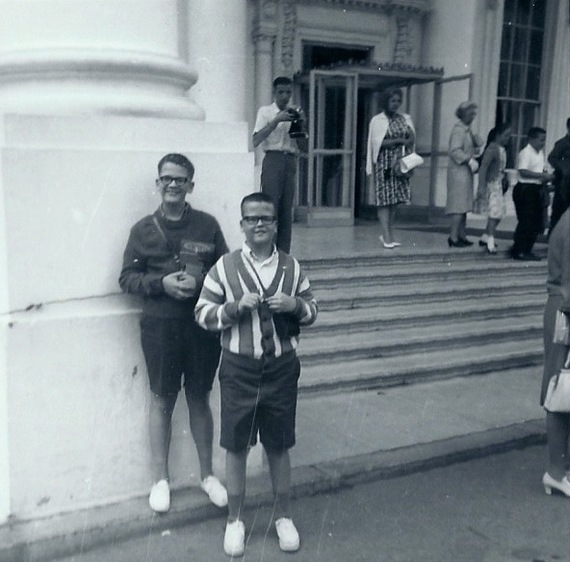 Aside from all of these lofty things that we did in the Summer of 64, I also remember simple pleasures: Lunch at Woodward and Lothrop's department store; dinner at the Hot Shoppes; walking along the Tidal Basin at dusk and going up the stairs to Thomas Jefferson's Memorial; watching money being printed and going to the FBI to see the firing range. Driving through downtown Washington listening to the debates about the Gulf of Tonkin resolution...
In 1964, Washington was not only our nation's capital, it was also our front porch, our centerpiece. It was home. I still love it, but I don't think it is the same.