I'm surprised how few people outside of aviation circles have heard of the SR-71 or know more than that it was "a spy plane"--which is like saying the Taj Mahal is "a big building." Unofficially known (but still not well-known) as the Blackbird, the SR-71 flew at record altitude--90,000 feet--and speed--2,193.2 miles per hour. And it could sustain such speed: In 1990, one flew from L.A. to D.C. in 64 minutes. That's 2,144.83 miles per hour, or six-tenths of a mile per second--think ten football fields every second!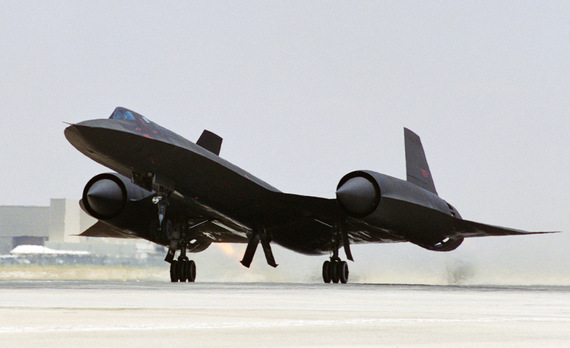 The need for such a swift strategic reconnaissance aircraft became apparent in 1960, when the Blackbird's subsonic predecessor, the U-2, was rendered a sitting duck by Russian radar. The Skunk Works, Lockheed's secretive advanced development division, succeeded in getting a test version--the A-12--off the ground at Groom Lake (a.k.a. Area 51) in April, 1962--development as head-spinningly fast as the aircraft itself.
Even more astonishing was the tech, frequently summed up at the time as "black magic." Topping a long list of revolutionary components were monstrous Pratt & Whitney J58 jet engines and a design that drastically reduced radar signature, pioneering "stealth" technology. If Russian missiles ever did manage to lock on to a Blackbird, it could simply outrun them. Said a sign over the entrance to an SR-71 base, "Though I Fly Through the Valley of Death I Shall Fear No Evil--For I am at 80,000 Feet and Climbing."
The first flight of the the SR-71 took place at Air Force Plant 42 in Palmdale, California, on December 22, 1964. The first SR-71 to enter service was delivered to the 4200th Strategic Reconnaissance Wing at Beale Air Force Base in January, 1966. A total of thirty-two Blackbirds served until 1998, never succumbing to enemy action in 3,551 mission sorties whose contribution to national security can't be overstated.
What replaced the SR-71? Satellites, unmanned aerial vehicles (a.k.a. drones), and, perhaps, a new secret aircraft. 50 years before the Blackbird, the Model B--made by the Wright Brothers for the US Army--averaged 44 mph. If aviation technology has continued at its Wrights-to-Blackbird pace, there's something up there now doing 100,000 mph.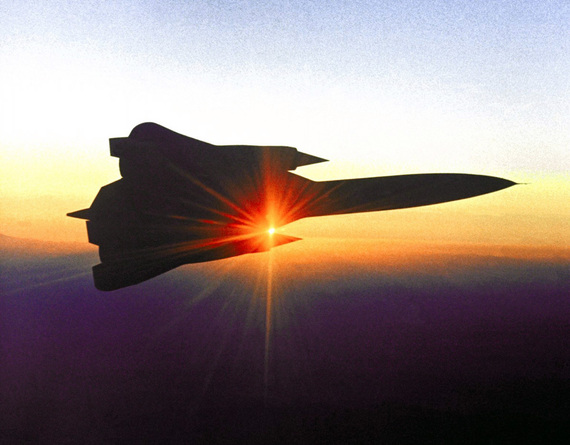 photos: Lockheed-Martin
To learn more about the Blackbird, check out this terrific Code One history or the book Sled Driver, or the photo-intensive online Blackbird museum, habu.org. Or, better still, marvel at a Blackbird in person.