Atlanta's Plaza Theatre, one of the first movie houses in the United States to announce screenings of the The Interview, has been without Internet all week.
As most everyone who has had Internet service during the last two weeks is aware, Sony Pictures was hacked by North Korea in apparent retaliation for the studio's production of The Interview, which involves a plot to kill North Korean leader Kim Jong-un. Fearing further reprisal, Sony decided to cancel the film's Christmas Day release.
"When we were told we couldn't play it, I flipped out," recalled Michael Furlinger, the Plaza's owner.
Furlinger's sentiments were echoed throughout the country, notably by a programmer at the Alamo Drafthouse theater and the President of the United States, who said, "We cannot have a society in which some dictator someplace can start imposing censorship here in the United States."
Consequently, on Tuesday--two days before Christmas--Sony reconsidered, allowing a limited release of the film.
Jubilant Plaza employees added big red letters spelling out "Freedom Prevails" to their marquee, then took to the Internet to share the news.
Or, rather, they would have taken to the Internet. But it hadn't been working for more than a day. "We heard from AT&T Cares that service was down in the area," Furlinger said.
The outage precluded the Plaza from selling tickets Tuesday and Wednesday via the Web, or to moviegoers and other First Amendment fans lined up at the box office hoping to pay with credit cards. Nevertheless, the Plaza sold out all 1300 seats. Service remained down yesterday, costing the Plaza between $2,000 and $3,000 at the concession stand, where 80 percent of patrons use credit cards.
"These things never happen on slow weekends," Furlinger lamented this afternoon.
The obvious question is whether North Korea, whose own Internet was reportedly shut down this week by the United States in retaliation for the Sony hack, is behind the Plaza outage. FBI agents present at the Plaza's Christmas Day screenings didn't think so. Nor did Furlinger, who began to explain that the Internet had gone down before he received the go-ahead from Sony. Furlinger had to cut his explanation short, however, upon learning that he had a phone call "from the office of the president."
It was the president of AT&T.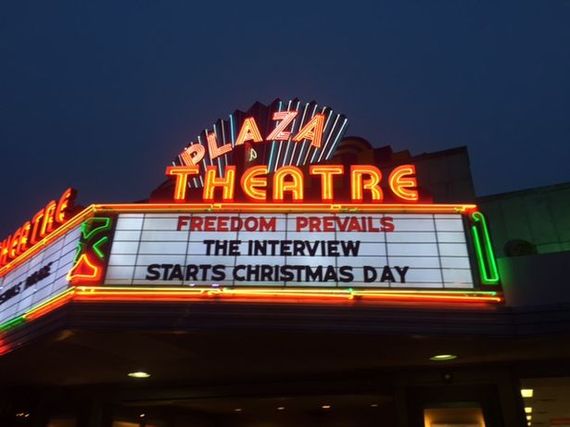 The Plaza Theatre in Atlanta (photo: Plaza Theatre)