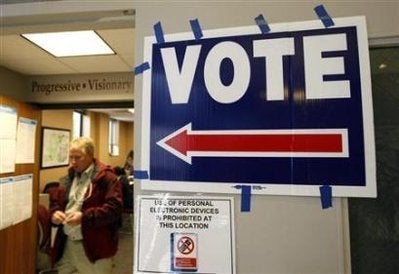 Below, watch bookmaker Betfair.com's betting odds change in real-time for the presidential race as well as those in six key states. There will be significant shifts throughout Election Day.
According to Betfair's political expert Michael Robb, "The real value in watching the betting markets is that they will be quickest to react to news coming through. On election night you might watch one of CNN, ABC, Fox, etc, but the fact that there are thousands of people betting in these markets means that the impact of all the differing reports coming from different sources are reflected in the candidates' market price."
As University of Kansas economics professor/betting trends expert Koleman Strumpf says,"On Election Night I'll look at the movement on the betting sites to see what's going on. I watch CNN too, out of the corner of an eye, but it's not necessary."
CHANCE OF WINNING PRESIDENTIAL ELECTION:
An up-to-the-minute prediction of who will win based on millions of wagers
Note: To view a prettier, full-size, interactive version of the above chart (allowing you to mouse-over for more data and to go as far back as a year in the election timeline), click here. The panoramic chart is also embedded on the Huffington Post's Election Results page, which includes poll closing times, Electoral College result widgets, and live election coverage (video).
6:30PM: BOOKMAKER'S ANALYSIS: Says Prof. Leighton Vaughan-Williams, Director of Political Forecasting at Betfair Research: You're sitting at the poker table, holding the 2, 3, 5 and 6. There's one card left to draw from the pack. You need a 4 to complete an 'inside straight'. Spades, clubs, hearts or diamonds, you don't mind, as long as it's a 4. What are your chances? About the same as John McCain winning this election, according to the latest Betfair odds. In fact, his current likelihood of winning, according to the market, is about 8%, or a shade less than the chance of getting that elusive 'inside straight.'"
And here are charts for the Battleground States, which, the bookmakers say, "will see more volatility (especially the contentious ones) as precincts start reporting."
0200 GMT Wednesday 5th Nov (2100 EST - Tuesday 4rd Nov.): "McCain will be crushed according to Betfair punters as he hits 50-1 for first time," Betfair's Mike Robb says. "Barack Obama will be the next US President according to Betfair customers after they predicted that all the swing states will go the way of the Democrat. As the US media continues to give Republican candidate John McCain some hope, Obama is now trading at Betfair's lowest price of 1-100 which means £1 is being bet to win 1p." It's such an electoral bloodbath for the Republicans that it's not a case of how but how many for the Democrats - it's now 2-5 (71% chance) that Obama will win more than 351 of the total 538 electoral votes up for grabs."
Note: Click on individual charts to enlarge them slightly.
FLORIDA:
9:00EST: BETFAIR MARKET CALLS FLORIDA FOR OBAMA
Bookmaker's Analysis: 7:25pm: "Obama just jumped to +28 -- our analysts are checking to see if this is an anomaly or if its sticking. CNN has Obama by just +1 with 9% reporting. This could be a wild state to watch."
7:31pm: "Barack Obama will win in Indiana according to the Betfair market after moving to odds-on for the first time-- despite only 2% of exit poll data being made public. Just two hours ago John McCain was the 4-5 favourite (a 54% chance of victory) to take the state, just as the Republicans have done in every election since 1964. If Obama wins in Indiana it indicates a landslide election victory for the Democrat - he's now moved to a 96% chance of winning overall."
Bookmakers' Analysis: 4:01pm Eastern: "The day started as the closest betting race in any state with Obama +3, but Obama is has jumped to +10 since this morning."
4:27pm: Betfair's Senior Predictions Analyst Kate Hannah says, "Betfair markets jumped for Obama on reports of Missouri voter turnout at unprecedented levels. Even without election returns, bettors seem to be assuming high turnout will equal more votes for Democrats."
9:00EST: BETFAIR MARKET CALLS MISSOURI FOR OBAMA
But wait...This just in from BetFair at 10:28EST, per my question about the exit polls in Missouri: "Missouri continues to be one of our most volatile markets -- over the last hour, Obama's lead in the markets has ticked down steadily from a previous 20+ point spread. The past 10 minutes especially have seen several bettors defecting positions to McCain. But even with 21% precincts reporting a 5% McCain lead, Obama is maintaining an edge among bettors. Bettors seem to believe this is now Obama's state to lose."
10:48pm EST: Betfair's Mike Robb says: "This state was the one obvious close race on Betfair but now looks like it's heading for Obama.
Total amount traded on Betfair (as at 2400 GMT) - £32m ($51m)
Total amount traded on Betfair (as at 0200 GMT) - £34m ($54m)