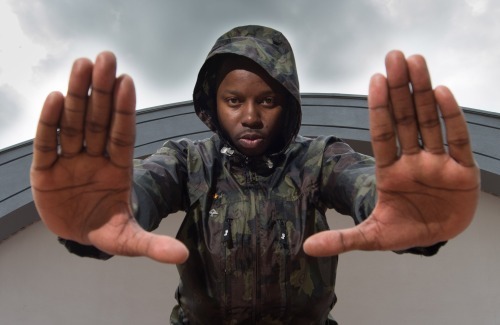 For years now, we have known this Ann Arbor-based hip-hop emcee as Buff1, but after taking some time off to contemplate his life, he's returned with a new album Victim Of A Modern Age donning his real name, Jamall Bufford. Looking for a bit of a change, recording under his birth name gave Bufford a new sense of freedom artistically going for something that goes beyond the "hip-hop" box that the Buff1 moniker might have put him in.
Coming from the small college town of Ann Arbor, Michigan, Bufford is one amongst a team of creative-minded individuals as a member of the A-Side Worldwide collective (which includes the likes of Mayer Hawthorne, 14KT, and DJ Graffiti, among others) that are steadily making moves in both the entertainment and business worlds. I was able to catch up with Jamall Bufford before the release of Victim Of A Modern Age, and chat about the new album, his life, and what inspires his music.
It's been a few years since your last solo album, what's been up?
For the most part, I've just been chillin', regrouping, recording, thinking, and doing a little bit of observing from a distance. Haven't been traveling much, no shows, or touring. I've been in Ann Arbor working at the Neutral Zone teen center as music coordinator trying my best to help out the teens I work with, while simultaneously learning every day. That's been a huge adjustment because I was out of the work force from 2008-2011 only doing music.
What's the theme behind the new album?
There are a couple themes I guess. I was watching A Clockwork Orange a few years ago and for some odd reason the plot of that movie kinda reminded me of rap music. It made me think about how rap music influences people, and vice versa, how people influence rap music. Coincidentally a few years later, I started working with teens which made those thoughts all the way more relevant. There's also the fact I've been rapping for 20 years, which is just crazy to even think about, but I touch on that a little bit. Granted I didn't put out projects 20 years ago, but I've been writing and recording that long. And then just the state of rap music, how it's been affected by technology, positively and negatively, and other things.
How do you go about tackling the topics you write about?
It's just life experiences that move me to say something. I don't really read much so the things that influence are life experiences of my own or people close to me, or TV, movies, and music. And when I say something about it, I want it to sound like a conversation. I never really want to sound like I'm rapping at you. I don't want it to sound like the rhyme is more important than what I'm saying. When I first started, like with most rappers probably, it was all about the rhyme. But I've changed a lot. I just try to sneak my skills in there subliminally just to let cats know it's still not a game, haha.
Much of your album is produced by 14KT. Speak more about working with him and what he brings out in your music.
Besides Dilla, KT is my favorite producer. So I'm just blessed to be able to get his beats for free, haha. But the reason he's my favorite is because he makes beats how I think, like if I made beats, I would make them like KT. He can do the straightforward/simple beats, but then sometimes they don't make sense, then he can also do the melodic stuff, the hard beats, whatever. I didn't get to really sit and work with him on it like I wanted to because he was busy working on the tons of new music he's dropping, but he just had stuff in the archives chillin' that fit what I wanted. "Higher" and "Love & War" were both supposed to be for a new AML album about four years ago that unfortunately never happened. Believe it or not, me and KT rarely work on stuff from scratch. I think "Real Appeal", "Hula Hoops" and "Electrifying Music Maker" are the only times I really told him what I wanted. Oh and "10,000". I usually just pick KT beats like everybody else.
How do you strive for longevity in music?
I don't even know if I strive for longevity. I just strive to consistently put out quality music. If that results in longevity then that's a bonus. I think one of the advantages of being an indie artist, or semi indie, is being able to operate on your own schedule. You don't really have anyone telling you when you can and can't put out music; unlike some instances, where talented artists get caught up with major label issues and can't even put out music.
What does the future hold for Jamall Bufford?
I have no idea. I just continuously pray for peace, love and good health for myself and everyone else. And if some wealth comes into play somewhere down the line that wouldn't hurt.
Jamall Bufford's Victim Of A Modern Age is due out December 10th via Mello Music Group. The Victim Of A Modern Age release show happens on Saturday, December 7th, at the Blind Pig in Ann Arbor, Michigan with special guests Clear Soul Forces, Magestik Legend, Obie Iyoha, and 14KT. Doors open at 9pm, cover $7 for 21+, $10 for 18+. For more information, please visit mellomusicgroup.com.