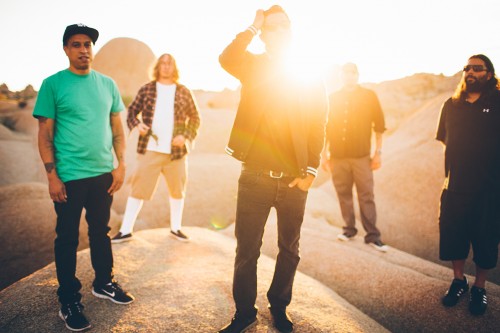 The Deftones are a Sacramento, California-based band that came from the metal scene of the mid-1990s. While they have enjoyed gradual success that has made them one of the more acclaimed bands from 90s metal still relevant today, there were times back then when they were lumped into the "alternative-metal" or "nu-metal" categories coined by the media that would turn out to be extremely lacking of any credibility and most of those bands were more of a fad. The rap and electronic music elements of many of those '90s metal bands were way too calculated and cliché to ever have any sort of lasting power. The Deftones were able to weather that storm by just ignoring it, doing what they wanted to do, and going in their own direction entirely. The Deftones are much more than a metal band, they are a family and everything that makes up the sound and dynamic of the band is in their blood.
"The easiest thing I can say is that we continue to have fun and we are very lucky that we have all been friends this many years," describes Deftones front man Chino Moreno in a recent phone interview on how they are able to keep their passion alive after all these years. "Even before music, before the band, we grew up together and have known each other. That's a big part of it, that we like each other. It never really feels like a struggle. It feels pretty natural. Everyone has fun."
It's that brotherhood within the Deftones that has made them such a viable band 17 years after the release of their debut album Adrenaline. Everyone in the band brings something innovative to the table and that has let them continue to evolve even to this day. "When we go to make records, we don't go in with a preconceived notion of the kind of record we are going to make," says Moreno. "It's really just us getting in a room together and playing, and capturing that moment in time. As far as ideas, everybody's sort of overflowing with creativity at this time. It's exciting to think at this long in our career we're still making music that feels like it's progressing in some way and that we haven't hit a wall in our creativity. We are still coming in eager to work with ideas, and good ones at that."
With their new album Koi No Yokan, due out next month, the band continues on their musical expansive journey, exploring new areas sonically with 11 tracks of original material. "From song to song, every song goes into a different place yet it all sounds very cohesive," explains Moreno. "Now, in retrospect, when I listen to this batch of songs it's pretty apparent that it really encapsulates the moods that we were in and the feeling that was going on in the last six months of our lives."
Earlier on this year, many websites reported that the new Deftones album would have a couple cover songs on it including one of an old Elvis tune, but Moreno confirmed that while that was the plan, none of the cover tunes will make the final album. Due to time constrictions, they were not able to get around to tracking any of the cover tunes to include them on the album, but there is a chance that if they do record them, they might be released elsewhere at a later time.
This week, the Deftones return to the Detroit area on Wednesday, October 24 at the Royal Oak Music Theatre in Royal Oak. Anyone that has been a Deftones fan knows how frequently they have toured around here, and how great each show usually is. It's never the same show at the same sort of venue. One time you might see them on tour with another band playing at DTE Energy Theatre, then next time it's a smaller club tour at Saint Andrews Hall, then after that they come back and hit the Fillmore, and you might catch an in-store performance in there somewhere. It's always different and for their hardcore fans, it makes you enjoy each and every show on its own.
While the Detroit area has always been good to the Deftones, they did have an issue back on Valentine's Day in 1999 when they were on tour with Black Sabbath and Pantera for two dates at The Palace in Auburn Hills. "We got in the night before and we woke up the next morning and the truck with all our gear in it was gone," explains Moreno. "Crazy enough, we actually got most of our gear back. We found it in a pawn shop a couple days later. The first night we didn't get to play. The second night we rented gear and got to play the show."
The Deftones play Royal Oak Music Theatre on Wednesday, October 24 with special guests Scars On Broadway. It's an all age's show. Doors are at 7:30 p.m. Tickets are $55 for reserved and $35 for general admission.