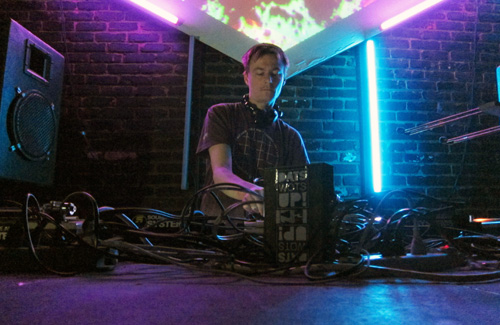 Last Thursday was the first time in the Motor City for Dutch-born, now Berlin-based electronic music DJ/producer Dave Huismans aka 2562, guest headliner for Detroit's weekly Bass Down Low club night at The Works thrown by curators of our city's dubstep scene Matt Clarke and Jon "Calico" Davis, who are also the night's resident DJs. It's an exciting visit for Huismans, as like most electronic music artists, Detroit's long history of techno is very influential to his own music citing musicians such as Anthony "Shake" Shakir, Jeff Mills, and Theo Parrish as inspirational.

Matt Clarke started off the night playing a more chilled out techno set that was not at a void of banging beats and thumping reverb. It doesn't matter what sort of a set he plays, whether it's techno, dubstep, or drum-n-bass, Matt Clarke never disappoints and shows Detroit parties can have star power even at the beginning of the night. Clarke ended his set with a few celestially heavy dubstep joints, including the Dub Scout track "Western Work."
Following Clarke for the night was the local duo Gin & Tronic made of up DJs Dre and Deadlines continuing the night with heady bass heavy tracks and airy electronic jams. They kept the party going and warmed the crowd up for the guest of honor in 2562.
The 2562 set was nothing short of phenomenal. Mixing tracks that range from the hard hitting dub style to straight up techno/electro, it was a rhythmic journey that had the dance floor popping. Every track he dropped was amazing and it was a mind blowing set. A 2562 set is like an electronic work of art seamlessly running through a deep selection of the finest in techno.
Even though he's associated with the early emerging class of dubstep, Huismans really doesn't define himself by that genre, or any genre for that matter. He's a musician with ever changing sounds that finds experimentation a satisfying factor in his production work.
Before his set, I grabbed Huismans for a short chat outside on the patio of The Works where he described what goes into a 2562 set:
"Blood, sweat, and tears. Tears of joy. I like to play a mix bag. Its never preplanned or preprogrammed. Its never one genre. I think it's a shame when there is a wealth of good music out there to stick to one genre. I always try to let the vibe of the night inspire me and take it from there. Usually, all I know before I get on is what my first one or two records are going to be, then it's just seeing how it goes."
The great thing about these parties like this that Clarke and Calico promote is that they go deeper into the heady roots of dubstep and bass music with the records they play along with the artists they book.
Aside from Bass Down Low, Calico promotes another monthly bass music party called DATSWOTSUP! with fellow DJ/producer Andrew "Deka" Dall'Olmo, that runs along the same deep roots by showcasing the finest in dubstep, 2-step, and garage music.
This Thursday, April 26, Bass Down Low presents a staple of the original U.K. dubstep scene with Silkie, as this is a return engagement to The Works but this time with a live set rather than a DJ set. Silkie was a product of the golden years of the U.K. grime scene before transitioning to dubstep where he would go on to release records on coveted record labels such as Deep Medi, Disfigured Dubz and Soul Jazz. Silkie comes from the early years of dubstep that held innovation as a key to making their music, and still does so as dubstep has reached huge popularity and has mutated into various styles. Silkie is easily someone from the roots of the genre that you would want to experience.
Bass Down Low happens every Thursday at The Works (1846 Michigan Ave) in Detroit with resident DJs Matt Clarke and Calico. The cover is only $5 all night and open to people 18+.
(Photo credit: Kelly Frazier)