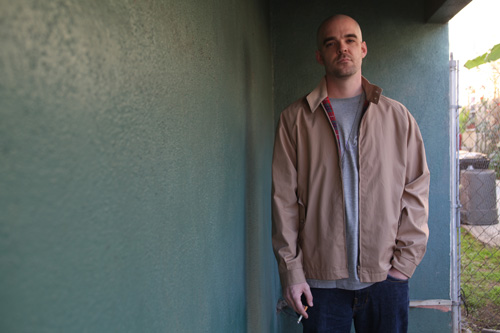 When approaching this article, I wanted to go back and forth to a previous time in the life of House Shoes while I tackled the present, because it all goes hand in hand. The previous times, when he was still back in Detroit, J. Dilla, Big Proof and Baatin were still alive. Those were the times of going down to Saint Andrews Hall for Friday night's 3 Floors Of Fun or whatever hip hop event House Shoes was spinning at. Those were the times when people from all scenes came together at The Buddha Lounge on Tuesdays and Saturdays, and then Northern Lights Lounge on Tuesdays for Shoes House. We all wish we could have some off those memories back, but it's time to move on and let it all go.
It's easy to look back at all those great times and think that everything in Detroit hip hop was wonderful. Since the late 1990's, Detroit has raised the bar for how hip hop is made, but getting that acknowledgment within our own city has been tough and a bit frustrating for our top artists. For anyone that knows House Shoes from his days here in Detroit, it's easy to see how much he loved his city and how much work he put in supporting its hip hop scene, with little return from many of people he's helped along the way. "I want a lot of the artists to get the business sense up and be a bit more self-reliant," explained House Shoes in an interview we did over the summer. "Not sit around and wait for someone else to tell them what they need to do, or wait for an opportunity to be provided for them. You need to create your own opportunities. That's what I did. I've been taking care of muthaf--kas for damn near 15 years and it just got to the point where I got to take care of myself. You can't wait for a situation to present itself."
With that sort of weight on your shoulders, it's fairly understandable to want to leave and get some creative space to try to reach your own goals in life. That's the reason Dilla moved to L.A., and before his passing, Big Proof of D12 was planning to move to Phoenix. House Shoes did the same and moved to L.A. back in 2006.
On House Shoes' debut producer album Let It Go, his motivation behind the project is exactly what the titled says. It's his exercise in all the things in his life that he needs to get past. Whether it's beats he's made from the past decade or so, or relationships with people and the obligations involved in his life, the album is the result of that emotional purge. "I ain't got a million beats stacked up," describes House Shoes. "So one of the main emphasis of the title Let It Go is that its time for me to let my music out into the universe and let it do what it does. Let me let all this s--t out."
Detroit is a special place. After you sharpen your teeth within the scene, you always represent the city no matter where you live. You are always a Detroiter. In his time in Los Angeles, House Shoes continued to represent Detroit to the fullest, in the best way possible, by representing himself and all the music he's passionate about, no matter where it came from. That's represented on Let It Go. "Detroit is definitely my foundation," said House Shoes. "I definitely appreciate and am grateful to be branded as the ambassador of Detroit hip hop. But once again, that's still a box. In my travels, I've been blessed to link up with some really great talent from all over. From Nottz, to Alchemist, and getting cool with Roc Marci over the last few years, I'm definitely blessed. These are the cats that I actually deal with, that I talk to, we build, and we smoke and party."
Representing Detroit hip-hop is a hard job because it's about having honesty and a high bar of quality, rather than just representing anyone's music just because he/she is from Detroit. Since his beginnings, House Shoes has always been always a stickler of what music he plays, no matter if it is from Detroit or not. "Back in the day at Saint Andrews," explains House Shoes, "if you brought me a record, first of all, I'm not going to play your record without listening to it unless it's Dilla or Black [Milk] or Guilty [Simpson], or someone that has proven to me that every time they hand me something its dope. I'm not going to play nothing else blind. So if I take the record home and listen to it, and next week I'm at the club and I'm not playing it, its because the s--t wasn't heat. If you have a problem with that, I'm going to tell you that s--t wasn't hot, period."
Along with the intrinsic values behind the name, Let It Go is also an amalgamation of House Shoes life, times, influences, inspirations and friends all in one album. It's a storybook through the sound of his own beats, along with the stories of the emcees he truly has ties with. It tells the tales of his life for the people that knew him, and more importantly, the people that he is trying to reach that don't know him. With it's lineup of hip hop underground heavyweights and Detroit talent, it's not boasting some sort of ideal wish list of people he wants to work with -- these are people he already knows and they have a mutual respect for one another. It shows that some of the lesser known Detroit talent (like Moe Dirtee or Self Says) can hold their own, compared to anyone else in the game. Let It Go is multifaceted in its meaning, structure and ideals, but in the end, it's simply about a man just trying to move on and reap the benefits of 20 years of hard work.
House Shoes' debut album Let It Go featuring guest appearances from Moe Dirtee, Alchemist, Oh No, Roc Marciano, Big Tone, Guilty Simpson, Black Milk, Nottz, MED, Danny Brown, Co$$, Quelle Chris, Charli 2na, Marvwon, Self Says, and Fat Albert Einstein is now available on digital, vinyl, and CD formats via TRES Records. For more information on House Shoes, visit djhouseshoes.com.