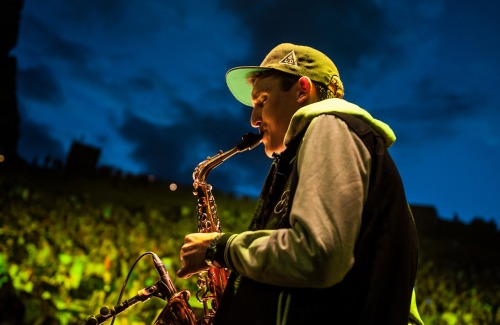 Electronic music has exploded over the past few years in America lead by the massive popularity of Dubstep and various other forms of bass-driven music. It's reached its pinnacle and is now trying to progress into something more lasting. Detroit has always been a hotbed for electronic music, and new generations of young artists, DJs, and promoters have continued to sprout up. One of those young names is a Detroit-area producer/musician named GRiZ, born Grant Kwiecinski, who at the tender age of 23 through his own natural talent and passion has become one of the next artists to watch in the world of electronic music. The young upstart blends a futuristic electronic sounds reminiscent of dubstep/bass music but shakes it up with a heavy dose of classical funk, soul, and jazz. His sound, which he would describe as "electro-soul" if a genre needs attached to it, sets a balance between various urban music genres while not heavily dependent on one in particular. I was able to catch up with GRiZ during a rain-filled day at this past spring's Movement Electronic Music Festival at Hart Plaza. Even during the downpours all day, the kids were still out at the Electric Forest-curated stage to see GRiZ do what he loves to do: music.
With early teenage inspiration coming from electronic artists like Squarepusher and Aphex Twin, GRiZ caught the music bug. After getting a copy the Fruity Loops Studio music production program, he realized his passion for making music and the party hasn't stopped since. For him, music acts as his greatest outlet and even an obsession. "I feel like music is sort of therapy for myself," describes GRiZ.
He says:
Whether it's like helping me release bad energy into sounds that helps me deal with my issues, or it's like a very positive thing that's like this glowing ball of light that feels really good. It feels like I just have this f--king thing that I need to like get out. It's like you see a really hot girl, you just want to f--k that girl. You got to, you know. I just got to f--k this beautiful musical b-tch. I just have to do it. It's like an itch.
There's a freedom in the music of GRiZ that allows for growth while not pigeonholing himself into any one genre. GRiZ has low key been packing shows along the electronic music party circuit and playing festivals like Coachella, Electric Forest and Lollapalooza, among many others, showcasing his unique stage show. His live sets, which feature himself on the saxophone along with various controllers and a computer as well as an accompanied guitarist, bring a distinctive edge to GRiZ not seen much with most electronic artists who solely depend on electronic gadgets for their stage shows. "I loved playing the saxophone," says GRiZ.
I loved how it sounds. I love the live human element of it and I've been playing since fifth grade. People do live instrumentation. You have people, like bands and sh-t, they play instruments. Why can't I play an instrument? So I just went for it. It sounded terrible at first. It sounded really really bad. I always got feedback and all that stuff sounding like an idiot and it took a while to dial in but we did it.
The organic aspects of his live sets are an extension of his passion for music. "When they see me live," explains GRiZ. "It's a kid jumping around on stage looking like there's f--king fire on the ground. Playing saxophone. Ripping sh-t up. High energy. I love what I do so much, I can't help but to like indulge and just go f--king crazy."
Last September, after a slew of tracks and remixes posted online, GRiZ released his debut full-length project Mad Liberation for free download, and his buzz grew immensely. One year later, GRiZ is ready to drop his next album Rebel Era in the coming months that marks the next musical chapter in his career.
Along with his own solo material, GRiZ has found a bit of kismet musical relationship with Slovenia-born, now Brooklyn-based electronic music producer Gramatik, and started collaborating together on tracks as GrizMatik. Much like GRiZ, Gramatik mixes old style blues and soul rhythms with modern urban flare and electronic bass music sounds. "That was born out of a tour that with him, his Digital Freedom tour last spring," describes GRiZ about working with Gramatik.
He says:
I was showing him some music on the bus. He was like 'This is dope.' So I asked him 'Do you want to finish it?'... he was like 'Yeah'. At the time I was getting ready to come out with my record Mad Liberation and he had his record out Digital Freedom, and our names mixed and the names of our albums mixed so well. It happened so organically and perfectly that we can't just not do this. It's like having a conversation with somebody you feel like you have known them your whole life and you just click from the start. It's amazing.
GRiZ has not found himself in the higher echelon of electronic music artists from the Detroit area yet, but at age of 23, he sure has a great start. His musical acumen is beyond his years and if he stays creating, GRiZ is definitely someone to keep your eye on in the years to come. "Hard work and just sticking to the vision," explains GRiZ about his work ethic. "Always focus on the music first. That's the big thing. Staying true to making good music and not sacrificing that for anything."
GRiZ will be kicking off his first national headlining 32 city Rebel Era Tour in October with supporting acts Pegboard Nerds, Two Fresh, SuperVision, The Floozies and Anvil Smith. For dates and more information on GRiZ, visit mynameisgriz.com.
Photo Credit: Jordan Loyd