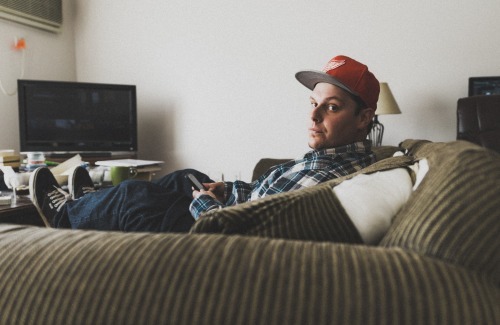 (Photo Credit: Jeremy Deputat)
"It's given me everything," says Detroit emcee Red Pill about his life in music. "I'm obsessed with it. It's all I think about. It's all I thought about since I was young, like 12 or 13 years old when I started writing, wanting to be a rapper, and practicing in the mirror. Just the stereotypical shit you do as a kid." The transparency that we hear from the music of the rapper born Chris Orrick is that of all the little things in his own life that we all experience; he just writes them down.
Red Pill is not cool in your stereotypical rapper way. There's no flashy attitude or a sense that he constantly needs to be the center of attention. It's a bit of that Almost Famous/William Miller uncool mystique with him. He's observational. He extracts those fine moments that go on throughout the day and pieces them together into his music; the latest being his debut solo full-length project for Mello Music Group titled Look What This World Did To Us.
"I write really personal stuff," says Red Pill. "It's all about watching my life and things in my own experience. I'm always thinking about what I want to put in my music. I can be having normal conversations with people and I'm taking little moments of those conversations and pulling them out and putting them into my music. It's easy if you're paying attention come up with shit in your environment to write about."
LWTWDTU is an all encompassing look into the perspective of Red Pill's life, where themes ranging from love and relationships to alcoholism and depression are sprinkled through the album. "I had this idea to make a record that kind of felt like a book, almost like a novel," describes Red Pill. "I was really into reading Charles Bukowski at the time. I really liked his style. He writes about just the daily grind. After I read most of his stuff, I want to make this something that makes sense from start to finish. An album that is a singular listen, that is thematic throughout the whole thing, where you are bringing things up constantly."
Now 27 years old, Red Pill is going through a bit of a creative crossroads still; a time when he has taken the blind faith in his own music and left the idea of having that day job or career to fall back on in his past. It's a hard thing to do, but he hopes that in the end, his music will continue to live on after it's all said and done. "I've just seen it happen so many times with people that have creative ambitions," explains Red Pill about choosing an artistic career. "People want security. They're scared of not having a regular paycheck and I get that, trust me. But when you get wrapped up in a full 40, 50, 60 hour work week, when the fuck to you actually have time to work on music? It's a massive risk, because I could come out of this with nothing. Even if this the next ten years are good, what happens after that. Now I'm in my 30s and I haven't had a job in 15 years."
Even in his starving artist sense, Red Pill is like any one of us and main thing to get out of his music is that we are not alone. His songs have those little nuances about life that we always notice, but forget by the next moment. It's about the ups and downs of our existence. Life might suck at times. Life might be good at other times. We all have those things that constantly defeat us and we have those things we can be strong about. We have those things that we have control over and we have those things we struggle with. To truly live you have to let yourself be open to the unknown, but when all else fails, just press play and listen.
Red Pill's Look What This World Did To Us is due out April 7th via Mello Music Group. Pre-orders available now digitally, on CD, and on vinyl. Red Pill will be headlining a show on Friday, March 27th at the Majestic Cafe (at the Majestic Theatre complex, 4120 Woodward Ave, Detroit, MI 48201) with Hir-O, Maraj, MC Friendly, and Nortroniks. Doors at 8pm, $5 cover. For more information on Red Pill, visit mellomusicgroup.com.