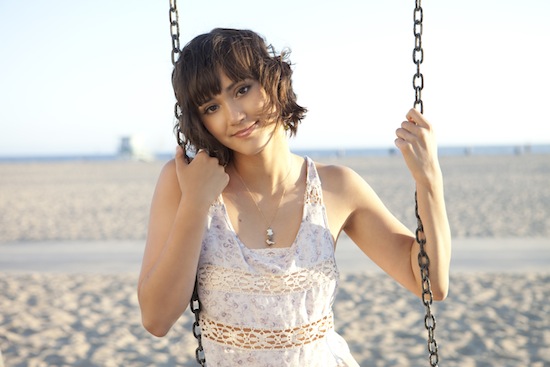 For years, Dia Frampton reigned as a bit of a indie music sweetheart fronting the band Meg & Dia along with her older sister whose name I sure you can guess by their name. They had their ups and downs as a band. Whether it was playing a show in front of 17 people, or being signed to Warner Bros. Records, it was an interesting ride for the band. The journey would hit new heights when Dia appeared on the highly popular NBC television show The Voice, where she would end up as last season's runner-up as country music star Blake Shelton's protégé and the person who did an amazing cover of Kanye West's "Heartless."
Currently, Dia Frampton is on Shelton's Well Lit & Amplified Tour playing in front of the most people she has ever played for. With these massive audiences Frampton is playing in front of, it's been nothing but an amazing experience for her. Even after almost a decade of performing music, the 24-year-old Frampton is still a student learning a lot from Blake. "It's the small things," explains Frampton. "It's how well he keeps in contact with the people in the crowd. I've always had a little bit of a problem with that. Sometimes the stories he says before a song really gets the crowd amped up so that when the music starts that people are just so excited."
While on the road, Frampton is doing a string of smaller headlining shows in between tour dates with Shelton; one in which hits the Blind Pig in Ann Arbor, Michigan on Thursday, March 1st. "We're doing a couple headliners," says Frampton. "Those have been fun too. A lot more small obviously but I think there is something cool about performing for 5000 people and then something intimate, unique, and fun about playing for like 100-200 people."
Even with the spike in popularity because of The Voice, Frampton remains grounded. She still tours with the same musicians from the Meg & Dia band, but they absolutely feel they have progressed as a unit. "Ultimately, we are all the same performers and we all do the same goofy things on stage, "says Frampton. "We definitely think we have been forced to step it up. It's just really important to me to play music. I just never really cared about the show or production at all. Being on this tour has definitely given me an appreciation for an actual show."
Dia Frampton has always felt that she has been an organic person, someone who always reached out to her fans. Whether its on Twitter, Facebook, or her own blog, Frampton is continually interacting with her fans, no matter what part of the globe they are from. Coming from the word of mouth of her fans, you'll often see her reach out to radio shows directly that has played her music and offer her appreciation. "I think it's really important to connect with fans and it's really fun too," explains Frampton. "Honestly, I'm just now learning about how amazing fans are really are, that's why every show we do, we have a meet-n-greet. I'll just stay after and hang out with everyone and take pictures because I want to be giving back to them."
Her hands-on approach to life extends directly to her music itself. Her debut solo album on Universal Republic, titled Red, is more pop-oriented in comparison to the indie/folksy sound of the Meg & Dia material, but still deep in substance. "I really did just want to make pop music," describes Frampton. "I wanted to make smart pop. I didn't want to make the cookie-cutter album or the album where it sounds literally like a songwriting team went in and wrote songs, and handed them to me and I sang all them, which happens more often than you would like to know with your favorite artists."
The album's title, Red, comes from a time when she was a kid growing up in a heavily Mormon populated small town in Utah. Her family wasn't Mormon, so at times she felt really ostracized. One day, when Dia was very young, she just didn't want to go to school, so her mom had an idea. "Red was like a magic color for me," says Frampton. "I told my mom that nobody was going to like me and if she could go to school with me. I was crying and I wouldn't get in the car. Finally, my mom said 'Let's get your red sweater because all kids have red sweaters. I see all the girls in the magazines with them. It's such a cute color. Everybody's going to love it. It's so fashionable. Its the ultimate friendship color.'"
Whether you see Dia Frampton on a big stage or little, she's passionate about consistently given it 100% each time she performs. There's a lot that goes into every show, and she's aware that things happen in life that could spoil her mood, but she's humbled enough to know that she shouldn't let that affect her performance. "No matter what, we are playing the show for you and want you to have a good time," describes Frampton. "What we are here for ultimately is to provide our music for people and have this connection, whether its with us, the person you came to the concert with, or some stranger. Music really does bring people together and I always want to make sure that's really number one on our list and not let our personal lives ever get in the way of the show."
Dia Frampton's album Red is now available via Univiersal Republic. Catch her headlining show at the Blind Pig in Ann Arbor, MI on March 1st.