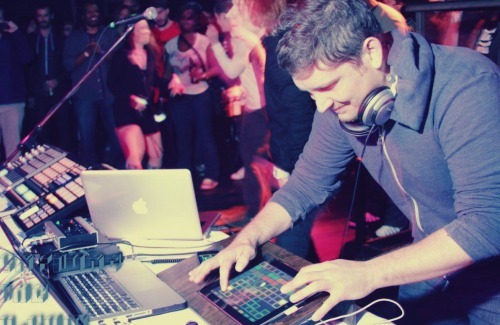 John Arnold and Jeremy Ellis are close friends in real life and their live sets are a sight to see. Their stage is filled with keyboards, drum machines, guitars, and all sorts of other gadgets that breathe life into anything they sample for their live freestyle performances. With their drum machines loaded with samples, drums, and other sorts of sounds, they trigger an improvisational set reworking anything from the sounds of James Brown to the works of J. Dilla. It's like the inventive nature of legendary jazz meets the beat styles of hip-hop, all done with the ideals of electronic music.
I remember a time around 2005-2006 when John Arnold and Jeremy Ellis were known among the electronic music scene along with the jazz/soul scenes, but the hip-hop community as a whole wasn't too aware of what they could actually do. One night in November of 2005, back when DJ House Shoes used to do his Shoes House nights at Northern Lights Lounge on Tuesdays, I had come up with the idea to invite John and Jeremy to perform during a monthly themed Rensoul.com night (Once a month, House Shoes would let me curate a Detroit themed night in conjunction with my website). Gear-wise, they did a bit of a stripped down version of what they usually do, but the main essence was alive and well that night. Breaking down and building back up tracks on their drum machines, John and Jeremy had the crowd in awe that night; a packed crowd at Northern Lights Lounge made mostly up from people of the hip-hop scene that had never really seen drum machines used like that before. A part of the crowd was busy dancing to the music while the rest was trying to figure out what exactly they were doing up there. Everything they played, from hip-hop beats to funk music, was completely improvised and the audience loved every bit of it. That night was like an introduction to the hip-hop scene as a whole to John Arnold and Jeremy Ellis.
Fast forward to April 2007, and this was the first time that I actually threw an event for myself. It was a sixth year anniversary for Rensoul.com and I had the idea to book John Arnold and Jeremy Ellis to do a freestyle J. Dilla tribute set. Basically, John and Jeremy reworked a bunch of J. Dilla produced classics in their signature way. They ended up borrowing a crate of my Dilla vinyl to grab samples from it. Originally, Amp Fiddler was supposed to hook them up with actual drums and samples used by Dilla straight from the drum machines, but there was a hiccup in that plan. Nevertheless, the duo took all these Dilla joints from Jaylib, Slum Village, 1st Down, and whatever else they felt to rework, and brought a crazy new life to them all. My friend videotaped the whole performance (YouTube clips above), and I wish the lighting was a lot better for it, but it was a great night and I'm glad I got some sort of documentation of it. I really hoped that some of the other Dilla tribute parties outside of Detroit would have caught on to John and Jeremy's performance and booked them, but oh well.
That's just a couple of countless amazing performances from the two that I have been able to witness. The musical reverence of John Arnold and Jeremy Ellis is paralleled by only a few. Outside working together, they are both accomplished musicians that have a strong repertoire of projects, session work, and performances under their belts. John Arnold has done session guitar work for a who's who of artists from techno to hip-hop, and from jazz to soul music, and is a regular DJ at Goodnight Gracies in Royal Oak. Jeremy Ellis has put many in awe with his "finger-banging" (get your mind out of the gutter! It's what he calls banging the pads on the drum machines) by being a spokesman for the likes of Native Instrumentals and their Maschine production system with his amazing collection of demonstration videos. Both of their careers are stories in themselves, but together they are an amazing sight to see.
Motor City Funk Night happens this Friday, November 29th, at the Majestic Theatre in Detroit with resident DJ Frank Raines along with a special live performance from John Arnold and Jeremy Ellis along with DJ sets from DJ Dez and DJ Rec, and hosted by Phat Kat. Entry is $5 for 21+ and $10 for those 18+, and goes from 10pm - 4am.
(Photo Credit: Carlos A. Padilla www.carlosapadilla.com)