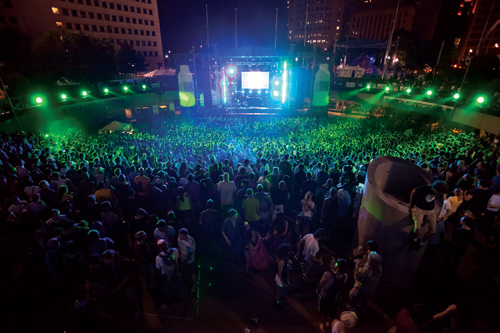 Every year during Memorial Day weekend in Detroit tens of thousands gather at Hart Plaza downtown for the Movement Electronic Music Festival. With music festivals happening all over the globe these days, Movement has its own unique way to present a lineup of electronic music artists of the past along with younger artists just hitting their stride. It's a mix of what's happening from a global standpoint with an organic homegrown salute to the artists and DJs of Detroit. As a place that has become a heartfelt staple to the idea of electronic music, the concentration of Detroit acts at the Movement Festival is always an main subject.
For the 2012 Movement Festival, the artist lineup is quite strong and diverse, much akin to the event's early years. With headliners like legendary Chicago house music producer Lil' Louis, hip-hop pioneers Public Enemy, and Detroit electronic music DJ/producer Jeff Mills as The Wizard, its a solid basis of what Movement 2012 is all about. "Over the years our philosophy has been to highlight the icons of Detroit techno alongside the emerging Detroit talent while sprinkling in some artists who have a large international following," says Movement Festival executive coordinator and head of Paxahau Event Productions and Management Jason Huvaere. "With our headliners this year, we wanted to present fans with music from some of the originators of the genres of techno, house, and hip hop. These are artists that as musical fans get us amped and we feel they will do the same for those who attend the festival."
The Detroit presence of the Movement Festival is always an important aspect since the inception of the event back in 2000. Since it's become such a staple of our city, it can also be a bit of a touchy subject about who plays the festival, or more so, who hasn't. That's one of many things that Paxahau has to keep in mind when trying to please the masses with such a big task each year. "The festival does try to seek out DJs that have never played the festival," explains Detroit house music artist Mike Huckaby. "You would think every DJ would have played the festival by now, but that just goes to tell you the depth of the Detroit scene. A lot of guys, 10 years later, are just now being able to play the festival. They are not keeping the same ol' guys all the time, some are coming to fruition and now playing the festival."
Since 2000, when it was known as the Detroit Electronic Music Festival, this cherished event has gone through some organizational ups and downs with questions about who's actually going to coordinate it, issues working with the City of Detroit, and where the money was suppose to come from to pay for it all. In 2006, Paxahau took on the huge charge of taking over the festival when there were thoughts that it could be lost entirely. They already had a foot in the door though with the behind-the-scenes aspects of the event. "We produced an entire stage for three-days and nights in 2005 when the festival was called Fuse-in," describes Huvaere. "At that time, we were the only promoters to ever be given an entire stage to produce. We booked the artists, produced the stage, secured sponsors. The underground stage was our own mini-festival. We gained a tremendous amount of perspective about what it would take to produce and manage the entire event from that experience."
When Paxahau took over the festival in 2006, it was rebranded as the Movement Electronic Music Festival, and the process to stabilize it from the turbulence of years that proceded just began. "When we became the producer in the festival in 2006 we knew how important it was going to be to stabilize not only the financial support for the event," says Huvaere. "But also stabilize the confidence people had that they could count on the festival occurring every year like clock-work."
"They [Paxahau] were able to stabilize it because the steps that it took to get it to the point where when they took it over, a lot were already step or done," describes Detroit electronic music pioneer and former festival coordinator Kevin Saunderson. "They were the final piece. They seen all the faults in the city and the mistakes that happened, so they were in the perfect position. They are here all the time all year so it made the most sense."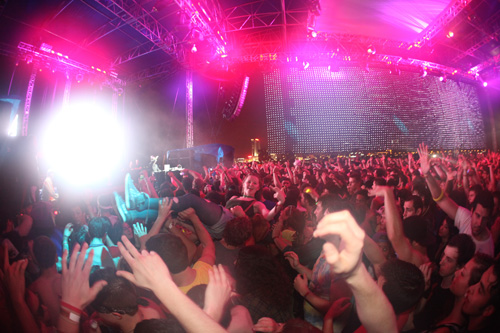 Since 2006, Paxahau has done a great job in not only stabilizing Movement from financial and fan confidence aspects, but have built it up this year with more cutting edge artists and bigger and better sound. "I think they did a great job with organization," says Detroit-born, now Berlin-based techno DJ Derek Plaslaiko. "Every year, it seems the sound systems get better and better and they are using their money wisely. I think people have taken notice of that more than anything especially for people traveling into the city."
For Movement 2012, you have a string of Detroit artists from the past and present performing this year. With staples to our scene like Brian Gillespie, Rick Wilhite, John Arnold, DJ Psycho or Stacey Pullen to name of few, mixed in with the younger generation of musicians like OktoRed, Jay Daniel, Erno The Inferno, or Calico, the festival has a strong foothold of whats really going on in Detroit electronic music these days.
Along with the strong local artists, Movement is a bit of niche festival that doesn't follow any of the other countless festivals going on throughout the world these days; they set the tone. "We make sure to offer festival-goers the opportunity to experience some of the best acts across the globe," describes Huvaere. "But at the same time maintain our respect for Detroit Techno -- the music we all fell in love with from the beginning. Just about every genre is being represented at this year's event."
With every year that passes, you never really know if someone is going to emerge out of it, whether its a Detroit artists or an international act, into something huge, so Movement has always been at the ground floor to not only see some of your favorite acts, but to discover artists that are new to the listener. "One of the ways we stay ahead of the curve by keeping our ears to the ground for the latest artists that are merging on the scene," explains Huvaere. "They appear at Movement either before they hit it big time or just as they begin to ascend. That was the case with Skrillex last year. This year we are doing that with Zeds Dead, Minnesota, and AraabMuzik."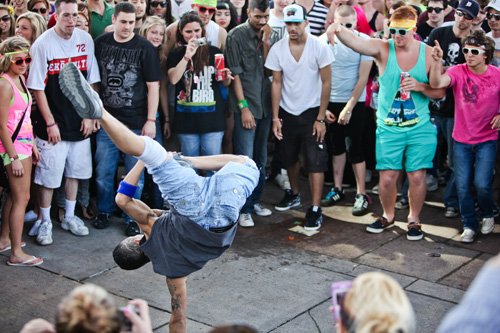 Throughout its storied past and with its massive appreciation worldwide, the Movement Electronic Music Festival is not only a place to party hard and hear great music, it's a place of discovery and inspiration. It's had it uncertain times and it's had it's overly criticized times. Paxahau has taken over a massive job each year to produce a festival that wants to be better and more thought provoking than the rest. Pleasing the masses while making sure to hit the bottom line is a hard thing to do, but every year it seems like it's getting better and Movement is on a stable foundation now.
The Movement Electronic Music Festival goes on Memorial Day weekend May 26-28 at Hart Plaza in Detroit. For more information, artist lineup, and to purchase tickets, visit movement.us. Look out for on-going Movement Festival coverage and artist profiles from Jeff Mills, Kevin Saunderson, Photek, and Public Enemy up and through this year's event.
(Photo Credits: Douglas Wojciechowski; Joe Gall; Joe Gall)