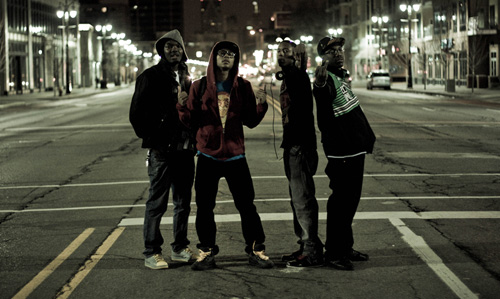 As a new class of hip-hop artists from Detroit emerge, it always takes a lot of talent, hard work, and a bit of a thick skin to rise above the rest. The dynamic of Detroit hip-hop is forever changing and beloved worldwide while never being held in one particular box. Coming from this deep culture is a four man collective known as Clear Soul Forces consisting of member L.A.Z., E-fave, J-Roc, and Ilajide. Recently, Clear Soul Forces, who's sound is as influenced by the gritty streets of Detroit as much as seminal hip-hop groups like Black Moon or Souls Of Mischief, released their debut full length album Detroit Revolution(s) and have become the subject of Red Bull Soundstage's Sound & Vision Web documentaries.
The Soundstage is a platform created by Red Bell to create innovative ways to help emerging young artists gain recognition through the music industry and take their careers to new levels. Clear Soul Forces is the second episode in the Sound & Vision series, after the debut last month with JEFF the Brotherhood, and showcases the crew in their natural environments within Detroit.
The Sound & Vision documentary with Clear Soul Forces takes an ambitious look into the passions that these four guys have and how hip-hop has helped them get past environmental, societal, and personal obstacles. While this is the story of the members of Clear Soul Forces, the realities portrayed are definitely felt throughout the city of Detroit. Even if you are not from Detroit, this isn't a piece that is made to show how hopeless Detroit is, but more like that even in the roughest times, there still are options available for you to persevere.
The documentary has a guest appearance by legendary Detroit hip-hop emcee Royce Da 5'9" outside the famed Saint Andrews Hall where he gives the group some encouraging words about their musical passions.
Even in this highly saturated music scene worldwide, its still a great time to be an independent music artist. If you can present yourself right with an honest sentiment for the art, you will eventually shine. Clear Soul Forces is a young group of guys with a world of experiences living in Detroit. With quality live performances and an impressive debut album with Detroit Revolution(s), Clear Soul Forces have the start to something really great for them and our cherished music culture. Give the Sound & Vision documentary a watch, and tell me if you can't relate or aren't moved at some point or another, but I doubt it.